The 43 Biggest Surprises, Disappointments and Standouts in MLB's 1st Half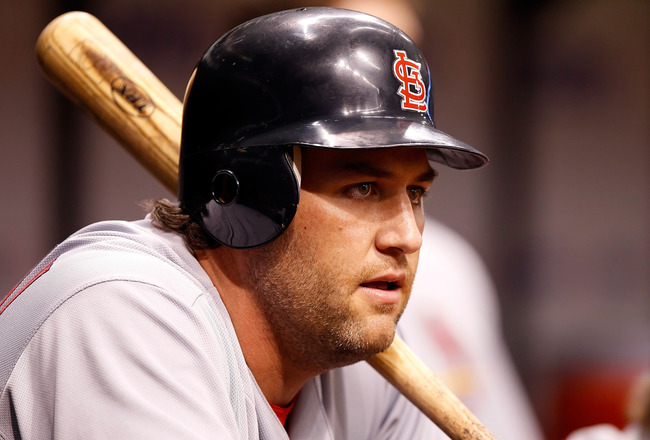 J. Meric/Getty Images
The first half of the MLB season came with more than its share of surprises, disappointments and standouts. But in the interest of fairness I'm only going to discuss 14 of each, with one bonus disaster thrown in just for good measure.
Here are the 43 figures that have defined baseball this year.
Dmitriy Ioselevich is a Featured Columnist for Bleacher Report. Follow him on Twitter for all your MLB news and updates.
Surprise: Asdrubal Cabrera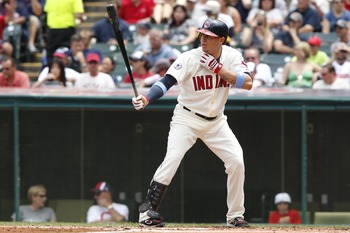 David Maxwell/Getty Images
The Indians are one of the surprise teams in baseball and they owe a lot of their success to their 25-year-old shortstop. Cabrera has already more than doubled his previous career high in home runs (14) and is well on his way to smashing every personal offensive record if he keeps up his .292/.342/.494 line.
Surprise: Jacoby Ellsbury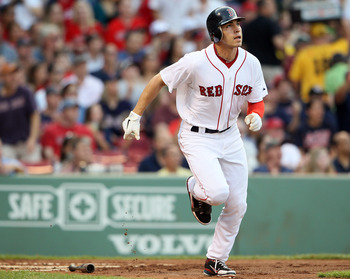 Elsa/Getty Images
Ellsbury, 27, was questioned by teammates for his toughness and his talent after missing almost all of last season with a broken rib. Now he's not only healthy—he's one o the best all-around players in baseball. Ellsbury leads the league with 28 steals and already has a career high 10 home runs from the leadoff spot after taking over for Carl Crawford. He's near the top of the AL leaderboards in nearly every offensive category, including WAR (5th), hits (3rd), runs created (6th) and even fielding percentage (1st).
Surprise: Lance Berkman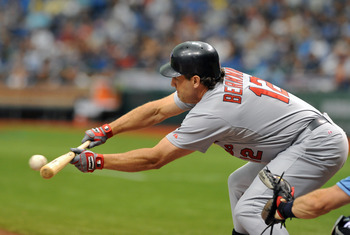 Al Messerschmidt/Getty Images
Berkman has been a premiere MLB slugger for more than a decade, but it's not often you see a 35-year-old without a position have what is perhaps a career year. He leads the league in home runs (23), slugging percentage (.607) and OPS (1.011), giving him his best season since 2006 when he finished 3rd in MVP voting. Not bad for a guy who calls Albert Pujols and Matt Holliday teammates.
Surprise: Carlos Beltran
Al Bello/Getty Images
Beltran, 34, is another player who fans thought might have nothing left. Well think again, as Beltran is punishing opposing pitchers to the tune of a .285/.373/.506 line with a league-leading 26 doubles. His numbers are about in line with his career averages (except for the speed), but the important thing here is that he hasn't played this many games since 2008. There's a reason he's the biggest bat on the trade market.
Surprise: Russell Martin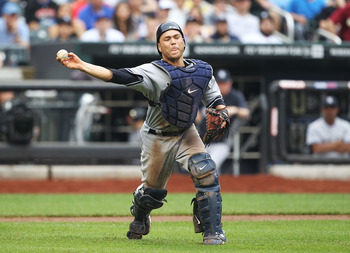 Al Bello/Getty Images
The Yankees took a chance on Martin's balky knees, outbidding the Red Sox to nab the 28-year-old and make him their starting catcher. Martin has rewarded them by not just staying healthy, but by performing at an incredible high level. He already has 10 home runs and seven steals in a loaded lineup and is poised to do more, although he has been slumping as of late.
Surprise: Danny Espinosa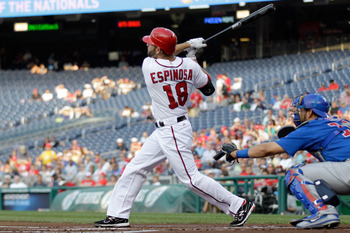 Rob Carr/Getty Images
The Nationals are suddenly loaded with young, talented players, but one potential star you may not have heard of is Danny Espinosa. The 24-year-old second baseman is having a monster season with 16 home runs, 50 RBI and 10 steals in the middle of that Washington lineup. He might be the best second baseman in a division that also features Chase Utley and Dan Uggla, except Espinosa is just in his second MLB season.
Surprise: Justin Masterson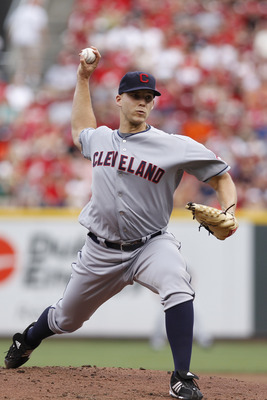 Joe Robbins/Getty Images
Masterson, 26, was the prize of the Victor Martinez trade a couple of years ago and the Indians are finally reaping the rewards. The hard-throwing righty has emerged as an ace-caliber starter with a 2.66 ERA in 18 starts and an impressive 2.26 SO/BB ratio. The secret to his success? Keeping the ball in the ballpark with an MLB-best 0.3 HR/9 IP.
Surprise: Josh Beckett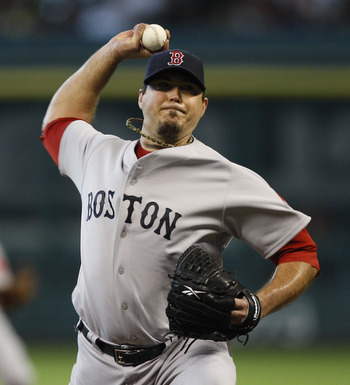 Bob Levey/Getty Images
Beckett had a forgettable 2010 as he battled multiple injuries and was over-reliant on a curveball that just wouldn't curve. Nobody knew what to expect of him in 2011, but the big righty has been one of the best and most consistent pitchers in baseball. His 2.12 ERA is second in the AL and his 5.52 H/9 is first by a wide margin.
Surprise: Bartolo Colon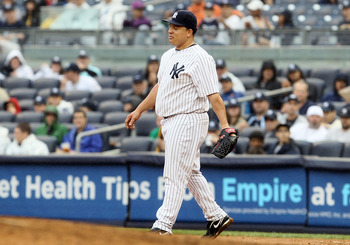 Jim McIsaac/Getty Images
Most people laughed when the Yankees tabbed the 38-year-old Colon, the same one who hadn't thrown a pitch since 2009, as their fifth starter. Colon has apparently discovered the fountain of youth because he's pitching as well as any point in his career. His 2.88 ERA would be his lowest ever and his 4.33 SO/BB rate is about double his career average (2.31). Good luck explaining this one.
Surprise: Ian Kennedy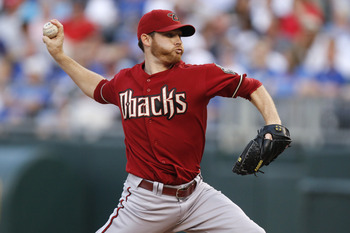 Ed Zurga/Getty Images
You may remember Ian Kennedy as the former Yankees farmhand who landed in Arizona as a part of that three-team mega deal that involved Curtis Granderson, Edwin Jackson and Austin Jackson. Pretty safe to say that Granderson is the best player from that deal, but Kennedy may be second. The 26-year-old righty has been outstanding for the Diamondbacks and keeps getting better little by little. He could be the ace of a staff that has many promising, young arms.
Surprise: Kyle Farnsworth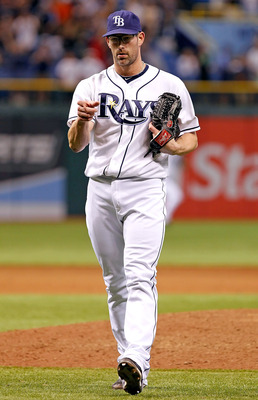 J. Meric/Getty Images
Farnsworth's last stint in the AL East in 2008 with the Yankees was a complete disaster, so when the Rays signed him in the offseason to be their closer there were more than a few skeptical looks. However, Farnsworth has been brilliant with a 2.08 ERA and 17 saves in 38 games, including an unreal 5.75 SO/BB ratio. He's been so good the Rays may have no choice but to trade him.
Surprise: Joel Hanrahan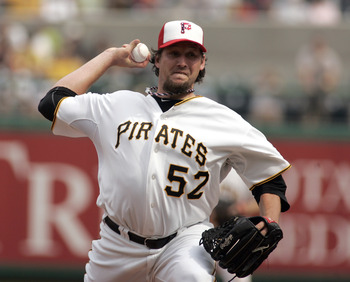 Justin K. Aller/Getty Images
The Pirates are finally back on the map and one of the big reasons why is the exploits of their 29-year-old closer. Hanrahan has been nothing short of untouchable this season. He's third in the NL with 25 saves and has a microscopic 1.37 ERA that seems to drop every time he pitches. The future is bright for this one.
Surprise: Justin Smoak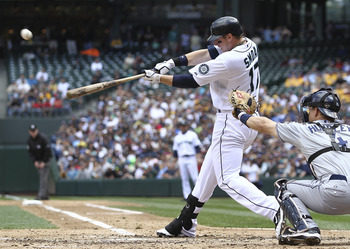 Otto Greule Jr/Getty Images
Safeco Field and offensive prowess aren't two things that typically go together, but Smoak has found a way to make it work and is the lone slugger in a lineup that looks like it belongs in AAA. The 24-year-old first baseman leads the Mariners in home runs (12), RBI (42), doubles (20) and OPS (.782). He and rookie Dustin Ackley give Seattle an incredibly potent combination on the right side of the infield.
Surprise: Michael Pineda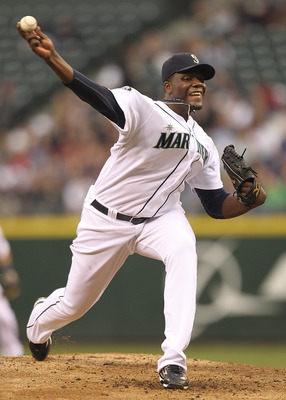 Otto Greule Jr/Getty Images
Speaking of the Mariners, how about probably AL ROY Michael Pineda? The righty is out-Felixing the King himself and leads Seattle in ERA (2.58) and WHIP (1.01). Seattle's keeping a close eye on Pineda's innings, but there's no ceiling for what this 22-year-old righty can do.
Disappointment: Albert Pujols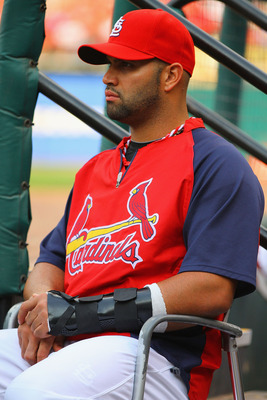 Dilip Vishwanat/Getty Images
Going into a contract year everybody expected Pujols to pummel the living crap out of the ball. The best hitter on the planet got off to a slow start before heating up in June and then, naturally, getting hurt. Pujols is back in uniform and still not someone you want to mess with, however it would take a miracle for 2011 to not be his worst offensive season ever (and that's saying something).
Disappointment: Zack Greinke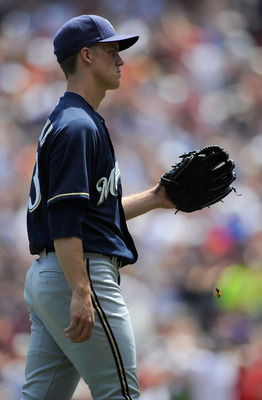 Hannah Foslien/Getty Images
Greinke was the centerpiece of a blockbuster deal this offseason, and he simply hasn't pitched like the ace he was back in 2009. He missed the beginning of the season due to injuries and now that he's back he has just a 5.66 ERA in 12 starts. The strikeouts are through the roof, but so are the home runs and the hits. Still just 27, Greinke will need to improve drastically for the Brewers to have a chance in the postseason.
Disappointment: Ubaldo Jiminez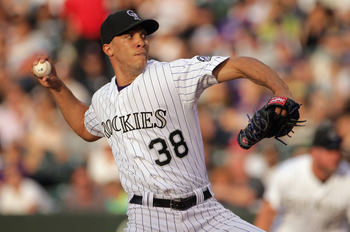 Doug Pensinger/Getty Images
Jiminez, 27, was just about untouchable in 2010 when he toyed with hitters and finished third in Cy Young voting. This year, however, has not been so kind to him. His 4.39 ERA would be a career worst and he'll need some help to get to 200 innings, potentially missing the mark for the first time in three years. Jiminez's struggles are the main reason the Rockies can't seem to get into the race.
Disappointment: Edinson Volquez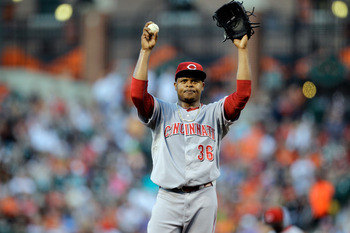 Rob Carr/Getty Images
Volquez, the former ace of the Reds staff, hasn't been much better than Jiminez. The 28-year-old righty has a 5.93 ERA in 16 starts and walks nearly a batter every two innings. He's been getting progressively worse since his All-Star season in 2008, but nobody expected him to be this bad.
Disappointment: Daisuke Matsuzaka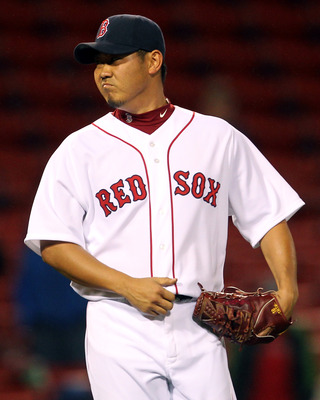 Jim Rogash/Getty Images
Maybe it was naïve for anyone to expect Matsuzaka, 30, to be a serviceable major league starter. After all, he hadn't shown any promise since 2008 when he finished fourth in Cy Young voting. But when healthy he's generally been good enough to be a back-of-the-rotation starter. Now with him having Tommy John surgery the question becomes if he will ever pitch again.
Disappointment: Dan Uggla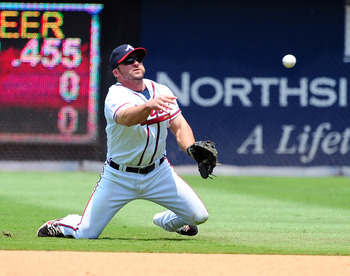 Scott Cunningham/Getty Images
Uggla was one of the most consistent offensive players in baseball from 2006-2010. He averaged about 30 home runs, 35 doubles and an OPS in the 800's, enticing the Braves to part with two important pieces (Michael Dunn and Omar Infante) just to get him. However, somewhere on the short trip from Miami to Atlanta Uggla seemed to forget his bat. The power numbers are still there (14 home runs, 13 doubles), but the .183/.258/.358 line is embarrassing for someone about to make $13 million a year.
Disappointment: Adam Dunn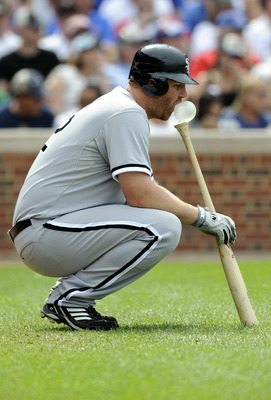 David Banks/Getty Images
As bad as Uggla has been, Dunn has been much, much worse. The Big Donkey was one of the biggest free agent acquisitions of 2011 because, like Uggla, he was a consistent performer. There are few baseball players with better power numbers than Dunn (seven straight season of about 40 home runs, 100 RBI). He has just eight bombs so far this season for the White Sox and, even scarier, he's on pace to shatter his own strikeout record (and that's really saying something).
Disappointment: JD Drew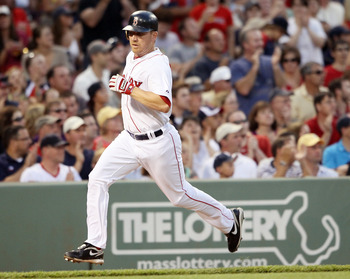 Elsa/Getty Images
Drew, 35, may not have a single fan in all of baseball, but it's hard to deny his production. His OPS was always in the 800's or better and he played solid defense. However, in 2011 he has just 10 extra-base hits (.660 OPS) for the Red Sox and has been relegated to a platoon role with the likes of Darnell McDonald and Josh Reddick. Oh yea, and he's making $14 million.
Disappointment: Vernon Wells
Jeff Gross/Getty Images
The Blue Jays pulled off the heist of the century (no, really) when they unloaded Vernon Wells on the Angels. Now the Angels are stuck with a guy due to make $63 million over the next three seasons and someone who would be lucky to ever make it to another All-Star game. Wells, 32, is down to .213/.241/.398 (all career worst) with no end in sight. The Angels can't promote Mike Trout fast enough.
Disappointment: Joe Mauer
Ezra Shaw/Getty Images
Mauer is the heart, soul and lifeline for the Twins, and his absence this season has turned his team into a vegetable. He's played in just 28 games to date (equal to his age) and has yet to contribute a home run or even get to 10 RBI. His injuries were serious, but a .242/.296/.283 line is not what you expect from someone who has finished in the top 10 in MVP voting four times and three years in a row.
Disappointment: Miguel Tejada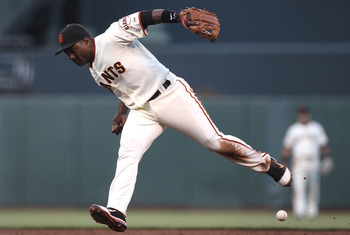 Jed Jacobsohn/Getty Images
It was only a matter of time before father time caught up with Tejada, but even at 37 nobody expected Miggy to be quite this bad. With just three home runs Tejada's on pace to miss double digits for the time in his 15-season career (not counting his rookie year) and his .605 OPS is almost 200 points less than his career average (.605). It might be time for this baseball great to retire.
Disappointment: Javier Vazquez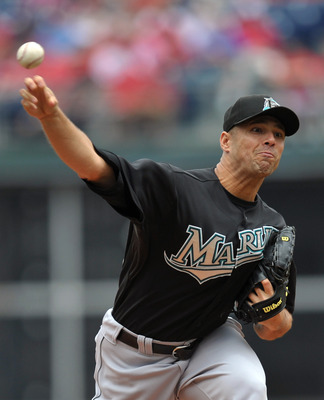 Drew Hallowell/Getty Images
The Marlins thought a move to the National League could salvage Vazquez's career, but apparently he's past the point of no return. The 34-year-old righty has a 5.64 ERA in 17 starts and is only clinging to his rotation spot because he's making $7 million. If Vazquez can't get NL hitters out then there's not much point in continuing.
Disappointment: Francisco Liriano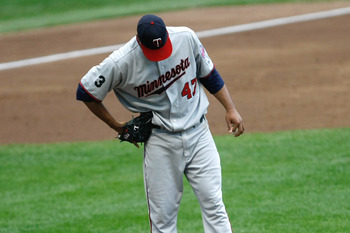 Scott Boehm/Getty Images
Liriano, 27, seems to alternate brilliant years with crappy years, or he just has a thing against odd numbers. After a terrific 2010 Liriano this season has been one of the most inconsistent pitchers in baseball. He threw a no-hitter, and yet he has a 5.06 ERA and was briefly kicked out of the rotation. The stuff is definitely there, but for whatever reason Liriano can't put it all together. Scouts may be tired of waiting.
Disappointment: Derek Jeter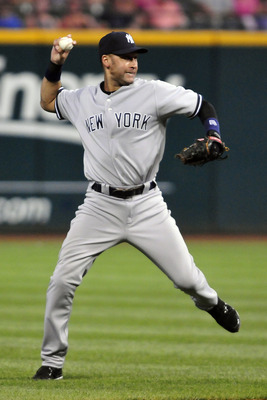 Jason Miller/Getty Images
I don't care that he's overpaid by $10 million a year. I don't care that he's a first ballot Hall of Famer either. The fact remains that the present-day version of Jeter hardly deserves to be in a MLB lineup anymore. A .257/.321/.329 line with no power and subpar defense is not going to get it done and Jeter owes the Yankees and the fans an apology for wasting their time.
Disaster: Frank McCourt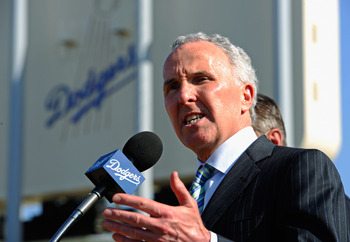 Kevork Djansezian/Getty Images
Frank McCourt isn't actually a player, but considering that he basically single-handedly destroyed an entire franchise I felt that it was appropriate to include him here. He can't reach a divorce settlement, he can't reach a TV deal with FOX and he definitely can't meet payroll. The only thing we know McCourt can do is lose money.
Standout: Adrian Gonzalez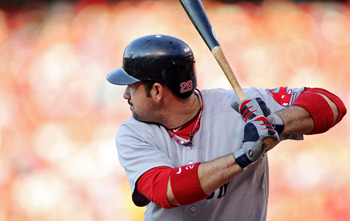 Len Redkoles/Getty Images
Everyone said Adrian Gonzalez was perfect for Fenway Park. Everyone also said he'd be an explosive force with some lineup protect. Turns out everyone was right, because Gonzalez has absolutely murdered the ball this season. He leads the league in batting average (.351), hits (124), doubles (28), total bases (209) and RBI (76). He's second in slugging (.592) and OPS (1.000). He even played some right field just for good measure. This is your mid-season AL MVP.
Standout: Matt Kemp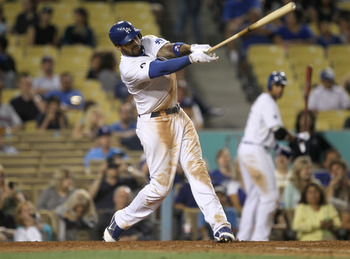 Stephen Dunn/Getty Images
Speaking of MVP's, Kemp has a pretty good shot at winning the NL award. The 26-year-old outfielder is having a breakout party in a big way with a .323/.406/.602 line and 22 home runs with 26 steals. There's not much you can do on a baseball field.
Standout: Matt Holliday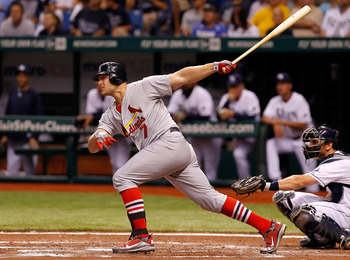 J. Meric/Getty Images
Holliday, 31, has put the Cardinals on his back and together with Lance Berkman, and occasionally Albert Pujols, carried the team through a rash of injuries. His .320/.417/.570 line is slightly above his career average and he leads the team in doubles with 18.
Standout: Jose Reyes
Al Bello/Getty Images
Reyes, 28, would've been the runaway favorite for NL MVP if he didn't just land on the DL, but there is nobody in baseball who can touch his first-half numbers. He leads the league in runs (65), hits (124), triples (15) and he has a .927 OPS to boot. That's ridiculous for a shortstop, let alone one with the kind of speed Reyes has (30 steals). No wonder the Mets don't want to trade him.
Standout: Justin Verlander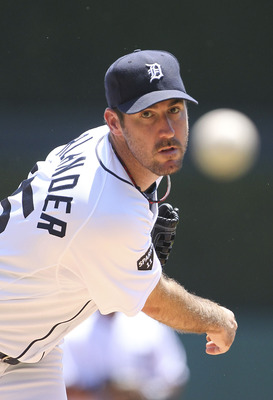 Leon Halip/Getty Images
Verlander, 28, should be renamed the human no-hitter because every time he steps on the mound there's a pretty decent chance he'll shut you out. He only has one this season (to go along with a two-hitter and a four-hitter), but he also hasn't pitched less than seven innings since mid-May. With a 2.26 ERA in 19 starts and a league-high 143.1 innings and 138 strikeouts, Verlander has to be considered the early favorite for AL Cy Young.
Standout: Roy Halladay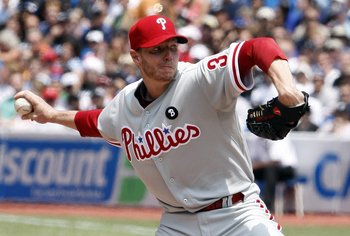 Abelimages/Getty Images
Halladay has been brilliant as usual and has nearly identical numbers as Verlander, although he's doing it against weaker lineups. He leads the NL in innings (136.1) and complete games (six) with a jaw-dropping to 7.71 SO/BB ratio to match. That's the definition of perfection, and the 34-year-old righty would know a thing or two about that.
Standout: Cliff Lee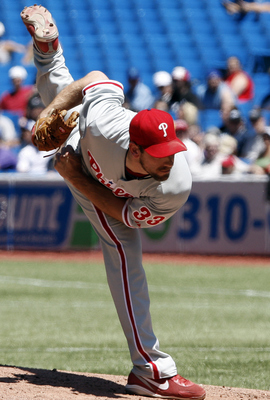 Abelimages/Getty Images
Meanwhile Halladay's teammate, Cliff Lee, just rolled off one of the best string of starts in MLB history. Over five starts in June, Lee pitched 42 innings (including three consecutive complete games) and gave up just one earned run. His cumulative numbers aren't quite Halladay-esque, but the 32-year-old lefty is still about as good of a pitcher as you can find.
Standout: Jose Bautista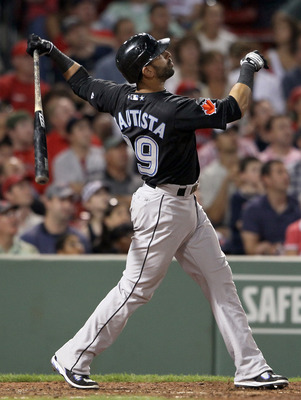 Elsa/Getty Images
It's pretty safe to say that Bautista's 2010 season, the one in which he nearly quadrupled his previous career high in home runs with 54 bombs, was not a fluke. Joey Bats has a good chance of topping his 2010 achievements with 29 home runs already and a 1.158 OPS that is almost funny to look at. Pitchers are beginning to figure out that they shouldn't pitch to Bautista (he leads the league with 71 walks, 14 of them intentional), so he'll have to find a way to get some good looks.
Standout: Andrew McCutchen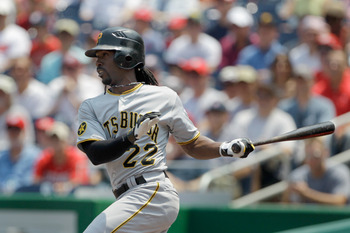 Rob Carr/Getty Images
McCutchen, 24, burst onto the scene in 2009 as a rookie and he's only been getting better since. He'll have new career highs in pretty much every offensive category by the end of the season, and he has an outside shot at joining the 30-30 club. The last Pirate to do that? Barry Bonds.
Standout: Jair Jurrjens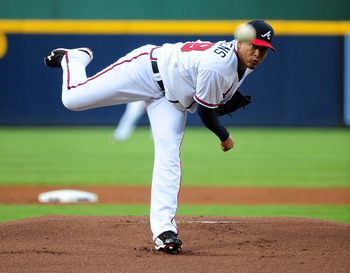 Scott Cunningham/Getty Images
It wouldn't be fair to leave the MLB wins leader off this list, especially when he also leads all of baseball with a 1.87 ERA. Jurrjens, 25, has reached ace status despite not being a particularly overwhelming pitcher. You might think that qualifies him as a surprise pitcher, but ask anyone in the Braves dugout and they'll tell you Jurrjens has been the real deal for a long time.
Standout: James Shields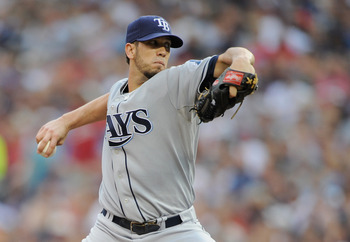 Hannah Foslien/Getty Images
Shields had a rough 2010 with his ERA ballooning to 5.18 and batters teeing off on him to the tune of a league-high 34 home runs. But in 2011 the 29-year-old righty has been nothing short of spectacular. His ERA is down to 2.47 and he leads the AL in complete games (six) and shutouts (three). If you want one reason why the Rays are able to stay in the playoff hunt despite a depleted roster, look no further than Shields.
Standout: Jered Weaver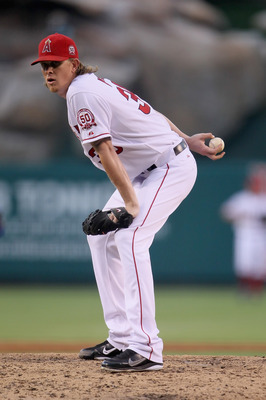 Jeff Gross/Getty Images
Weaver, 28, got off to a filthy start and has been able to maintain a high level of play all season. He leads the AL with a 1.86 ERA and is second in innings with 140.3. His strikeouts (120) are down a bit, but on the flip side he's also been able to stay away from the long ball. Weaver hasn't lost a game in nearly two months and hasn't pitched less than six innings in a start all season.
Standout: Clayton Kershaw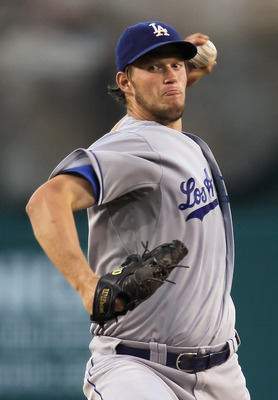 Jeff Gross/Getty Images
Kershaw, 23, has finally joined the big boys at the table of the best pitchers in baseball, and it won't be long before he makes it to the table of future Hall of Famers. The hard-throwing lefty has a 3.03 ERA in 19 starts, but he leads all of baseball with 147 strikeouts and a surreal 10.1 SO/9 IP rate. Walks are still somewhat of an issue, but at his Kerhsaw's age that's a minor concern. He has Randy Johnson written all over him.
Standout: Craig Kimbrel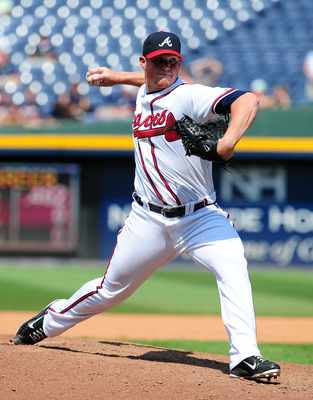 Scott Cunningham/Getty Images
Last but not least, the electric Braves closer. Kimbrel, 23, leads the majors in saves with 27 and has 70 strikeouts in 45 innings. If that sounds impossible, that's because it is. Nobody in baseball right now is that overpowering and Kimbrel has managed to do the unthinkable—replace the great John Smoltz and Billy Wagner as Atlanta's closer. Could he be better than either of them?
Keep Reading