NFL Free Agents: 7 Free Agents Likely to Play in the 2011 Pro Bowl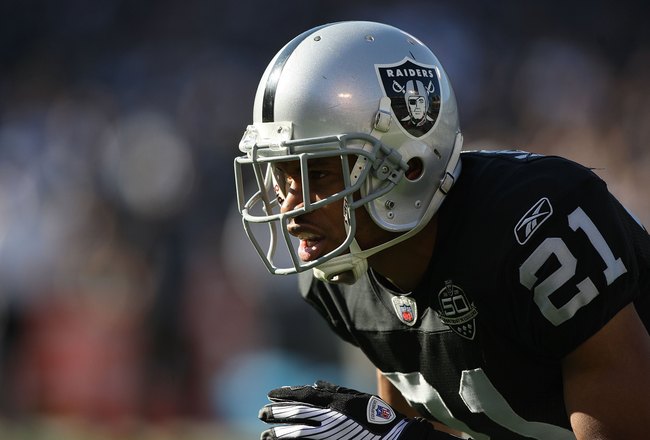 Jed Jacobsohn/Getty Images
Even though it hasn't happened yet, this offseason will feature a lot of prominent free agents in the National Football League.
For instance, the player pictured above, Nnamdi Asomugha, will likely draw the largest contract by a defensive player, and maybe any player, in the history of the National Football League. Then again, he deserves it, for the way he's played over his career.
Asomugha is one of seven players who I predict will make the Pro Bowl following the 2011 season. They are as follows, in no particular order.
Antonio Cromartie, Cornerback, New York Jets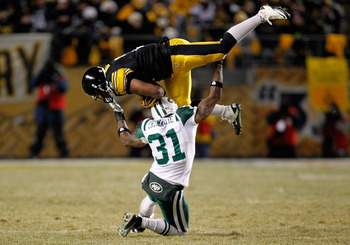 Gregory Shamus/Getty Images
Cromartie, 27, has just seven interceptions in the last three seasons, although he did pick off 10 passes in 2007.
He is one of the most well-known cornerbacks in the league, however, and if he can land a contract with a popular team like the Philadelphia Eagles or the Dallas Cowboys, his name will be in the headlines a lot next season, and a Pro Bowl season is much more likely.
Johnathan Joseph, Cornerback, Cincinnati Bengals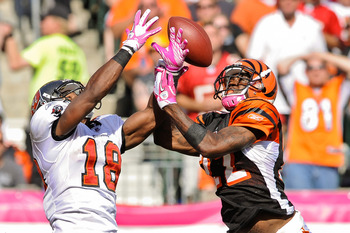 Jamie Sabau/Getty Images
Joseph is possibly the most underrated cornerback in the league. He has received absolutely no hype, probably because he plays for the Cincinnati Bengals.
But a big contract will get his name out there to the average fan. If he grabs six interceptions, like he did in 2009, he could make his first Pro Bowl.
Jason Babin, Defensive End, Tennessee Titans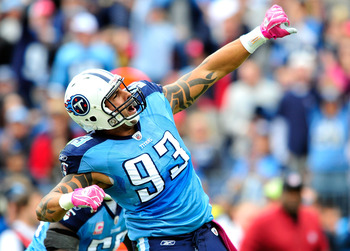 Grant Halverson/Getty Images
The 31-year-old, written-off, first-round draft pick finally emerged as a star last season with the Tennessee Titans. He collected 12.5 sacks last season, an incredible figure considering the fact that he played for four different teams and made just 10 starts from 2005 to 2009.
Rumors indicate that Babin is likely headed to the Philadelphia Eagles in 2011, where playing alongside Trent Cole could turn Babin into one of the league's best defensive ends.
Quintin Mikell, Safety, Philadelphia Eagles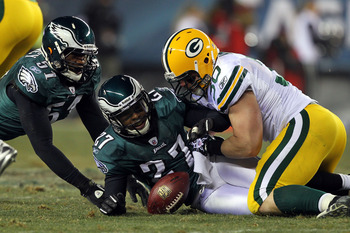 Al Bello/Getty Images
Mikell has been one of the most underrated players in the National Football League for a number of years. The truth is that he should be recognized for what he is: one of the best safeties in the NFL.
Mikell has been an All-Pro or a Pro Bowler for three straight seasons and he regularly leads the Eagles in tackles. He is likely headed to another NFL team next season but the 31-year-old safety deserves to continue earning Pro Bowl/All-Pro selections.
Steve Smith, Wide Receiver, New York Giants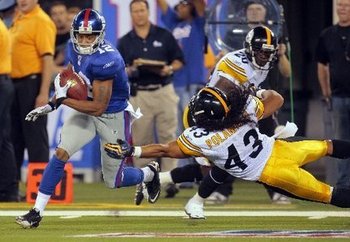 Steve Smith was one of the best wide receivers in the NFL in 2009, catching 107 passes for 1220 yards and four touchdowns.
But he turned in a down year in 2010. A free agent this offseason, he should regain his dominant form in 2011 and earn his second Pro Bowl selection.
Sidney Rice, Wide Receiver, Minnesota Vikings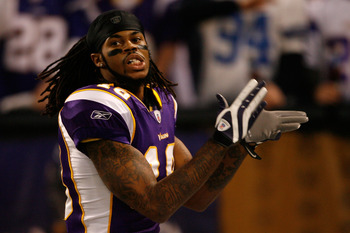 Elsa/Getty Images
Rice teamed with Brett Favre in 2009 to join one of the most dangerous quarterback-to-wide receiver duos in the National Football League. He caught 83 passes for 1312 yards and eight touchdowns and earned a Pro Bowl selection.
He suffered through a disappointing 2010, playing in just six games, but is poised to rebound in 2011.
Nnamdi Asomugha, Cornerback, Oakland Raiders
Jed Jacobsohn/Getty Images
Asomugha is the best cornerback in the National Football League. He might be the best player in the game. He's so good that teams just don't even throw in his direction.
Last season, he allowed 13 completions in 33 pass attempts for 205 yards and zero touchdowns. He will likely sign the largest contract by a defensive player in NFL history and should earn another Pro Bowl selection in 2011.
It's just a matter of which team he earns the award with.
Keep Reading