Fantasy Baseball Midseason Sleeper: Time to Take a Chance on Kyle Blanks
July 7, 2011
Stephen Dunn/Getty Images
NL and AL-only players listen up—and mixed leaguers, take notice as well.
Blanks is currently on a ridiculous offensive tear for Triple-A affiliate Tucson as the 6'6" 260-pound first basemen/ outfielder is hitting .411 with 10 homeruns, 29 RBI along with a .477 on-base percentage and 1.361 OPS in 95 at-bats. That's a homerun every 9.5 at-bats since his arrival from the Texas League.
Granted, the Pacific Coast League is notorious for its hitter-friendly confines, it still shows a lot about the character and work ethic of Blanks—who hasn't even turned 25 yet.
Many will remember Blanks breaking onto the scene back in the second half of 2009 when he slugged 10 homeruns in 148 at-bats for the Padres. 
The next season in 2010, he won the starting left field job out of spring training, batted cleanup and turned into a fairly popular sleeper candidate for fantasy analysts and players based upon his minor league resume, successful short stint in MLB and combination of size, strength and power.
While struggling through the entire month of April and first half of May hitting to the tune of .157 in 102 at-bats, Blanks went down with an elbow injury that required Tommy John surgery. His performance in 2010 coupled with the surgery have made him an afterthought in the fantasy baseball world.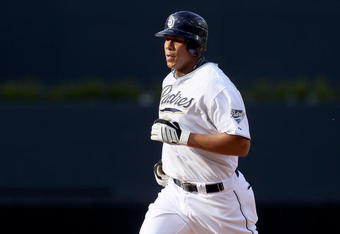 Stephen Dunn/Getty Images
Fast-forward to Spring 2011 after rehabbing back from elbow reconstructive surgery and showing up to camp 10 pounds slimmer, Blanks was placed in Double-A San Antonio out of spring training where he would eventually become reacclimated with the game and continue rebuilding strength in his throwing arm at first base.
Blanks began to progress at the plate after getting off to a sluggish start for San Antonio, as he raised his average to .282—knocking 16 doubles, four homeruns, three triples and sported a decent .828 OPS in 177 at-bats before making his move to Triple-A, where he has been on a tear ever since.
Over the two levels combined, Blanks is hitting .326 with 14 homeruns, 28 doubles, 56 RBI along with a .394 on-base percentage and an impressive 1.010 OPS.
Padres' first baseman of the future Anthony Rizzo has struggled at the plate since being called up last month and trade rumors have been swirling around productive left-fielder Ryan Ludwick for some time now.
There's a pretty good chance Ludwick will be dealt considering he'll be a free agent at the end of the season and the Padres don't necessarily have the resources to resign him.
Whether San Diego continues their hot play and climb back into the NL West race or if they decide to unload on Ludwick, Blanks should receive the call sometime after the all-star break.
Blanks could find himself in a platoon situation with Rizzo, who struggles against left-handed pitching or if Ludwick is dealt before the deadline, could find himself as the starting left fielder.
Depending on how far he's progressed from surgery will determine whether or not the Padres will stick him out in left. The Padres won't put him in left and risk re-injury if he's not able to make that throw.
Just don't go writing this guy off because he failed to succeed after only 100 at-bats in 2010.
If given the opportunity, I'm predicting he'll come in and match his 2009 late second half numbers, which would give a nice boost to any fantasy team from a power standpoint.
If you're seeking power for the second half and don't feel like giving up a valuable piece of your lineup in a deal to make it happen, then head over to the waiver-wire and pick up Blanks or at the least, keep an eye on the situation out in San Diego.
I'm sure you've been dying for a reason to drop that guy who sticks out like a sore thumb on your roster and has done nothing but irritate you over the last few weeks.
Blanks is currently owned in less than one percent of Yahoo leagues.