5 San Francisco Giants with the Most to Lose at Trade Deadline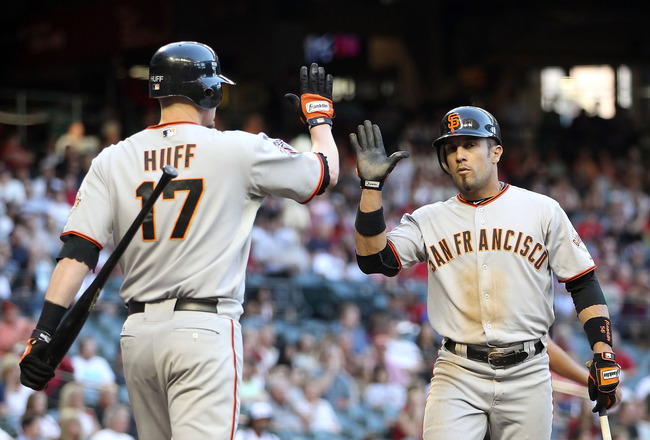 Christian Petersen/Getty Images
The trade deadline is fast approaching, and the Giants offense is continuing to struggle. However, the Giants are averaging a little bit more than five runs a game in July through five games.
Offense surely will be the focal point of Brian Sabean and the Giants management prior to the trade deadline.
Last year the cries were the same. Everyone said that the Giants needed offense, and it turns out they had just enough.
With that said, we will look at five Giants with the most to lose at the trade deadline.
5) 1B-Aubrey Huff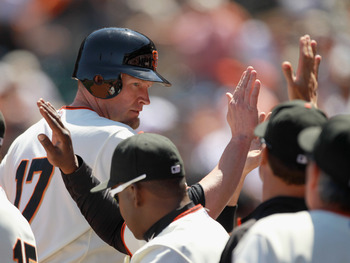 Ezra Shaw/Getty Images
2010 stats- .290 BA, .385 OBP, 26 HRs, and 86 RBI.
2011 stats- .245 BA, .298 OBP, eight HRs, and 43 RBI.
This one is the toughest to justify considering Huff leads the Giants in many offensive categories as he did last season.
Huff currently ranks in at 11th amongst NL 1B with his eight HRs. He ranks eighth amongst NL 1B with his 43 RBI. His average sits at 12th behind Ryan Howard. Huff is not a top 10 1B in the NL, but he is still productive.
In order to replace Huff in a trade, Huff must be included in the trade. That is no easy deal. The Giants would not want Huff in the outfield if they cannot include him in a trade.
Huff is 34 and hasn't hit a HR since June 2nd in St. Louis where he hit three and drove in six.
Brandon Belt is the 1B of the future, and the Giants will likely stay put on this one. Belt is currently rehabbing in San Jose and could be back by the trade deadline.
4) CF-Andres Torres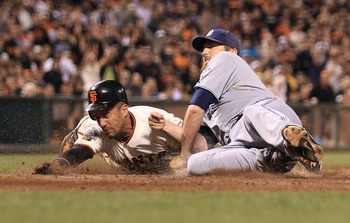 Jed Jacobsohn/Getty Images
2010 stats- .268 BA, .343 OBP, 16 HRs, 63 RBI, and 26 SBs.
2011 stats- .218 BA, .317 OBP, three HRs, 14 RBI, and nine SBs.
Andres Torres is having somewhat of a down year following a great 2010 season.
The 33 year old Torres is not going to be in consideration for the future, and last season could be seen as a fluke. Torres has only played in 56 games this season due to an Achilles tendon injury that plagued him early on.
With plenty of teams shopping outfielders, the Giants might look to get better production at the top of the order.
Houston Astros CF Michael Borne has put together a .292 BA, .355 OBP, one HR, and 26 RBI. Bourne has about 150 more ABs than Torres. Bourne also has 35 SBs compared to Torres nine.
Torres will need to pick it up over the next few weeks prior to the trade deadline, or see his starting position gone. The top of the order could be the key to curing the Giants offensive woes.
3) SS-Brandon Crawford
Christian Petersen/Getty Images
2011 stats- .215 BA, .306 OBP, two HR, 16 RBI, and three SB
Brandon Crawford's offensive numbers certainly do not jump off the page. What really helps Crawford's cause is the fact that he is very solid at shortstop.
Crawford certainly has overtaken the shortstop position from Miguel Tejada.
Crawford has only played in 33 games this season, 40 less than Miguel. Surprisingly, Tejada has seen his average jump to .239. Tejada's OBP is only .272 though.
Brandon Crawford is the future at shortstop for the Giants. The only question will be, will the Giants make a move to bring in a better hitting shortstop for this year?
Don't be surprised if the Giants let Crawford finish the season out at shortstop with Tejada getting an occasional start.
2) C-Eli Whiteside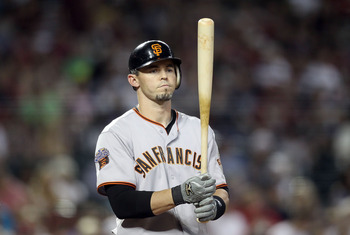 Christian Petersen/Getty Images
2011 stats- .212 BA, .301 OBP, two HRs, and 11 RBI.
Eli Whiteside is a very decent back-up catcher. Now that he has been thrown into the starting role, that point has been solidified.
The funny thing about Whiteside is that he is tied for the lead in triples on the Giants with two.
Whiteside has out-performed his counterpart Chris Stewart.
The Giants should look for a possible catcher of the future, as there is slim chance that Posey returns to play catcher when he is healthy. Whiteside is 31 and has shown that he simply is a back-up.
The Giants could target the Orioles Matt Wieters or the A's Kurt Suzuki.
1) 2B-Emmanuel Burris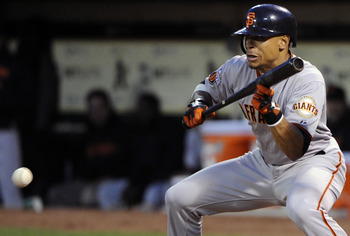 Thearon W. Henderson/Getty Images
2011 stats- .228 BA, .285 OBP, no HRs, and four RBI.
Burriss was given a golden opportunity to start at 2B after the injuries of Freddie Sanchez and Mike Fontenot.
With Mike Fontenot close to retuning, Burriss' days starting at 2B are numbered.
Burriss very well could be the 2B of the future for the Giants, if Buster Posey doesn't get moved there.
Burriss has pretty good speed with five SBs, but he has been caught three times. Burriss also plays a very solid 2B which, bodes well for him in the future.
Fontenot could return in the next week or so, and Burriss will return to his seat on the bench. Burriss will remain on the team because he has solid speed, and the Giants will need that coming off the bench.
Honorable Mentions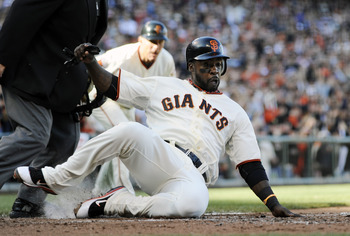 Thearon W. Henderson/Getty Images
Bill Hall- Hall has been with the Giants for less than a month, and his days are already numbered. With players like Brandon Belt and Mike Fontenot returning soon, Hall could be gone prior to the trade deadline.
Chris Stewart- Stewart has played in a total of 25 games, 15 less than Whiteside. Stewart is 29, and has hit 0 HRs in 52 ABs.
Jonathan Sanchez- 4-5 record with a 3.81 ERA and a 1.42 WHIP. Sanchez has struck out 92 in 89.2 IP. Sanchez barely makes the list due to the fact that the Giants asking price will be very high. Sanchez is 28, looking at 29 in November.
What Will Happen?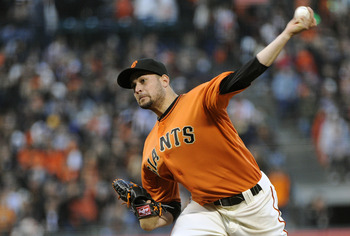 Thearon W. Henderson/Getty Images
Every Giants fan was crying for offensive help during the 2010 season, and this year won't be any different.
Jonathan Sanchez could be placed in the top five, but simply put, the Giants would want a massive deal for their number two starter. The Giants would be able to address their need for a big power bat, but would be stuck with Barry Zito in the rotation. Zito has pitched well since his return from the DL, so who knows.
The Giants don't make huge deals and I don't believe this year will be any different. The two postitions most likely to be renovated would be catcher and shortstop.
Offense obviously isn't the Giants strong point, but they can do just enough to win with their phenomenal pitching.
Keep Reading

San Francisco Giants: Like this team?