Atlanta Braves: 10 Bold Predictions for the Second Half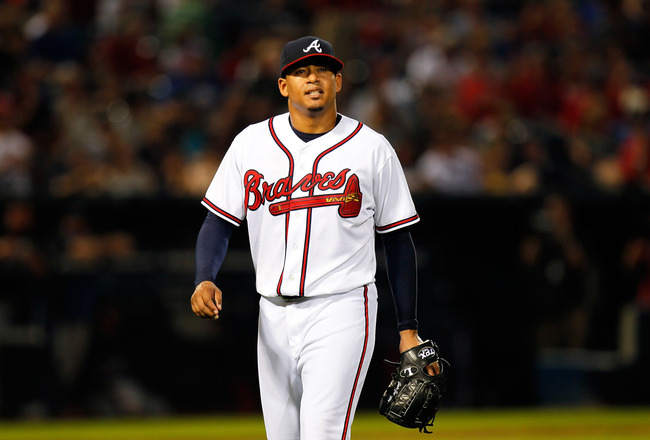 Kevin C. Cox/Getty Images
With the 2011 MLB season rapidly approaching its midway point, the Atlanta Braves, winners of 12 of their last 15 games, sit four games out of first place in the NL East.
Although the team has already surpassed the 50-win mark, they have yet to reach their full potential, as many of the team's best hitters have performed inconsistently throughout the first half of the season.
Upon returning from the All-Star Break, watch for these 10 predictions to become a reality as the Braves continue to win close games and distance themselves from the rest of the National League.
Jair Jurrjens, Tommy Hanson Eclipse 20-Win Mark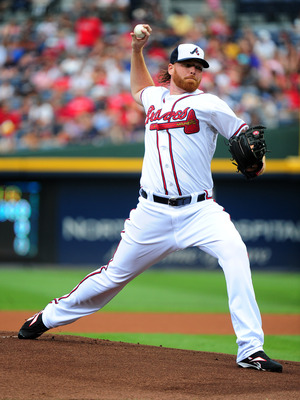 Scott Cunningham/Getty Images
Last season, Tim Hudson led all Braves pitchers with 17 wins, with Derek Lowe just one win behind him at season's end.
This year, both Jair Jurrjens and Tommy Hanson have dominated opponents and reached the 10-win mark by the season's halfway point. At the rate both players are going, they should reach the 20-win mark by late-August or early-September.
Jurrjens, currently 11-3 with a 1.89 ERA, has posted 63 strikeouts in 104.2 innings pitched and become a front-runner for the NL Cy Young Award. In his last outing, a 4-0 win over the Baltimore Orioles, Jurrjens pitched a complete game one hitter, his second complete game of the season.
Hanson, currently 10-4, has a 2.52 ERA and 103 strikeouts in 96.1 innings pitched. He's won his last five outings and is currently holding opponents to a .192 batting average when he takes the mound for Atlanta.
Craig Kimbrel Saves 50+ Games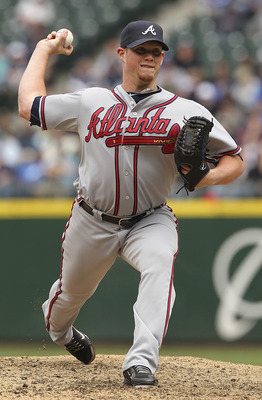 Otto Greule Jr/Getty Images
With his save in last night's game against the Colorado Rockies, his 26th in 31 opportunities, Braves closer Craig Kimbrel tied an MLB record for saves by a rookie in the first half of a season.
Kimbrel has been dominant as of late and seems to have conquered his control issues, as he hasn't allowed a walk in his last nine appearances.
Only 11 players all time have eclipsed the 50-save mark, but Kimbrel is on-pace to break it by season's end. Although I don't expect him to top Francisco Rodriguez's MLB record of 62 saves in a single season, I do expect him to compete with former Brave John Smoltz's 55 saves from 2002.
Brian McCann Finishes Above .300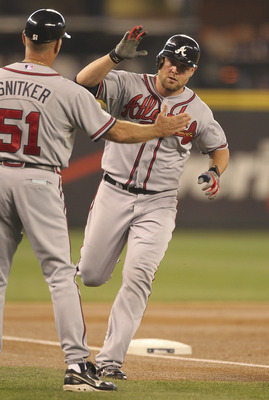 Otto Greule Jr/Getty Images
In his seven year big league career, catcher Brian McCann has finished the season batting above .300 twice, in both 2006 and 2008.
This season, with McCann shouldering much of the Braves' offense and putting up some of his best numbers in years, watch for McCann to hit above .300 once again.
McCann, the National League's starting catcher in the All-Star game, is currently batting .312 with 14 home runs and 47 RBI. He's also slugging .513 and has notched two stolen bases this season.
Jonny Venters Finishes with a Sub-1.00 ERA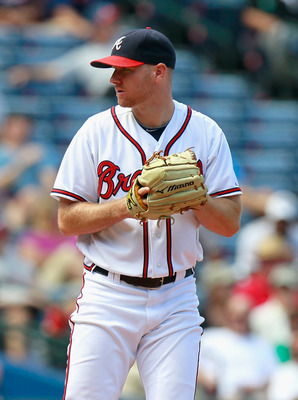 Kevin C. Cox/Getty Images
In the past two seasons, Jonny Venters has emerged as one of baseball's best relievers. In his rookie campaign last year, Venters appeared in 79 games and finished with a 4-4 record and a 1.95 ERA.
In 2011, "Everyday Jonny" has proven his nickname true, as he as already appeared in 48 games, in which he's posted a 4-1 record and a 1.53 ERA.
Venters, a 2011 All-Star, always seems to keep the ball low, preventing opponents from taking him deep, and is currently holding batters to a .173 batting average against him. Watch for Venters to bring his ERA down even lower and continue to be one of the best set-up men in baseball.
Martin Prado Has the Team's Highest Batting Average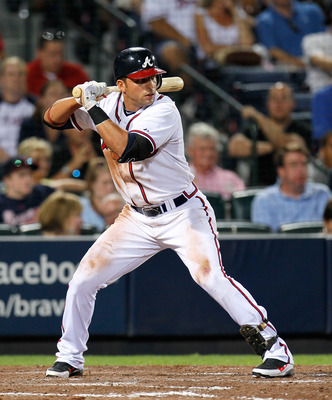 Kevin C. Cox/Getty Images
Up until Martin Prado landed on the disabled list on June 8, he was proving his 2010 season, a season in which he was named to the NL All-Star team, was no fluke.
Prado, who is set to begin rehabbing soon, is currently batting .277 with eight home runs and 33 RBI in 61 games.
Prado has finished with a batting average above .300 in each of the last three seasons, and 2011 will be no exception.
Once Prado returns to left field, and possibly the head of the Braves' batting order depending on what they do with Jordan Schafer, he will pick up where he left off and prove to be the spark the team needed in their everyday lineup.
Dan Uggla Surpasses 30 Home Run Mark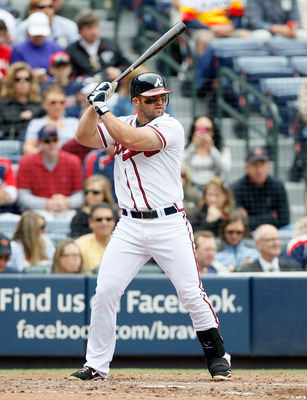 Kevin C. Cox/Getty Images
Braves second baseman Dan Uggla has eclipsed the 30 home run mark in each of his past four seasons, and, although 2011 has looked nothing like those seasons Uggla spent in Miami with the Marlins, his home run total is somewhat consistent to those he put up in seasons prior.
Entering Wednesday's game against the Colorado Rockies, Uggla has hit 13 home runs, including a long solo shot from the night before.
Despite the fact that his batting average currently rests at a frigid .178, there are still high expectations for Uggla's second half of the season. If he returns to Marlin-form, Uggla could propel the Braves past the Phillies in the East.
Craig Kimbrel Notches Single Season Strikeout Record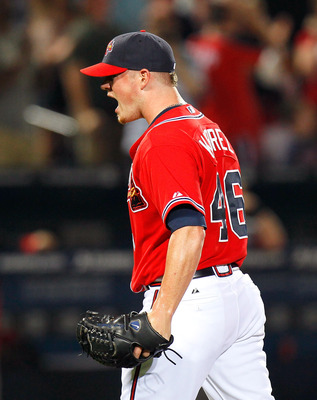 Kevin C. Cox/Getty Images
In 2004, then-Astros closer Brad Lidge recorded a major league record 157 strikeouts in a single season, a record Braves closer Craig Kimbrel has the ability to break this season.
Last week, Kimbrel became the fastest Braves pitcher to ever reach the 100 strikeout plateau, a feat he accomplished in just 59.1 innings pitched.
This season, he's already recorded 69 strikeouts in 44 innings pitched, an accomplishment that shows he is capable of matching and even bettering Lidge's 2007 strikeout total.
Freddie Freeman Wins NL Rookie of the Year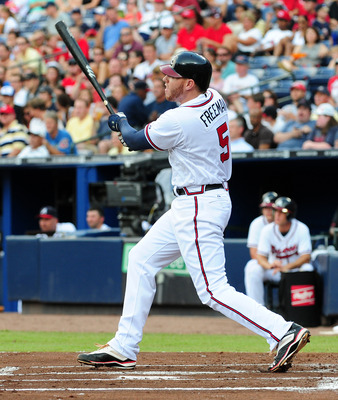 Scott Cunningham/Getty Images
When Braves rookie first baseman Freddie Freeman took a pitch from Rockies starter Jhoulys Chacin deep to dead center yesterday, it was Freeman's third home run in his last four at-bats.
After struggling to start the season, Freeman now appears locked in at the plate and has raised his batting average to .273 on the year. He has also hit 12 home runs and driven in 39 runs in 83 games so far this season.
If Freeman continues to be a force at the plate, watch for him to better Chicago Cubs rookie Darwin Barney's numbers and win NL Rookie of the Year.
Julio Teheran Excels in Bullpen After Rosters Expand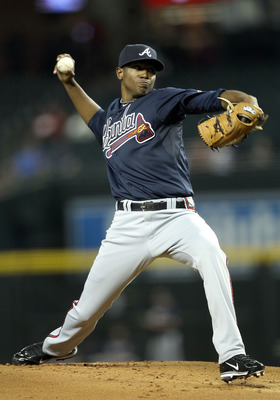 Christian Petersen/Getty Images
Braves top prospect Julio Teheran struggled in his first two major league starts this season, allowing at least two runs and not making it out of the fifth inning in both games.
However, when the major league rosters expand near the end of the season, watch for Braves manager Fredi Gonzalez to place Teheran in the team's bullpen to gain experience and help save the arms of Venters, Kimbrel and others key members of the bullpen as they move towards the postseason.
The Braves still expect big things from their to prospect and will likely see results when he finds himself playing in Atlanta in September.
The Braves Win the NL East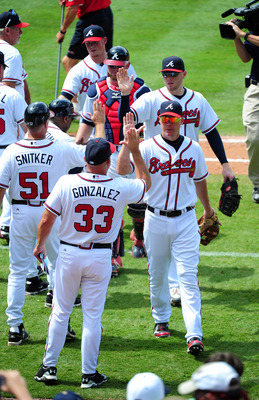 Scott Cunningham/Getty Images
As previously stated, the Braves' offense has struggling up to this point in the season, yet the team still remains just four games back of the Phillies.
Assuming the bats of Dan Uggla and Alex Gonzalez start to heat up and the Braves' pitching staff continues to dominate opponents, I believe the Braves have a legitimate chance of both catching and passing Philadelphia for the division lead.
Once again, the Braves and Phillies end the regular season with a three-game series at Turner Field, a series likely to decide the East and Wild Card champions.
Keep Reading

Atlanta Braves: Like this team?