MLB All-Star Game 2011: Paul Konerko and Shane Victorino Should Be Final Picks
July 6, 2011
Otto Greule Jr/Getty Images
There are some egregious MLB All-Star snubs every season, and 2011 provided no exception. The fans have an opportunity to bolster each roster with the "Final Vote" via MLB.com, and both Bruce Bochy and Ron Washington have left the fans with an easy decision to make this week with Paul Konerko and Shane Victorino standing out as the top players on both Final Vote ballots. 
Victorino provides the best combination of power, speed, OBP ability and defense of any of the position players on the ballot (Andrew McCutchen would have been a better selection on the ballot, but that can be discussed elsewhere). He has posted a line of .303/.376/.524 with nine home runs and 13 stolen bases, and his wRC+ of 153 is the highest on the NL Final Vote ballot. Furthermore, he is the best defensive player in the bunch with a UZR of eight this season and his WAR of 4.4 leads all the players on the ballot.   
Morse makes the second-best case with 15 home runs with an ISO of .238, but his defense is subpar and his walk rate of 5.1 percent is below average. Andre Either's power numbers (.141 ISO)  do not compare to Victorino's (.221), and he is behind Victorino in both offensive and defensive metrics. Todd Helton's only advantage is in terms of his .393 OBP. Ian Kennedy has a great case to make it as a pitcher on the staff, but he will be Washington's first alternate and the roster already has 13 pitchers.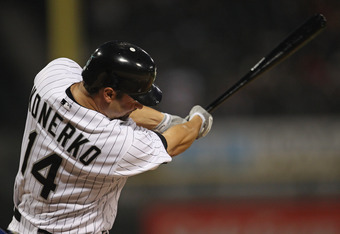 Jonathan Daniel/Getty Images
Konerko's case is even more firmly established. He leads the AL Final Vote leaders (Alex Gordon, Victor Martinez, Adam Jones, Ben Zobrist) in home runs (22), OBP (.393), batting average (.324 tied with Martinez) and SLG (.579). Gordon's .294 batting average has been inflated by a .346 BABIP, and Jones' slash line of .285/.324/.461 does not compete with Konerko's. Martinez is the next-best offensive player, but Konerko dwarfs the switch-hitting C/DH in terms of power with a .256 ISO compared to Martinez's .149.   
Zobrist, who has some speed (eight stolen bases) and power (nine home runs) would give the roster more flexibility with his ability to play both the infield and outfield at a high level, but Konerko is the most deserving player. Konerko is below average at first, but he can DH for David Ortiz later in the game. His advanced statistics correlate with some of the best offensive players in baseball. His wRC+ of 160 is higher than Ortiz and is tenth in baseball.
The fans have a better success record at picking the right All-Stars over the players and the managers, despite glaring mistakes like Derek Jeter. They seem to be catching on as both Konerko and Victorino are leading early balloting.