Oakland A's: Youth Movement Might Be Just What is Needed To Energize the Offense
July 6, 2011
Thearon W. Henderson/Getty Images
I absolutely hated the catch phrase of the 2010 San Francisco Giants season: "torture."
I could not wrap my mind around the notion that watching a baseball game could ever be "torture." Close games, fought down to the wire, make for excitement. It is baseball at its best. When you take into consideration all of the other events of our daily lives, a baseball game hardly seemed worthy of the term "torture."
I've altered my stance on this now though.
The 2011 Oakland Athletics have proven that watching a baseball team can be "torture" after all. I would still choose watching this ball club and their play any day of the week over most alternatives I am presented with throughout the day. Maybe that's just me, though. I am a baseball junkie. 
The A's had the makings of a division contender heading into spring training.
The pitching staff was returning intact, the bullpen improved, the offense overhauled. There was depth added to the roster that would prevent any major impact from use of the disabled list in 2011.
The pitching showed up as advertised through the beginning of the season. What happens, though, when your offense forgets how to hit and the fielders forget how to play error-free defense?
Your pitching staff and the fans are forced to endure the "torture."
How about when your manager mishandles and misuses his players, causing enough frustration that one of those players speaks out, causing a media frenzy?
More "torture" for the team and their fans (and undoubtedly for the former manager and front office).
Of course, the familiar injury-bug has hit the Oakland A's again this season as well. Dallas Braden, Brandon McCarthy, Tyson Ross, Brett Anderson, Rich Harden, Mark Ellis and Josh Willingham have all spent time rehabbing a variety of different injuries.
Yep, you guessed it, "torture."
And yet, even at 10 games under .500 and seven back of the division-leading Texas Rangers and Los Angeles Angels, the A's are improbable contenders in the American League West.
Despite their best efforts, they have been unable to fall out of the race, and in the middle of the "torture" that was inflicted on us all, there have been some positives to encourage A's fans that just maybe the "torture" will soon end.
The first, and most obvious, improvement has been the managing.
Since Bob Geren was relieved of his duties in favor of Bob Melvin, the A's have gone 11-12 (.478 winning percentage). While this is hardly worthy of jumping up and down in celebration, it is .049 better than Bob Geren accomplished this season (27-36), and a step in the right direction.
While the managing has not been flawless, it has been leaps and bounds better than the beginning of the season. There have not been many games during the brief Melvin-era that have had the hopeless feeling that accompanied many of Geren's decisions.
The A's are playing with more energy for Bob Melvin than they did under Geren. It may not be enough to pull them back in the race by itself, but it is a huge step in the right direction.
Secondly, and more importantly, the beginning of an unintentional youth-movement.
It began when Mark Ellis was hurt and placed on the disabled list. Sadly, the injury would seal the end of Ellis' career as an Oakland Athletic.
Ellis' injury forced the A's hand and made them call-up their top second base prospect from Triple-A, Sacramento.
Jemile Weeks stepped right in and filled a major void that Ellis' Gold Glove-caliber defense could not compensate for. He injected energy into a lineup that sorely needed a boost.
Weeks does not possess the power that the A's need in their lineup, but he is a jolt of energy and speed at the lead-off spot.
Through his first 25 games, Weeks was batting .299 with seven doubles and three triples. He has successfully stolen six bases in eight attempts as well. He is a catalyst at the top of the lineup.
The A's trade, sending Mark Ellis to the Colorado Rockies, confirmed that the A's recognize the positive contributions the youngster, Weeks, brings to the club.
With the minimal contributions the A's have seen from their core of veterans, it may be time to see if some of their other youngsters can come up and fill a similar void.
I'm not the general manager of the team, and last I checked he has never solicited my advice, but here are the moves I'd like to see and why I think they are the jolt of energy this team needs.

Call Up Jermaine Mitchell To Play Center Field
I like Coco Crisp in center—I think he brings a lot to the table both offensively and defensively. Unfortunately, I just don't see him in the plans beyond this season, and I view his spot in the lineup as a place we are sorely lacking power (batting third in the lineup). Surely Billy Beane can find a contender that would have a use for Crisp's contributions, the Atlanta Braves instantly come to mind as needing a leadoff hitter and center fielder.
Jermaine Mitchell was batting .355 with 10 homers, 15 doubles, 13 triples, 50 RBI and 11 stolen bases for the Midland Rock Hounds.
He was just recently promoted to Triple-A, Sacramento, where so far he is batting .375 with four stolen bases through his first two games.
It's a small sample-size at Triple-A, but his Double-A numbers show the type of impact he could have if his game carries over.
While the A's do have another center fielder with some pop in Triple-A, Jai Miller, it is Mitchell that I would prefer to see given the chance in Oakland.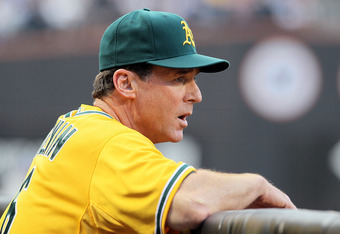 Jim McIsaac/Getty Images


Call Up Michael Taylor To Play Right Field
The combination of David DeJesus and Conor Jackson in right field just is not providing the spark needed.
DeJesus was hitting .227 with five homers entering Tuesday night's matchup against the Seattle Mariners.
Jackson, meanwhile, is batting .256 with two homers.
Michael Taylor, who has had his own struggles in the A's organization, is having a respectable season at Triple-A, Sacramento.
Taylor is batting .265 with eight homers and 27 RBI for the River Cats.
The A's thought enough of Taylor's talents to make a series of trades, beginning with the Carlos Gonzalez and Huston Street swap for Matt Holliday, to eventually acquire him straight-up for Brett Wallace (who was acquired for Matt Holliday in midseason).
Eventually he will need to be given a shot to prove whether or not he is worth the series of trades that brought him to the A's.
He has more homers than both of Oakland's right fielders combined, so why not roll the dice and give him a shot in right to see if he plugs a hole in the offense.
Conor Jackson still has a valuable role on this team as a backup outfielder and first baseman, but it opens the door for another trade chip in David DeJesus.

Chris Carter Stays in the Majors Splitting Time at First and DH
I can't seem to make up my mind if Hideki Matsui has a spot on this team for the remainder of the year, nor can I figure out if the A's will wind up trading Josh Willingham when he comes back healthy.
I've seen more negative from Chris Carter than positive, but what I know about him is that he has monster power that the A's have not had since Frank Thomas was launching balls into the outfield seats in 2006.
I stood not 15 feet behind the batting cage today and watched Carter put on a power display that was jaw-dropping.
He would likely benefit the most from receiving consistent playing time the remainder of the season in Sacramento, but there is a definite argument to be made that he will improve most by learning to hit at the major league level.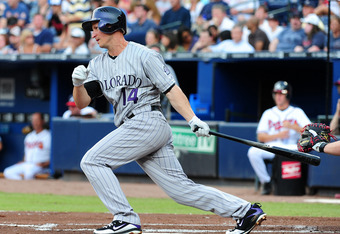 Scott Cunningham/Getty Images
If the A's choose to stick with Willingham and Matsui, then Carter is definitely headed back to Sacramento.
If they choose to stick with only one or the other though, then Carter could find adequate at-bats platooning at both first base and DH, allowing Conor Jackson to rotate between first base and left field.
Carter has the power to launch 10 to 15 homers in the second half of the season. More at-bats will help build his confidence at the plate.
While these moves would likely signal the waving of the white flag and a look towards 2012, they could actually provide the A's with the energy necessary to make a surprise second half surge that just may find them in contention down the stretch.
Of course, fun as it would be to watch the youngsters play and develop before our eyes, their growing pains in the Majors would likely bring along some more close games and a lot more "torture."
Brandon McClintock covers the Oakland Athletics and Major League Baseball for BleacherReport.com. You can follow him on Twitter:   @BMcClintock_BR.