NFL Trade Buzz: What Acquiring Rodgers-Cromartie Would Mean for the Eagles
Christian Petersen/Getty Images
Kevin Kolb for draft picks, Kevin Kolb for Dominique Rodgers-Cromartie, Kevin Kolb for Daryl Washington. By now, if you have been following the Philadelphia Eagles, and the latest rumors surrounding Quarterback Kevin Kolb, you have heard all of these.
The primary rumor that many have been hearing is Kevin Kolb to the Arizona Cardinals, for 25 year old Cornerback Dominique Rodgers-Cromartie. This is an intriguing rumor, especially due to the Cardinals spending the 5th overall pick in the 2011 NFL draft on LSU star Patrick Peterson. It makes sense for both teams, as the Eagles are in the market for a big, physical defensive back, which at 6'2 and 186 pounds, is what you'll get in Cromartie.
Not all of you may know about what Rodgers-Cromartie would bring to the table, here are a few specifics on how he might help.
Pass Defense
Stephen Dunn/Getty Images
The good:
Dominique Rodgers-Cromartie makes his money in the passing game. He has fluid hips, and is able to move very quickly. He plays well off the line in press coverage, but can also play back. Cromartie is extremely quick, and is able to keep up with any receiver. He also contains a rare combination of size and speed that helps him cover the bigger and more physical players, as well as the smaller, faster players. Last year was his worst year, and he still picked off 3 passes, so he can definitely take the ball from a lazy quarterback.
The bad:
Rodgers-Cromartie let up 4 touchdowns, which is tied for the most allowed for any of the pro bowl caliber corners this year. He also has a high YPA(yards per attempt), a stat to measure how many yeards were given up per pass completed, for a top-tier corner, at 6.56, to put this in perspective, Nnamdi Asomugha had a 4.97 YPA.
Overall, Rodgers-Cromartie has the potential to be a really good pass coverage corner, but he needs to get better at letting up touchdowns, and big completions.
Run Coverage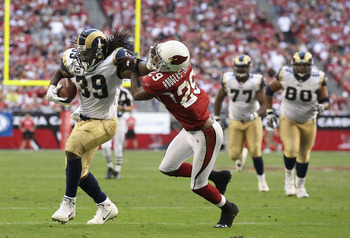 Rodgers-Cromartie struggling to bring down Steven Jackson
Christian Petersen/Getty Images
The good:
Dominique Rodgers-Cromartie had 44 tackles last year, a good number for a starting cornerback, especially compared to Asante Samuel's 26 tackles. He has quality size, and has added 10 pounds this offseason to help him in the running game, and to refine his tackling skills.
The bad:
Cromartie leads the league with a stat that shouldn't be celebrated, broken tackles. 18.9% of his tackles were broken, leading all corners. If he wants to help out in the run game and make an impact, he will need to ameliorate his tackling abilities.
Overall, he has the potential in the run game, but has proven unworthy to this point of his career.
Overall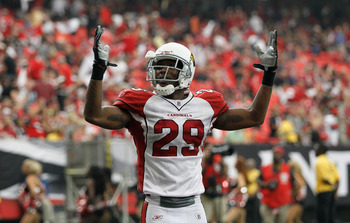 Kevin C. Cox/Getty Images
In the end, Rodgers-Cromartie would be an upgrade for the ever-so-needy Philadelphia Eagles. Filling a huge void with a top-20 cornerback in this league will be a major upgrade from filling that spot with slot corners. He will help the pass game, and the red zone coverage, but he will have to prove himself in the run game.
In the end, he would benefit this defense tremendously.
Follow me on twitter @sportsguy1211
Keep Reading

Philadelphia Eagles: Like this team?