2011 MLB All-Star Game: Evaluating Validity of San Francisco Giants' Selections
July 6, 2011
David Banks/Getty Images
By: Michael Manbert
Four San Francisco Giants players were selected to the 2011 All-Star Game. It should come as no surprise to followers of the defending world champion ball club that all four of the players selected from the team were pitchers. 
Which ones, you ask?
In no particular order...
1. Tim Lincecum - the two-time Cy Young winner has built a reputation for himself as a mainstay on All-Star squads for years to come. However, Lincecum may be the most controversial selection on the NL roster this year. As is typical for a San Francisco Giants pitcher, the long-haired flamethrower has received little to no run support. Despite having amassed 126 strikeouts (which ranks him sixth in the major leagues) and sporting a 3.14 ERA, Lincecum saw his record fall to 6-7 after a subpar start on Monday against the San Diego Padres. 
Does Lincecum deserve to be an All-Star? 
One can't "disregard" a pitcher's record. However, Lincecum's win-loss ratio is definitely skewed this season due to the fact that he rarely benefits from offensive production by an often-incompetent San Francisco lineup. Statistically, The Freak ranks near the top of the National League in nearly all significant categories, including being fourth in strikeouts, 16th in ERA and having held opposing batters to a .230 average while only surrendering seven homers in 117 innings of work.
Beyond statistics, though, Lincecum is widely recognized by fans and players alike as one of the top pitchers in the game. Furthermore, he is also one of the most well-liked players in the bigs, and is definitely a draw for fans looking to watch an exciting ballgame. 
And isn't that what the Mid-Summer Classic is all about? Excitement for players and fans alike, the latter of which undeniably love to see their favorite players regardless of the type of season they are having (as has been exemplified in past seasons with the selection of various players who had yet to even take the field due to injury).
Although I am obviously a huge Giants fan, my analysis come without bias. With that said, I feel Lincecum is a deserving, albeit borderline, all-star in 2011.
2. Matt Cain - the Giants right-hander made huge waves in the 2010 postseason, amassing a record 21 and a third consecutive scoreless innings pitched. 
He's picked up where he left off.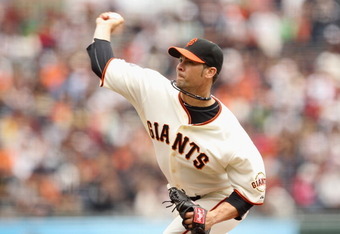 Ezra Shaw/Getty Images
Cain sports a clean 3.02 ERA while holding opponents to a .223 average. Although  he too receives little run support, the all-star has still managed to remain at a respectable 7-4 on the season. Big Daddy Cain has also posted a sick 1.09 WHIP on the season. Although he too was a managerial selection by Bruce Bochy, I definitely feel that Matt Cain is more than deserving of an All-Star nod in 2011.
3. Ryan Vogelsong - the storied right-hander makes his first all-star appearance after having made his first major league start at the ripe age of 33. Vogelsong, affectionately referred to as "Vogie" by his teammates and manager Bruce Bochy (who made Vogelsong a managerial selection for this year's NL all-star squad), sports a 6-1 record and a scorching 2.13 ERA. With great control, a low-mid 90's fastball and excellent command of a variety of pitches, Vogelsong has shown that he deserves to remain a fixture in the big leagues and then some. 
Noteworthy statistics: Vogelsong averages 7.2 strikeouts per nine innings and has a stellar 1.15 WHIP on the season.
4. Brian Wilson - after getting off to a rough start in 2011 in which he saw his ERA skyrocket into the double-digits, the bearded closer who has become the face of the Giants since last year's world championship has settled in nicely. With 24 saves on the season, Wilson sits one behind the lead-leading 25 posted by three different closers, respectively. Despite having blown two consecutive saves (the second of which angered him to the point that he took a bat to a water cooler in the Giants' dugout) in two very un-Wilson-like appearances, the closer holds a very respectable 3.03 ERA while having only surrendered a single homer on the year and striking out nearly one batter per inning. 
While Wilson's statistics are definitely worthy of an All-Star appearance, his persona and reputation put him over the top in terms of how deserving he is. The fans want to see their favorite players, and many of them will definitely have that in Wilson, myself included. 
Michael Manbert is a reporter for SFGiantsInsider.com.