St Louis Rams: What Roles Should Danny Amendola Play in 2011?
July 5, 2011
Jed Jacobsohn/Getty Images
During the 2010 season, WR Danny Amendola was a do-it-all kind of guy for the St. Louis Rams. He was an adequate option on the outside, a go-to receiver in the slot, an electrifying kick returner, and a nice spark as a punt returner.  In these roles, Amendola amassed fairly impressive statistics:
Receiving 
689 yards, 85 receptions, 3 touchdowns
Kick Returning
1,142 yards, 50 returns, 22.8 average
Punt Returning
452 yards, 40 returns, 11.3 average
On paper, it appears the Rams have found their future return-man.  On numerous occasions, Amendola put the team in favorable field position with shifty, precise returns.  He also proved very valuable in third-down situations, quickly becoming QB Sam Bradford's favorite target while making a large amount of clutch receptions.  
Given the consideration that Amendola is built fairly small however (5'11", 186), would it be ideal to run him out there for as many plays as possible?  He hasn't shown any signs of being injury-prone, but in the NFL all it takes is one ugly hit to forever hinder a player's ability.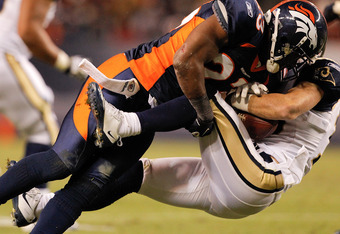 Justin Edmonds/Getty Images
If the Rams wish to maximize the ability of Amendola, what roles should he fill moving forward?
Slot Receiver
Playing in the slot is where Amendola is most valuable.  He possesses the most reliable hands on the team and his shifty route-running style allows him to get open fairly easy.  His smaller stature allowed him to lose his coverage in traffic on occasion and there is no reason to believe he will stop playing receiver for this team.  
With 85 receptions and almost 700 yards in 2010, all signs point to Amendola only improving from here on out.
Should He Fill This Role?: YES
Kick Returner 
Amendola is a very valuable kick returner.  His agility and quickness allowed him to give the Rams a shorter field to work with on numerous occasions and his smaller build allowed him to hide behind wedges and emerge without being quickly noticed.  As fun as it is to watch Amendola return kicks, there are a couple reasons to believe it'd be in his and the team's best interest to leave him off the kick return unit:
-Injury.  There were times last season when Amendola took giant hits while returning kicks, something that obviously comes with the territory.  On a couple occasions the hits caused him to miss a couple plays, but thankfully none of them caused serious damage.  Do you risk leaving your best receiver vulnerable to big hits and risk injury?
-Stamina.  Returning kicks an entire game can exhaust a player, and there were times last season where Amendola looked completely exhausted by the end of the fourth quarter due to playing receiver and returner.  If you take him off the kick-return team, you'll be allowing him to save up more energy to be a more effective receiver, specifically at the end of the game.
While those two points are crucial, the NFL has changed the kickoff rules, moving the kickoff up to the 35-yard line.  What does this mean?  There are going to be far more touchbacks and snap decisions.  When the returner gets the ball about three yards deep in the end zone, do they take it out knowing the opposition is five yards closer than they would normally be?  
The Rams need all the experience and the help they can get when it comes to making the most out of a bad situation in these new rules, therefore the intelligent Amendola will be most strongly desired for the position.
Should He Fill This Role?: YES
Punt Returner
 Punt returners have a horrible life.  While they do have the opportunity to return a punt to the house, the chances are very dim and they'll almost always take a big hit trying.  Amendola has all that you could want in a punt returner: solid hands, quick feet, and remarkable agility.  There were a couple times last season where he almost took a punt all the way back to the house, usually being caught by the final defender.  
The main risks for Amendola returning punts are the same that he had for returning kicks, only to a higher degree.  Returning punts have plenty more risk than returning kicks simply because by the time the return man gets the ball there is a chance a defender is just a couple yards away from him, preparing to lay down as hard of a hit as physically possible.
Between playing receiver, returning kicks, and returning punts, Amendola appeared completely exhausted.  It would be in everyone's best interest if one of these roles were cut.  While returning punts have the high-reward factor, it also has the highest risk.  The one reason the Ram's would have for not wishing to replace Amendola at all in this role is because of Amendola having such reliable hands (no fumbles while returning punts in 2010).  
However, most people would prefer he rest up and save his energy for offense.  Should a situation arise where the Rams need a high impact player returning a punt, they could easily sub him in, but they should definitely avoid running him out there for every punt return.  
Should He Fill This Role?: NO