Worst Offense Since 1902? So What's Your Point?
July 5, 2011
Gregory Shamus/Getty Images
John Shea of the San Francisco Chronicle wrote in today's edition that the Giants have given their pitching staff the lowest home game run-support of any team in franchise history dating back to 1902.
That club, according to Shea, finished 53.5 games out of first place. Shea also noted that the legendary ace of that 1902 staff, 21-year-old Christy Mathewson, had a 2.12 ERA and 1.14 WHIP, yet finished 14-17 (implying similarities with current Giant left-hander Madison Bumgarner, who has pitched extremely well this season but is 4-9).
Shea also highlights the fact that the Giants haven't scored more than six runs at home all season long, a 38-game streak. A 39th straight game would give this year's club the all-time franchise record for most consecutive home games played without breaking the six-run barrier, eclipsing the mark set by the infamous 1902 squad.
Sounds bleak, doesn't it? Well, don't lose hope just yet.
So What?
Let's take a short trip back in time. Rewinding the tape back just one season, let's reminisce about where the eventual World Series champions stood on July 5, 2010.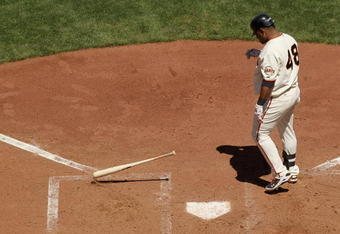 Ezra Shaw/Getty Images
The Giants flew into Milwaukee after losing a 15-inning heartbreaker in Colorado on the 4th of July, and their record stood at 41-40.
San Francisco was nearing the end of the first-half with a slumping offense that simply could not give its stellar pitching staff enough run support.
During a four-game losing streak from April 18-21 against the Dodgers and Padres, the Giants scored five runs (1.3 runs/game).
In a weekend series with the A's in Oakland from May 21-23, San Francisco scored a grand total of one run during the three-game set and was swept.
During a seven-game losing streak from June 26-July 2, the Giants scored a total of 15 runs (2.1 runs/game).
Argument: But last season was different, Buster Posey saved the day

One big argument that critics of the Giants' current lackluster offense would make is that Buster Posey, one of the biggest catalysts to San Francisco's run to the title last season, is no longer part of the equation and therefore the Giants don't have a hero to prop up the offense this time around.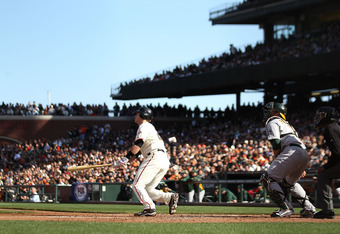 Jed Jacobsohn/Getty Images
While Buster Posey was a key catalyst and huge factor in San Francisco's transformation in the second half last season, the Giants didn't exactly light-up the scoreboard any more often after his promotion in May 2010.
In a five-game stretch from August 13-August 18, the Giants went 1-4 and scored a total of 12 runs (2.4 runs/game). 
During a red-hot September in which the Giants caught and then pulled away from division-leading San Diego, the Giants scored 3.7 runs/game (in 2011 the Giants are currently averaging 3.6). San Francisco was also shut-out five times during the month. Their win-loss record for September? 18-8.
Argument: But once they got to the playoffs, they "caught lightning in a bottle"
What some have called "lightning in a bottle" is in fact, Giants baseball.
In the NLDS against the Atlanta Braves the Giants averaged 2.8 runs/game and won the series, three games to one.
In the NLCS against the Philadelphia Phillies, San Francisco averaged 3.2 runs/game and won the series, four games to two.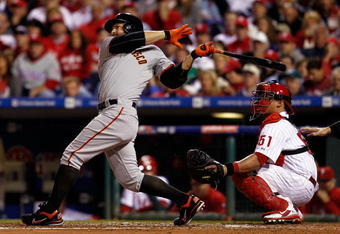 Jeff Zelevansky/Getty Images
In the World Series against the Texas Rangers the Giants broke out for 20 runs in two games (much like San Francisco's recent road trip to Chicago and Detroit, when they had games in which they scored 13 and 15 runs, respectively).
But the other three games? The club averaged 3.0 runs/game and took the series and world championship, four games to one.
Lightning in a bottle? Actually, it just looks like Giants baseball. The same brand they play every day.
The Giants are built on pitching and resilience
John Shea's article in The Chronicle has an important quote from Giants Manager Bruce Bochy, commenting on San Francisco's offensive woes.
While the skipper acknowledges that the club needs to do better in clutch hitting situations, he also says "We're in first place. These guys are battling ... They've been resilient all year, and they will be now".
The resilience of this Giants club cannot be overstated or underestimated.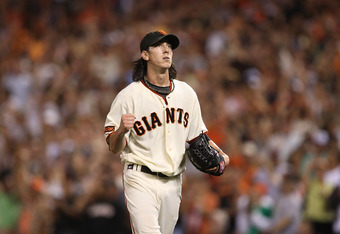 Jed Jacobsohn/Getty Images
The equation that led the 2010 Giants to a World Series title was Pitching + Resilience = Victory.
And the Giants have shown that both elements in that formula have returned in 2011. San Francisco still ranks among the league leaders in team ERA, strikeouts, opponents' batting average, and one-run victories.
The Giants showed amazing resilience as recently as last week in the midst of their seven-game road trip.
On July 1 in Detroit, after Brian Wilson blew his second save in as many attempts, San Francisco's offense came through for three runs in the top of the ninth, and went on to defeat the Tigers, 4-3.
San Francisco's team grit is a continuing trait from last season.
Remember August 30, 2010? Okay, think Carlos Gonzalez's broken-bat triple over Cody Ross' head, after Ross misjudged the ball and broke in instead of back. The Giants lost a devastating 2-1 contest to the Rockies which, if they had prevailed, would have helped them tremendously in the standings, as the first-place Padres continued to slide.
But the Giants were resilient.
San Francisco recovered to win eight of their next 10 games.
Remember October 8, 2010? Think Rick Ankiel blasting a game-winning homer into McCovey Cove to complete an Atlanta comeback-victory over the Giants in Game 2 of the NLDS. A devastating loss considering the fact that San Francisco had been up 4-1 behind a stellar performance by Matt Cain.
But the Giants were resilient.
They did not wilt under the pressure of the postseason, and they did not give way to the tremendous momentum shift in Atlanta's favor. The Giants won the next two games in Atlanta to take the series and advance to the National League Championship round.
So far in 2011, the Giants are 48-38 as they near the All-Star break, in first place in the NL West with a two-game lead.
And as for that lack of home game run-support? The Giants are 24-14 at home.
San Francisco continues to have that uncanny ability to rise to the occasion when the occasion demands it.
It's this ability, combined with their amazing pitching staff, from top to bottom, that will continue to carry this franchise in 2011.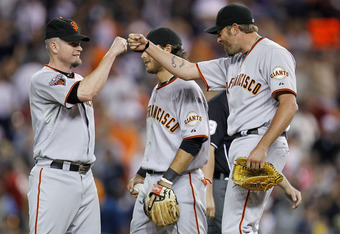 Gregory Shamus/Getty Images
A new brand of baseball we're not accustomed to
As we are now at the tail-end of the transition away from the steroid-era, an era in which we saw unprecedented home run totals and came to rely on the adage that winning baseball must involve at least one or two powerful bats in a lineup, we are extremely uneasy when we see a team like the Giants, whose leading RBI man has 43 on July 5. 
But what we are witnessing with the San Francisco Giants is a club that is leading baseball into a new era of pitching dominance, and this new brand of baseball means big offense is not a prerequisite to winning a championship.
So relax, folks. They did it last year, and while there's no way to guarantee a repeat in 2011, the Giants are on track for another season of torturous October baseball.