Pittsburgh Pirates: One Word for All-Star Snubs of Correia, McCutchen—Typical
July 5, 2011
Rob Carr/Getty Images
(For complete Pirates coverage, see Piratesreport.com.)
PITTSBURGH – Some people are surprised the Pirates will have only one All-Star representative as it stands now, but not me. I've smelled this skunk before.
Along with closer Joel Hanrahan, either pitcher Kevin Correia, center fielder Andrew McCutchen or both deserve to be in Phoenix next week. But like everything else in Major League Baseball in recent decades, the All-Star game is meant for the big markets. That's why the country will see 16 members of the Boston Red Sox, New York Mets, New York Yankees and Philadelphia Phillies in uniform.
Check that—the number could grow to 17 soon. Phillies outfielder Shane Victorino is among five candidates on the ballot for the final National League spot. Somehow, McCutchen isn't on the list. In effect, we've been told that he doesn't rank among the top 38 players in the league. Yeah, right.
In past years, the excuse was that the Pirates didn't win enough games to merit multiple selections. Fine.
Now explain why the Pirates and Arizona Diamondbacks have only one representative apiece even though they are above .500 right now. Meanwhile, the Los Angeles Dodgers have two All-Stars despite the third-worst record in the league, not to mention one sorry team owner.
Correia owns a share of the major league lead with 11 victories. His nine road wins may be even more impressive. He also has the highest percentage of his team's victories (25.6) than any pitcher in the bigs. He's the backbone of a rotation that is the No. 1 reason for team success this season. Nonetheless, he lost out to Ryan Vogelsong, the San Francisco Giants journeyman pitcher.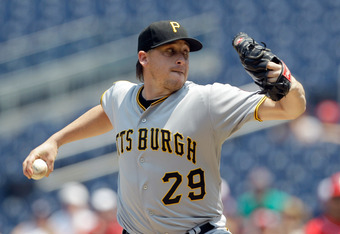 Rob Carr/Getty Images
C'mon, now. Ryan Vogelsong?
Vogelsong has a 6-1 record and 2.09 earned run average for a division leader in a Grand Canyon of a ballpark. Bully for him. Now he has a 16-23 record and 5.11 ERA to show for his major league career. At 33, Vogelsong has done nothing to deserve the benefit of the doubt.
Now get this: The Giants also have starters Matt Cain and Tim Lincecum and closer Brian Wilson on the All-Star roster. What, Juan Marichal and Gaylord Perry aren't available, too?
National League manager Bruce Bochy chose Cain, Lincecum and Vogelsong. He happens to be the Giants skipper.
Bochy also selected Carlos Beltran over McCutchen as a reserve outfielder. Yet name the category, and McCutchen has him tied or beaten: batting average (.294-.280), on-base percentage (.390-.370), home runs (12-12), stolen bases (15-3). Only in RBI (54-45) does the Mets veteran have the advantage, and that's because he bats two spots behind shortstop Jose Reyes and his .398 on-base percentage.
Victorino checks in with a .303 batting average, nine homers, 34 RBI and 13 stolen bases, so he doesn't stack up with McCutchen, either.
Of course, the Giants are in the market for a hitter before the trade deadline, and Beltran just happens to be available. You don't suppose that Bochy will take advance of the opportunity to schmooze him, do you? Why, of course not.
From a marketing standpoint, the McCutchen snub makes about as much sense as Speedos in Fargo, N.D.
McCutchen is the kind of young, athletic player Major League Baseball should want to promote. It doesn't have enough of them. McCutchen also is African-American, and if you haven't noticed, baseball doesn't have nearly enough of them in the stands or on the field, either.
Then again, who wants McCutchen when you can have Omar Infante, the Atlanta Braves utilityman who was picked ahead of him last year.
That's not to suggest that McCutchen should have been picked because of his skin color. He and Correia deserve to be there based on performance, simple as that.
 Follow me on Twitter @PaulLadewski