MLB: The View of a Bleacher Creature at Yankee Stadium
This is just a small sample of what a day at Yankee Stadium looks like through the eyes of a Bleacher Creature.
Unfamiliar Luminary took in a game earlier this season as the Yankees hosted the Detroit Tigers. Naturally, some of the best seats in Yankee Stadium are in the right field bleachers, and that's exactly where we sat.
From the passion of the Yankees fans to their taunting of opposing fans to the roll call during the top of the first inning, the right field bleachers simply add to the already extraordinary environment at Yankee Stadium, easily making this one of the best ballparks in all of Major League Baseball.
Player Interaction with Fans
Nick Swisher has quickly become a favorite in New York, and that is because of the continuous engagement he pursues with the fans.
By amping up your fans, an energy is added to the stadium that is unlike none other. Swisher, along with a lot of the Yankees, will often interact with fans before, after, and during the game.
Roll Call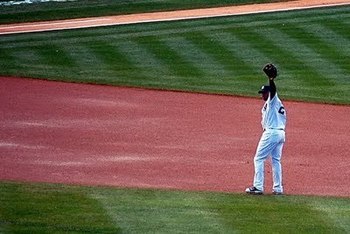 The picture shows Yankees starting second basemen Robinson Cano saluting the "Bleacher Creatures" during Roll Call in the top of the first inning.
Roll Call is one aspect of player interaction that occurs during every game at Yankee Stadium. It never seems to get old and it electrifies the fans right from the start.
The Bleacher Creatures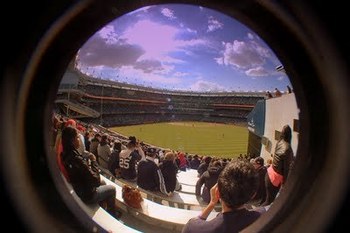 Here is a view of Yankee stadium using a "fisheye lens" from the obstructed view seats in the right field bleachers.
These tickets only cost $12 and may be the best bargain available since you can always walk around the stadium and watch the game from just about anywhere you want.
This picture also gives you a look at the infamous section of "Bleacher Creatures," where you can expect vulgarity, intoxication, and a very unique passion for the NY Yanks.
Until Next Time...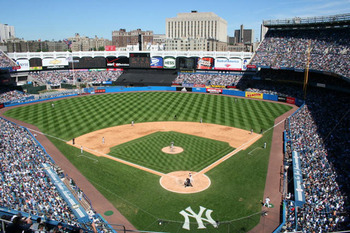 A day at Yankee Stadium is an exciting and memorable experience that every New Yorker should try at least once in their lifetime.
With many cheap seats available, great fans, and an atmosphere unlike any other in the MLB, Yankee Stadium is an affair that will please all ages and all personalities.
Written By Ryan Doyle of Unfamiliar Luminary
Original Photos Taken By Chris Hennen
Keep Reading

New York Yankees: Like this team?