Christian Ponder: Why Vikings Fans Should Believe Ponder Is a Long-Term Solution
July 5, 2011
Mike Ehrmann/Getty Images
The Christian Ponder Era is just in its infant stage of growth and already Vikings fans are beginning to not only wonder whether this youngster is the immediate answer the team needs at quarterback, but whether or not he is the long-term solution the Vikings have been without for years.
Well, perhaps the Vikings fans should start believing this guy is a long-term solution.
I admit I have no crystal ball. I am devoid of any extraordinary visionary powers that can foresee into the future.
What I do have is an understanding of what this team needs, where it is planning to go, and I also have an understanding of the player in question.
The Minnesota Vikings have been without a true leader under center since Fran Tarkenton, let's be honest here.
But Ray, what about Tommy Kramer, Wade Wilson, or even Randall Cunningham? And did you forget Warren Moon or Daunte Culpepper?
All of these players have special places in Vikings' history; each of these players either never materialized into the long-term solution, or were never considered that in the first place.
Tommy Kramer was supposed to be the heir apparent to Tarkenton and was even known for his come-from-behind victories, but had too many health issues.
Wade Wilson was an eighth round selection that just happened to lead the team to a couple of playoff appearances, but again, never truly crossed that plateau; while Culpepper's stellar ability was eventually victimized by injuries and immaturity.
Of course, Cunningham and Moon were never thought to be long-term solutions.
So why Christian Ponder? What makes him a potential long-term solution for Minnesota?
Ladies and Gentleman, I don't have that answer, because nobody can; I only have what's in front of me.
And that is a player who was exceptionally accurate in college as shown in his 61.76 completion percentage (a rate that Kramer and Wilson never accomplished in their college years).
I have an individual who has more than enough football smarts to plug right in to an NFL lineup, in a system that is designed to nurture a new quarterback while protecting him at the same time—an aspect that Culpepper never had, nor displayed.
I have spoken to a player who is unwavered by the stress of the acclimation process of the pro circuit; a person who has kept a singular idea in mind from day one: to start for this team and become the next great in Vikings' history.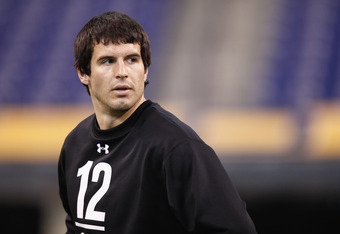 Joe Robbins/Getty Images
And what I have in front of me today is what the organization and the fanbase has in front of them.
Dedication, true ability, raw talent and a future based mentality with a total team focus: sounds like a potential long-term solution to me, what about you?
Again, there isn't any really way to tell if Ponder will be that guy, but NOBODY thought Tom Brady would've ever become that guy for New England and no one ever would've ever guessed an 8th round selected quarterback (Wade Wilson) would've led the Vikings to three playoff appearances.
Time tells all, but there's more than enough evidence to believe ponder is the Vikings' long-term solution.
And sometimes belief lends way to reality.