Tom Brady Demands Respect: No. 1 on NFL Network Top 100 Players List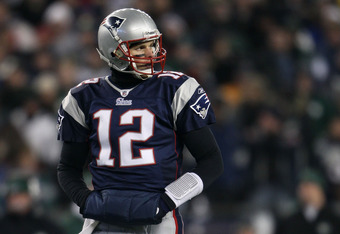 Brady voted #1 by the NFL Players on NFL Network's 2011 List
Elsa/Getty Images
"Tom Brady being No. 1, I wouldn't disagree at all."
That was what Ray Lewis had to say when introducing Tom Brady as the top player on the NFL Network's Top 100 Players list of 2011.
On a list voted by the players, it was fitting to hear these words of respect for Brady from one of the most feared and intimidating players in the game. Lewis, who was voted number four by the players, thrives on his passion for the game, and the intangibles he brings to the table on the defensive side of the ball.
His compliments were truly a testament reflecting the general consensus of players' views towards Tom Brady.
"I think he's worked his way to earn that spot," Lewis said. "He's not the biggest, he was never the strongest, he was never the fastest. He was overlooked; he went in the sixth round. So with that being said, all the intangibles a quarterback is supposed to have, they overlooked with him, because it was burning from the inside of him."
As the Top 10 portion of the list wound down, there was little doubt as to who would be in contention for the top spot.
When the countdown started 10 weeks ago, the names Brady and Manning were thrown around for the number one spot. In a league driven by quarterbacks, the general consensus was that the players could vote for either one as the top player.
With three Super Bowl wins to his credit, and coming off of a fantastic 2010 season in which he won the MVP, Brady was a well-deserved number one selection. Brady threw 36 touchdowns to just four interceptions last year, posting the highest TD:INT ratio in NFL history at 9.0—even higher than his 6.3 ratio in 2007 when he tossed out 50 touchdowns.
These numbers, along with leading his team to a stellar 14-2 record, led him to be voted as the first unanimous MVP in NFL history. Brady and Joe Montana share the unique distinction of being the only two players in league history to have won multiple NFL MVP and Super Bowl MVP awards.
Who do you think should have been voted #1?
Respect for Brady comes from all corners of the NFL.
"Brady is so special because he's such a great leader and all the players can relate to him," team owner Robert Kraft said. "These kids [rookies] who come in live in awe of him, but the nice thing is he treats them well."
Besides his numbers and work ethic, players respect him most for his hunger and desire to win. Brady was an afterthought in the 2000 NFL Draft, being selected in the 6th round with the 199th overall pick by the New England Patriots. He was not a top prospect coming out of the University of Michigan, or even high school for that matter.
Going into his freshman year, he was listed seventh on the Wolverines quarterback depth chart. He had to battle for playing time and finally became the starter his junior year in 1998. He went on to lead Michigan to 20 wins his last two years, but was still overlooked as a prospect at the next level.
In the 2001 season, Brady proved to his peers in just his second season that he was overlooked by leading his team to a Super Bowl and winning Super Bowl XXXVI MVP against the Rams.
Brady is associated around the league with winning. Even after winning the regular season MVP in 2010, he was disappointed that he could not lead his team further in the playoffs to another Super Bowl.
"When the season is over, 31 teams are disappointed about the outcome," he said. "There is only one champion, and nobody plays this game for second place. The desire and hunger is about winning, which to me never gets old. The motivation to get up and work every day for that goal is something that challenges us all."
It is clear that players around the league respect Tom Brady's passion for the game of football and his desire to win. Tom Brady deserves to be number one on this NFL players list.
This article is
What is the duplicate article?
Why is this article offensive?
Where is this article plagiarized from?
Why is this article poorly edited?

New England Patriots: Like this team?