2011 Home Run Derby: Taking a Look at the Contestants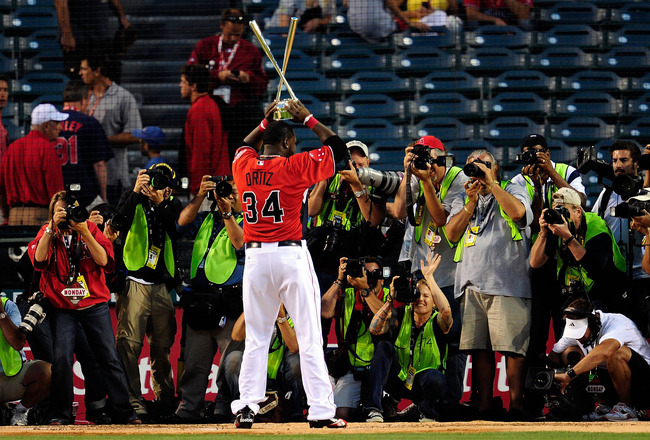 Jeff Gross/Getty Images
Yup, it's that time again.
The warm summer nights, the energetic crowds, and the good old crack of the bat.
That's right ladies and gentleman, it's time for the 2011 edition of Major League Baseball's Home Run Derby.
It's a time of excitement. A time when fans of all 30 clubs anxiously fill up one ballpark. And most importantly, it's a time to watch the game's best sluggers duke it out for home run supremacy.
This year's contest will introduce the baseball to wide variety of players. There are young newcomers such as the Dodgers' Matt Kemp and the Brewers' Rickie Weeks. There are established hitters trying the Derby out for the first time like Jose Bautista and Robinson Cano. And there are former champions roaming the field in the likes of David Ortiz and Prince Fielder.
So with the highly anticipated and widely watched event coming up, here is a list each contestant--detailing why or why not they can bring home the coveted Derby title this year.
AL: David Ortiz
Jim McIsaac/Getty Images
2011 Home Run Total: 17
Derby Experience: 2004, 2005, 2006, 2010 (Winner)
Why He Can Win: Simple, because he's already done it. Ortiz cruised to his first Home Run Derby title last year in Anaheim after slugging out a monstrous 32 jacks, the third highest total in the contest's history. In addition to last year, Big Papi has also competed in 2004, 2005, and 2006. He has the experience, he the success, and he definitely has the power.
Why He Can't Win: There are seven other contestants. Simply put, someone has to hit more homers than Ortiz. Boston's big man has little to no flaws when it comes to hitting batting practice balls out of the park. His ability and history in the Derby makes him the clear cut favorite.
AL: Robinson Cano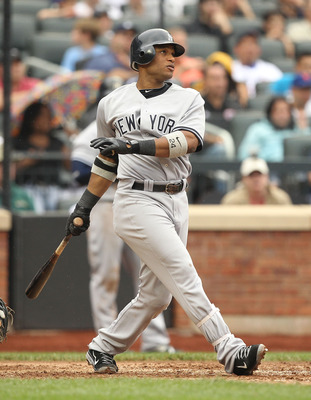 Al Bello/Getty Images
2011 Home Run Total: 14
Derby Experience: None
Why He Can Win: Robinson Cano is easily one of the most skilled hitters in the league. There are very few, if any, swings in today's game that look more pure than those of the Yanks' second baseman. It's almost like watching poetry in motion. Robby's prowess to muscle out a ball makes him one of the favorites to win this year. He maintains a sweet and simple approach which enables him to preserve a lot of energy. Not tiring quickly is a substantial key to winning this contest.
Why He Can't Win: Two reasons--his attitude and inexperience. Every Yankee fan knows Robinson carries a bit of a cocky, carefree attitude to his game. He jogs to first on ground balls, he admires his long bombs, and he always fields the ball ever so gingerly. If Cano starts out on a bad foot in the Derby, he may just throw it away. As far as his inexperience goes, it's a problem for any first timer. The last player to win the event in his first appearance was Ryan Howard back in 2006.
AL: Jose Bautista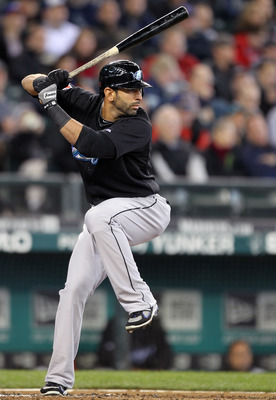 Otto Greule Jr/Getty Images
2011 Home Run Total: 28
Derby Experience: None
Why He Can Win: Have you seen this guy in the past two seasons? Jose Bautista burst into the scene last year, blasting a major league leading 54 homers. A fluke for a guy who had never hit 20 home runs in all his previous seasons? I think not. Joey Bats continues to tear up baseballs in 2011 as well. He currently leads the majors in homers with 28. No one has been a better power than Bautista in the past year and a half.
Why He Can't Win: His swing is much too elaborate for the Home Run Derby. Although his repaired stance has paid huge dividends in the past two seasons, it may not turn out to be that beneficial to him in Phoenix. Bautista's enormous leg kick requires a considerable amount of energy. Combine that with his all-or-nothing swing and you have the most tiring approach in baseball. If you can't maintain energy, you won't go long in the Derby.
AL: Adrian Gonzalez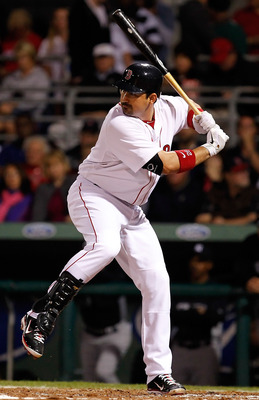 J. Meric/Getty Images
2011 Home Run Total: 16
Derby Experience: 2009
Why He Can Win: I know you've probably heard this a thousand times, but Adrian Gonzalez has power to all fields. Left, right, center--this guy can take out a ball wherever he pleases. A-Gon can utilize his strength and pure hitting ability to go deep in the contest.
Why He Can't Win: His poor performance in 2009's Home Run Derby isn't very assuring. In a contest where Gonzalez was an extremely popular pick, he only managed to hit a total of two homers at Busch Stadium. Maybe he had some butterflies and maybe I shouldn't use his '09 attempt against him, but it was just two long balls.
NL: Prince Fielder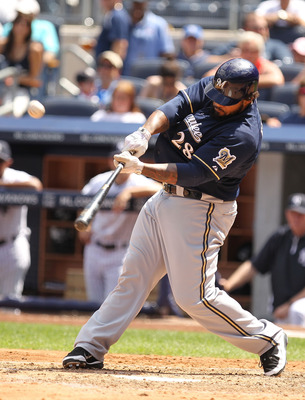 Al Bello/Getty Images
2011 Home Run Total: 21
Derby Experience: 2007, 2009 (Winner)
Why He Can Win: Like his counterpart and fellow Derby captain David Ortiz, Prince Fielder has been here and done that. Fielder competed in 2007's festivities in San Francisco and in 2009's edition where he beat out Nelson Cruz to take the honors. The big boy holds the experience, the history, and oh yes--the power.
Why He Can't Win: There's almost nothing to point out here except his stamina. Although he won in 2009, Fielder barely slugged it out. He appeared a tad drained during his display in St. Louis and pulled out the win by a mere two jacks. If Prince isn't in better shape, he may have a tough time winning his second title.
NL: Matt Kemp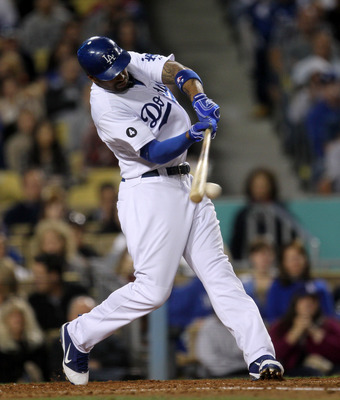 Stephen Dunn/Getty Images
2011 Home Run Total: 22
Derby Experience: None
Why He Can Win: Matt Kemp is ripping it up at the plate this season. Even though Derby pitches are a much more different creature than actual game pitches, Kemp has found his stroke. He started out the season hot and still remains hot up to the break. And most importantly, Matt Kemp has some new found confidence in his approach after a disappointing 2010 campaign.
Why He Can't Win: He's another guy with an inexperience factor. Again, just as any other first timer, Kemp will have to quickly adjust to the competition in order to have a legitimate shot at bringing the hardwood back to LA.
NL: Rickie Weeks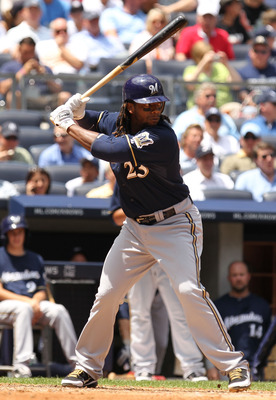 Al Bello/Getty Images
2011 Home Run Total: 15
Derby Experience: None
Why He Can Win: If everyone else drops out. (I'm just kidding.) He may not be the biggest, he may not be the most capable, but Rickie Weeks does have the power. Weeks hit a career-high 29 homers during his breakout campaign last season. And now Milwaukee's second baseman has harnessed that power into 2011,hitting 15 long balls thus far. The fact that he is the undisputed underdog of this competition may work to his advantage.
Why He Can't Win: If inexperience is going to plague any contestant this year, it's Rickie Weeks. He isn't exactly used to any kind of spotlight in the majors. This is his first All-Star appearance and he plays in a smaller market franchise with the Brewers. Weeks hasn't had a great amount of exposure which may or may not intimidate him while competing.
NL: Matt Holliday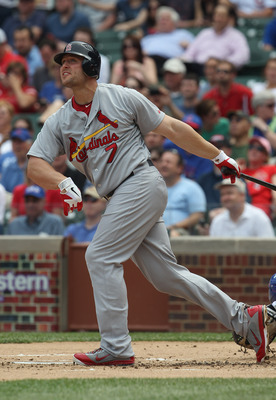 Jonathan Daniel/Getty Images
2011 Home Run Total: 12
Derby Experience: 2007, 2010
Why He Can Win: Everybody that has played against Holliday in his career knows he's a batting practice beast. And since the BP environment is virtually the same as the Derby environment, Holliday will have no problem flexing his power on this stage. He has also participated in a couple of contests in the past, seeing considerable success. Holliday placed third in '07's edition and fifth in last year's. He definitely has the potential to win it thanks to his experience and his swing.
Why He Can't Win: History is against him. For one, Holliday is 0-for-2 in the Derby. Not since the days of Mark McGwire has a player lost his first two appearances to go on to win in his third try. (Mark McGwire accomplished this feat back in 1992.) Not only that, but not one St. Louis Cardinal has ever gone on to win the Home Run Derby. The birds are 0-for-13 as far as the contest goes.
Prediction...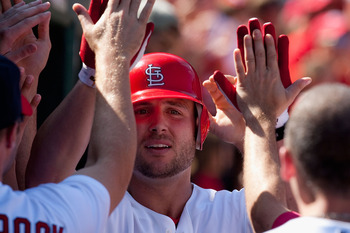 Dilip Vishwanat/Getty Images
Matt Holliday will defy the odds and become the first Cardinal to win the derby.
Standings:
1. Matt Holliday (STL)
2. Robinson Cano (NYY)
3. David Ortiz (BOS)
4. Adrian Gonzalez (BOS)
5. Jose Bautista (TOR)
6. Prince Fielder (MIL)
7. Rickie Weeks (MIL)
8. Matt Kemp (LAD)
Keep Reading