NFL Lockout: Green Bay Packers' Preseason Football Exactly 1 Month Away
July 13, 2011
Tom Dahlin/Getty Images
It's that time of year again. It has been weeks since the NHL and NBA playoffs came to a close and the MLB is in the middle of its All-Star break. Even Wimbledon has come and gone. The U.S. women's soccer team may be in the finals of their World Cup, but the world's favorite sport just doesn't compare to American football in our country.
We're in that short stretch during the summer when nothing very exciting is going on in the world of sports. In most areas of the United States, the year is at its hottest and everything is bone dry, just like NFL news during this lengthy lockout.
Luckily, those of you who have been craving and thirsting for the National Football League are about to be refreshed. Relief is exactly one month away for fans of the defending champion Green Bay Packers and even less for followers of a few other franchises.
According to Drew Brees via San Diego's XX Sports Radio, the lockout is finally nearing an end and business will most likely resume following a July 21st owner's meeting.
Personally, I've never believed that professional football wouldn't continue on as normal in 2011, and I have hope that this is finally it.
All NFL fans will rejoice if Brees' beliefs become reality, but Packers backers will be the most excited to see their beloved team return to the field.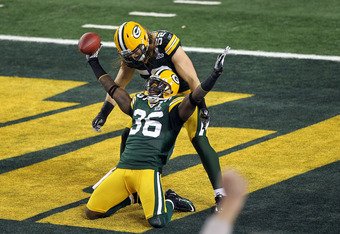 Mike Ehrmann/Getty Images
On August 13, 2011 the Packers will travel to Cleveland to take on Madden '12 cover boy, Peyton Hillis, and the Browns. The team will then take on the Cardinals, Colts and Chiefs leading up to the regular season.
It's hard to believe that it has been half a year since the Pack stopped the Steelers on fourth down and secured a victory in Super Bowl XLV.
It may only be preseason ball, but it sure seems like it has been a long time coming. If for no other reason, I will be eager to watch to see this year's draft picks such as Randall Cobb and Alex Green touch the ball.
So I ask you, NFL fans, and my fellow cheeseheads—in the words of Hank Williams Jr., "Are you ready for some football?"