Philadelphia Eagles: The Next Super Bowl Contender, or Perpetual Bust?
July 3, 2011
Chris Trotman/Getty Images
For a few solid years now, the Philadelphia Eagles have flirted with a Super Bowl appearance despite always finishing just a stone's throw away. But with a solid performance in the 2011 NFL Draft, and a core team that certainly has enough talent, one has to envision the Eagles could, in fact, be Super Bowl bound.
But are they really?
Ask any Eagles fan as to why the Eagles always fall short, and any one of their unmatched die-hards will tell you it was either due to injuries, coach management or curious play-calling at the worst possible time.
I'm sure they could come up with a few more reasons, but we'll put the cap there.
Injuries have plagued this team for years now—particularly in the trenches and linebacker corps. Andy Reid's one glaring weakness is a seemingly inept ability to manage a play clock properly for 16 games, and there have certainly been situations where the Eagles could've gone down the right path, but harmed themselves with poor play-calling in the waning moments of a crucial game.
But could all of that change in the new NFL season? Could the Eagles, in fact, make the final push towards greatness in route to the big stage?
Well, I, for one, say yes!
Strategically, there are a few changes brooding in Philadelphia right now.
Offensively, running back LeSean McCoy proved last year he has the talent and durability to be an every-down back, which is a crucial piece to a team's Super Bowl pursuit.
McCoy hammered opposing defenses with his elusive running, garnering 1,080 yards on 207 carries with seven touchdowns.
He further dented his opposition by adding another 592 receiving yards and two touchdowns on the year as a receiving back.
This year, the Eagles are hoping to focus on the ground game more with McCoy as the absolute center of attention.
As far as the air attack, I don't really need to tell anyone anything they already don't know.
Michael Vick is at the helm for a full 16, DeSean Jackson and Jeremy Maclin make up one of the most explosive—and deadly—one-two punches in the league right now, and the collective tight ends are multi-purpose in the respect that they can be added weapons in the passing game or added quality blockers in the ground attack.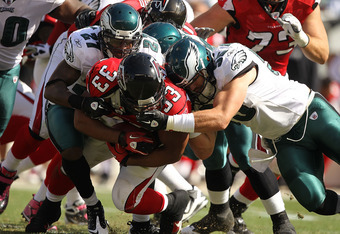 Al Bello/Getty Images
Defensively, however, is where the Eagles suffered their most damage.
The linebacker corps in 2010 dealt with an insurmountable amount of injuries, causing the coaching staff to move players more than any staff would ever desire, despite each player performing at an admirable level.
The secondary suffered the greatest amount, however.
The Eagles lacked a true right cornerback, and the injury bug severely damaged the effectiveness of the Eagles aggressive blitz packages, leaving them vulnerable downfield.
Still, this makeshift infirmary of a defense managed to put together the 12th-ranked defense in the NFL.
This year, the Eagles are healthy again, and will introduce more zone packages to help keep the higher-caliber offenses in check for four quarters. If this core 11 stays healthy for 16 games, that 12th-ranked scoring defense has enough talent and know-how to easily make it into the top 10; perhaps even the top five.
But it isn't just the current team that is reason to expect the Eagles to make a legitimate push for the Super Bowl.
The Eagles ended the 2011 draft with a strong collection of talented players, all of whom have enough talent to impact the team in the very specific manner.
Guard Danny Watkins from Baylor and homegrown free safety Jaiquawn Jarrett from Temple are expected to make immediate impacts at their respective positions, and they have the talent to back it up.
Watkins is a 6'3", 310 pound "X"-factor type of player who could also be utilized at either guard position or even right tackle.
Jarrett has the size and skill set the Eagles are hoping will translate into their new scheme, which will bode well for the team, considering Nate Allen fit right in 2010.
The idea is that the two will make for a gruesome twosome.
But it doesn't stop there.
Cornerback Curtis Marsh from Utah State has enough size and field ability to make a push for a starting role, helping the Eagles maximize their newer zone schemes, while inside linebacker Casey Matthews figures to be a situational puzzle piece—albeit an integral one—and has the added bonus of being available to be utilized on the outside.
To boot, the University of Pittsburgh's Dion Lewis is slated to be the primary backup to McCoy at the start of the season and is another high-quality, speedy, shifty runner who could—in time—become part of an offensive one-two punch.
Talent, depth and multi-functional player usage—these are all aspects that help a team turn the corner from competitor to legitimate contender.
The bottom line is this: the offensive line will have to improve in order to protect Michael Vick, which will allow him to do what he has done so well over his career, and the defense will have to find early success adjusting to their new coaches and schemes.
None of this is unattainable.
Are the Eagles Super Bowl bound in 2011? From a football standpoint, it is all right there in their hands, but from this writer's point of view, they certainly have little reason NOT to make an appearance.
I hope you guys enjoyed, and if you're interested in some early fantasy advice, feel free to check out my Early WR Rankings.