MLB Power Rankings: 25 Greatest Mound Stares in Baseball History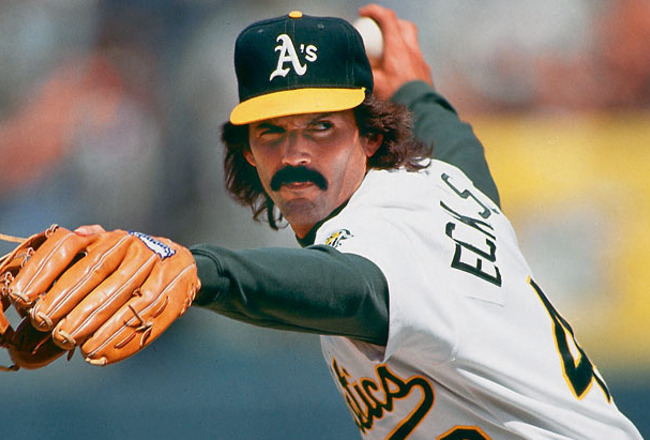 For as many times as we hear that baseball is a sport of talent, skill and luck, it's time to step back and realize that a lot of pitchers in the history of the game had much more than that. We've seen a ton of great pitchers step on MLB mounds over the years, but we have to wonder, what puts the all-time greats over the top?
What makes a pitcher with average "stuff," who failed as a starter in the minor leagues only to be stuffed into the bullpen, a great reliever? Is it intimidation that makes them formidable?
Let's think about this for a second.
Recognized as one of the most intimidating pitchers of all time, what made Randy Johnson such an intimidating presence? Looking back on his days with Seattle, surely his size and lack of control had something to do with it, but if you think that the bushy mustache and rocker's mullet were something for the ladies, well, think again.
A lot of the game's greats—and even the not-so-greats—have used intimidation to boost their repertoire, and one of those intangibles that certain intimidating pitchers have is "the stare."
Sure, when you first read that last line, it doesn't sound like much.
"A stare? Are you kidding me, Greg?"
No, I'm not kidding you. Let's take a moment to think about it.
Sticking with Johnson as our example, let's set a scene:
Two outs. Top of the ninth inning. The year is 1993, and you're on the road in Seattle. Johnson is still on the mound, trying to finish one of his 10 complete games from that season.
After two quick strikes, you step out of the box for a second and step back in, taking a deep breath. You tap the plate with the bat, look up and there it is.
The stare.
Down in the count by two strikes, it feels like Johnson is staring a hole right through your soul.
Your heart skips a beat as he goes to the windup, and you suddenly realize you're out of time.
It's too late to step out of the box, and before you know it, the 6'10" right-hander is blowing a 100 mph fastball right by you—strike three.
In all seriousness, those stares have been some of the most memorable parts of the game, and while I'm sure I haven't found all of them, let's take a look at 25 of the greatest pitchers' stares in the history of baseball.
Honorable Mention: Kyle Farnsworth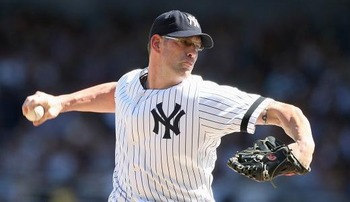 Admittedly, I'm probably Kyle Farnsworth's biggest and only supporter for inclusion on this list, but there's just something about this guy and his stare that make me feel inclined to add him in.
After moving to the bullpen following the 1999 season, Farnsworth gained an on-the-mound persona that made him one of the most interesting relievers in the game—at least, in my opinion.
The first thing you notice about him are the nerdy glasses that make him appear far less menacing than he actually is.
Once he takes the hill, though, it's all business.
Nerdy glasses or not, he's got the stare that backs up the high heat, and the glasses only amplify the effect. He's been just an average reliever over the course of his career, but if nothing more, I found him entertaining on the mound, thanks to that behind-the-glasses glare.
Honorable Mention: Billy Wagner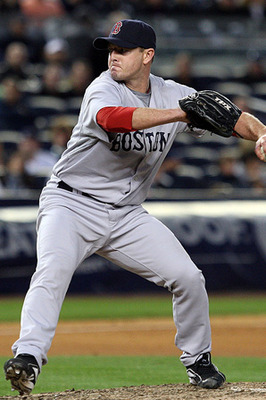 Looking at his size alone, Billy Wagner wasn't the most feared closer in baseball. If the axiom "big things come in small packages" ever applied anywhere, though, it was to Wagner.
With the Houston Astros, he became one of the most feared closers in all of baseball, registering triple digits on his fastball with relative ease.
He was never really known for a stare, but when he was a member of the Philadelphia Phillies, I remember him giving hitters a certain look during the ninth inning. From his entrance out of the bullpen to his warm-ups on the mound, he played the "Billy the Kid" persona well and had a look like he was out of an old Western film.
When he was pitching, he always gave me the sensation that each at-bat was like a shootout, and more often than not, the Kid won.
Honorable Mention: Rod Beck
Brian Bahr/Getty Images
Rod Beck was one of the coolest guys to have ever played the game, and he played it the right way. He may not have been the best closer to ever enter the ninth inning, but he sure was entertaining, and he helped shape the closer's "persona" as we see it today.
Like a lot of guys during the 1990s, Beck rocked the mullet, and he took a page out of Goose Gossage's book with the handlebar moustache.
With more than 200 saves in his big league career, Beck had the closer's role down. He would come out on to the mound, throw his warm-up pitches and wait for the batter to get to the box. After giving him a quick glare with his eyes, he'd go into his windup—never taking his eye off the batter—looking like one of the meanest guys in the game with the whole biker look he had going.
Sadly enough, he died young at the age of 38.
25. Kevin Brown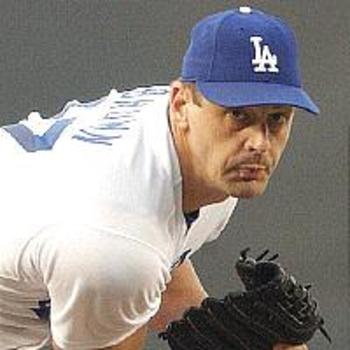 Kevin Brown mastered the art of pitching on the inside part of the plate to make pitches on the outside part of the plate unhittable, but that came with a price.
When his career was said and done in 2005, Brown had collected 139 hit-by-pitches. He wasn't afraid to hit someone, and he made that clear: The inside part of the plate was his.
He also wasn't afraid to let the hitter know that. Brown made the stare somewhat recognizable over the course of his career, staring into the catcher before throwing a fastball high and inside and looking back over a hitter after he hit someone.
24. Goose Gossage
So you may not be familiar with Goose Gossage donned in a San Diego Padres uniform, but alas, he only spent six-and-a-half seasons with the New York Yankees, and this look best illustrates what I'm going to be talking about.
A lot like Dennis Eckersley, Gossage really helped to define what a closer would become. He grew out his trademark moustache and was effectively wild to the plate, intimidating hitters to the point where it became uncomfortable to hit off him. On the mound he was a Goliath, and there was much despair in the opposition's dugout when he came on to pitch in the late innings.
Gossage was also one of those guys who perfected "the stare."
He didn't do it in a crazy way, but his eyes were cold as ice. Gossage stared down a hitter until he was sure the hitter was uncomfortable before going into his windup, and even then, he never took his eyes off the opponent.
23. Trevor Hoffman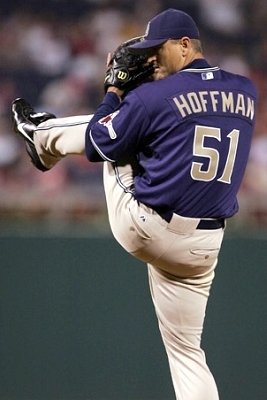 As I alluded to in the opening slide, it's amazing what a bit of intimidation did for Trevor Hoffman's career.
Drafted as a shortstop by the Cincinnati Reds, one of the first things the team had Hoffman do was move to the mound, thanks to an exceptional arm. The only thing he was really missing was a repertoire, but there was no pitcher in the history of the game who made more out of the fastball/change-up combo than the all-time saves leader.
Those two pitches alone may have been enough for Hoffman, but he used the intimidation factor to the extreme. After entering the ninth inning with "Hells Bells" by AC/DC blaring, Hoffman would stare into the catcher long and hard, continuing the stare well into his leg kick. He would then throw his fastball or change-up right by someone.
The man had ice in his veins.
22. Roy Halladay
Ezra Shaw/Getty Images
Ever since he joined the Philadelphia Phillies before the 2010 season, the media have made a circus out of Roy Halladay's machine-like work ethic, and it's been well deserved.
With that in mind, one of the things I've noticed about Doc is that he operates like a well-oiled machine—using precision, patience and repetition to mow down the opposition.
He'll never be known for his stare in particular, but with the reputation he's earned comes recognition of that look he gives a batter right before he faces them. It's cold and empty, revealing nothing about the pitch soon to follow. With an arsenal of dazzling pitches at Halladay's command, the batter never has a comfortable at-bat against him.
21. Sandy Koufax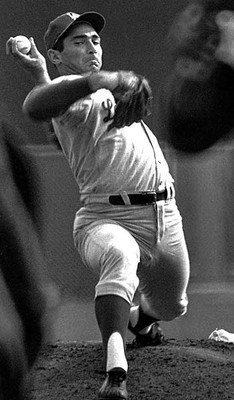 For a while, I wasn't going to put Sandy Koufax on this list. When I went back over my original list of players, I almost crossed him off because I was convinced he was here because of his overall success in the major leagues. He gained his intimidation factor through being one of the best, most consistent players in the game—not through some sort of stare.
As I went back and thought about him some more, though, it became clear I was wrong.
Yes, Koufax gained his intimidation factor through his reputation, but he also carried to the mound a level of confidence that was unrivaled among MLB pitchers. That confidence was especially bright when he was on the mound, as he gave hitters a certain look.
It wasn't frightening, but confident. He had some of the greatest "stuff" in the game, and when he had complete control over it—which was often—he was impossible to hit.
20. Mike Fetters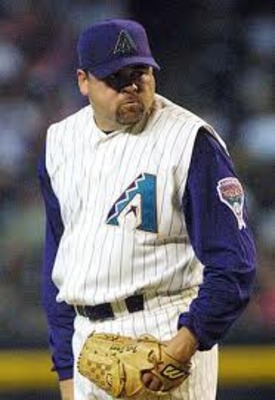 For some reason that I cannot explain to this day, Mike Fetters was always a guy I loved to watch growing up. He's a classic example of the type of middle reliever who wasn't good enough to be a starter or a closer, but I found him particularly entertaining for some reason.
Now, moving away from that bit of insight into my life, the explanation.
Fetters didn't have overpowering "stuff." In fact, he really didn't even have good stuff. He finished his career with just more than six strikeouts per nine innings and just under five walks per nine innings, and his career ERA of 3.86 shows he was productive but replaceable.
One of the mannerisms that helped him make a name for himself was a classic staredown of the batter as he stepped into the box to face him.
Fetters was a big guy with cheeks like a squirrel that helped blend his head into his neck, and as the batter would step in, he would tuck his chin into his chest, letting his hat cast a shadow over his eyes for a bit of intimidation.
Fetters was a classic example of a guy with a closer's mentality, but without the "stuff" to make it as a closer.
19. Early Wynn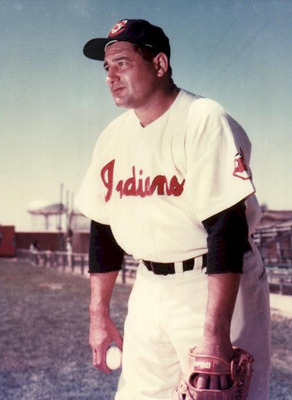 Early Wynn didn't have a particularly frightening mound stare, even though he was recognized as one of the meanest pitchers of his time. He didn't glare at a hitter with intent to kill or do anything crazy with his eyes as he toed the hill.
Wynn just had this look about him though.
It seemed like whenever he stepped on the rubber, he meant business. His stuff wasn't necessarily overwhelming, but his reputation preceded him, and hitters approached with caution. As they would step into the box, he didn't give them a frightening look, but one that showed he meant business—and as his numbers show, he wasn't afraid to pitch inside.
Wynn is on this list because his stare was different, and I'm a firm believer in "different is golden."
(Okay, I just made that up. It sounded good though, didn't it?)
18. Don Drysdale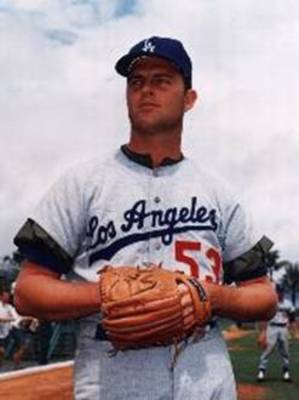 Don Drysdale is another one of those guys who didn't necessarily have to intimidate hitters with a stare.
After all, he could do that with the way he pitched.
He had good stuff, but he wasn't afraid to a hit a batter. One of my all-time favorite quotes (from one of my all-time favorite baseball websites, Baseball Almanac) comes from Mickey Mantle, who once said, "I hated to bat against (Don) Drysdale. After he hit you, he'd come around, look at the bruise on your arm and say, 'Do you want me to sign it?'"
That kind of reputation alone was enough to be considered one of the most intimidating pitchers in the history of the game, but Drysdale also had the look.
He was so confident, and that shone through on the mound every time he toed the rubber. He would give batters a look, and they knew he was going to hit them, but he was going to do it anyway. It's that kind of intensity that I love about baseball.
17. Mitch Williams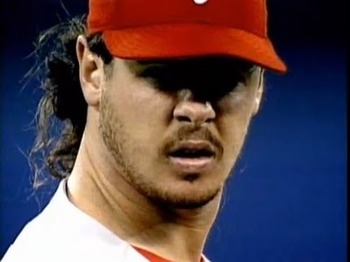 Before Brian Wilson really revitalized the crazy antics of the closer during the 2010 season, Mitch Williams made his money by being uncomfortable to hit off.
Williams had great, natural talent but zero control, quickly earning himself the nickname, "Wild Thing." He grew out his mullet, never shaved and wore the No. 99, becoming one of the most recognizable closers in baseball.
As an integral part of the 1993 National League champion Phillies, Williams perfected the closer's role.
He'd come into the game, get ready to go and then just wait for the batter. When he stepped into the box, Williams would stare him down until he was uncomfortable and then go into his unorthodox delivery. He'd throw a fastball right by the batter's ear, following it up with one right down the middle.
Truly uncomfortable to hit off.
16. Jack Morris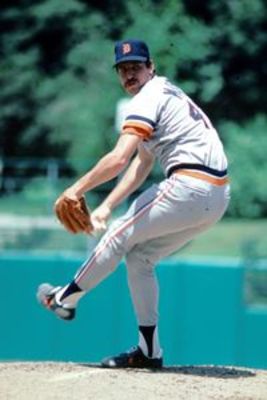 I wasn't extremely familiar with Jack Morris before 2007, but when his name came up in association with the Detroit Tigers and Justin Verlander's first no-hitter, I did a little research on him and have to say he's not a hard guy to become a fan of.
(Of course, that could be my "Philly" talking as well.)
A great player in his own day, Morris was a five-time All-Star and a member of a World Series-winning club four times, including three straight seasons from 1991-1993, as a member of the Minnesota Twins ('91) and the Toronto Blue Jays ('92-'93).
What I found particularly entertaining about Morris was the way he would stare down a hitter as he threw toward home plate. His lip would curl toward one side, and he almost seemed to be squinting at the batter, sort of like an old-school cowboy about to draw on his opponent.
Morris was an energetic guy who made the most out of a simple stare, becoming one of the meanest pitchers of his time.
15. Sam McDowell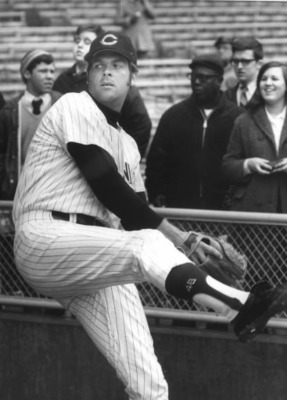 Maybe I'm impartial to Sam McDowell because he's from my home state of Pennsylvania, but he happens to be one of my favorite pitchers of all time for a simple reason—I'm from Philadelphia, and he played the game the way I like to see it played: gritty.
Sure, he made quite a name for himself as a heavy drinker, but McDowell was also very talented. With a career BB/9 of 4.74 and that uncertainty of whether or not he was playing the game sober, McDowell always seemed to have that look in his eyes that said, "I have no qualms about throwing a fastball right through your skull," and it made him tough to hit.
I never got to see him wearing a Phillies uniform, but that look in his eyes comes to mind when talking about intimidating stares.
14. Bob Feller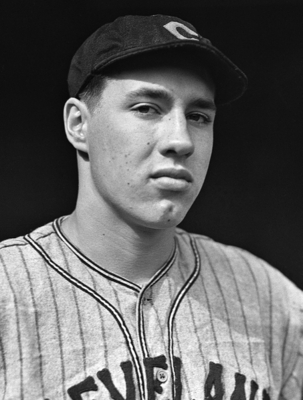 I've written about him before, and I've said the same thing, but I'm going to say it again—Bob Feller is one of the greatest men to ever play the sport of baseball.
Yes, he was a great player, but he was an even greater human being, and he demanded respect.
We're talking about a guy who was one of the best pitchers in the game and could have had anything he wanted but put his career on hold to serve his country. When he returned, he was even better.
As a man who had served both in the war and as a starting pitcher, Feller had a certain look that no other pitcher could match. His time in the war had made him strong, confident and deadly, but his time in baseball as one of its greats made him intelligent and inhuman.
Feller had a look that blended all those elements together, and batters knew it. Getting a hit off him was a tall order.

13. Randy Johnson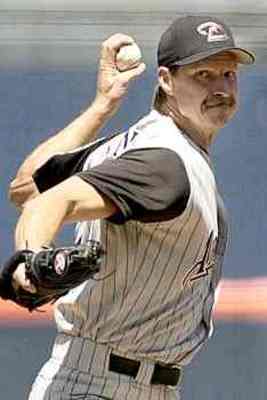 I used him as an example in the opening slide because he's one of the most recognizable pitchers in the history of baseball. At 6'10" and 225 pounds, Johnson was a presence on the mound, to say the least, and with a fastball that hit triple digits, he quickly became known throughout the game as the "Big Unit."
With one of the most devastating sliders in the game and a fastball that kept you on your toes, he was scary to face.
With that repertoire and rocker-style look, though, he took to the mound with a persona that made him one of the most frightening pitchers to ever play the game. Before he went into his windup, he would glare right at the batter, staring him down. As he went into his windup, he kept staring, and thanks to his height, it seemed like he was right on top of the hitter by the time he delivered the pitch.
Truly frightening.
12. Lee Smith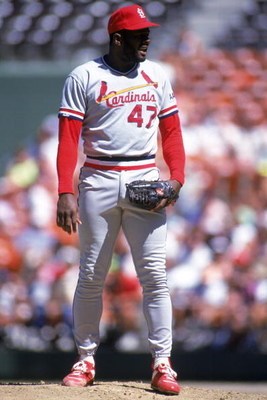 Lee Smith was the type of guy who had a stare that would make your knees buckle, melt and disintegrate (because "buckle" wasn't enough to describe the effect).
He was just a huge presence on the mound, built more like a boxer than a closer at 6'5" and 220 pounds. Smith got so much extension in his delivery that it seemed like he was on top of the hitter by the time his left foot landed.
Make no mistake about it—he made his career as a closer all the better by intimidating hitters into thinking they couldn't hit him, and for the most part, they couldn't. Smith was one of the meanest-looking right-handers in the history of the game, and he glared right through the hitter's soul to prove it.
11. Dennis Eckersley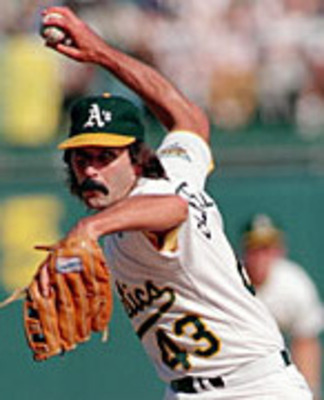 Dennis Eckersley singlehandedly helped define what we think of as today's closers. From the way the manager would utilize his closer to the way the closer acted on the mound, Eckersley was the prototype.
After revitalizing his career with a move to the bullpen, 390 saves later, he was a lock for the Hall of Fame.
It was his antics as a closer that really put him back on the map.
When a batter would step into the box, "Eck" would look in long and hard, moving his eyes from the signs the catcher was dropping to the eyes of the hitter. After he would get the hitter out, he would taunt him all the way back to the dugout, most notably making use of the "handgun" and "shooting" guys down.
Quite the character with quite the stare.
10. Pedro Martinez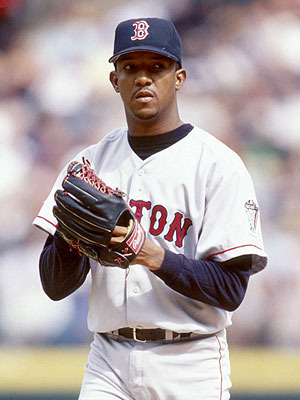 You may love him or you may hate him, but you can't deny that Pedro Martinez was one of the best pitchers to ever play the game.
On the mound, he had the perfect blend of confidence, attitude and intimidation that sent chills down the hitter's spine. During his days with the Boston Red Sox, Martinez made particularly good use of "the stare," as shown to the left.
In his prime, all Martinez had to do was step on the mound and look at a hitter to make his knees buckle. He threw so many good pitches that it didn't matter what you guessed at the plate—you couldn't hit it.
9. J.R. Richard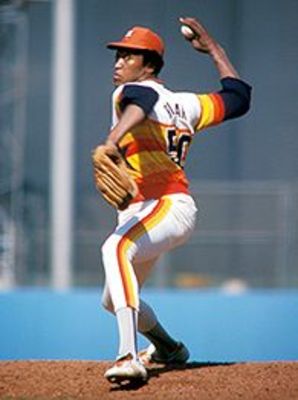 J.R. Richard was the Aroldis Chapman of his day—a highly touted pitcher who threw the ball like a rocket blasting off toward home plate.
The most notable difference—outside of their handedness—was that Richard made the most out of himself as a tremendous starting pitcher for the Houston Astros, while Chapman is dwelling in the bullpen out in Cincinnati.
Another guy who didn't have good control, Richard had to be uncomfortable to hit off. He threw his fastball at 100 mph, and during his best full season (control-wise), he still walked 98 batters.
His stare was tied directly into his fastball though. He was going to throw it as hard as he could and hope for a strike, but if it hit you, oh well.
Richard was on course to become one of the better pitchers of his generation, but sadly, his career was cut short by a stroke.
8. Roger Clemens
His fall from grace was one of the ugliest in the history of sports, shrouded by steroid usage. But arguing that Roger Clemens wasn't one of the greatest pitchers of his generation—or of all time, for that matter—simply isn't worth it.
Clemens was one of the meanest, grittiest, most talented pitchers to ever step on a mound, steroids or not, and it's a real shame he perhaps chose a path that would taint his legacy.
Regardless of that, he had one of the meanest stares in baseball history. From his early days with the Boston Red Sox to his short stint with the Toronto Blue Jays, "The Rocket" had a stare that would make your knees buckle, followed by an incredible fastball that garnered his nickname.
It seemed like as he aged—and perhaps simultaneously took steroids—he got bigger, and his stare became all the more frightening. His neck appeared to be swallowing his head, his veins would bulge, and in days with the New York Yankees and Houston Astros, he was easily the most intimidating pitcher in baseball.
One of the iconic moments that plays in my head when thinking of Clemens is watching him pitch in the World Series, with just his eyes peering over his glove. Ice cold.
7. Al Hrabosky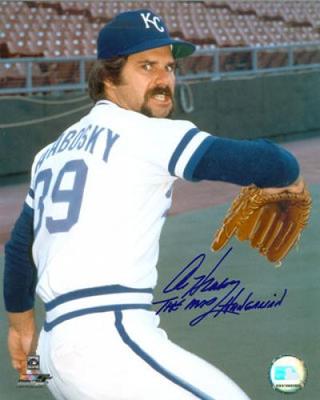 Al Hrabosky isn't really a household name.
In fact, before writing up this list, I had only heard of him in passing without giving much thought to looking him up.
Doing a little research for this list, though, I came across Hrabosky, and I have to say, I find him truly terrifying. I'm not afraid to admit that because so did a lot of his opponents throughout the 1970s.
A reliever for all of his big league career, Hrabosky would eventually gain the nickname of "The Mad Hungarian" because of his crazy mound presence and Hungarian descent. He stared at hitters like he wanted to kill them, cook them and eat them for dinner.
Luckily enough for Major League Baseball, that never happened, but he did feast on some hitters at the plate who weren't capable of touching his fastball.
6. Nolan Ryan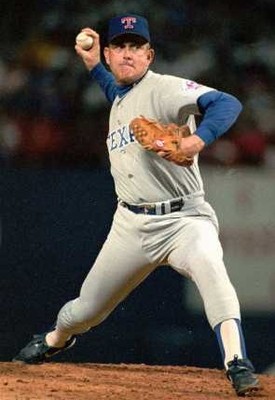 You knew he was going to show up on this list somewhere.
Thinking back over the course of baseball history, was there ever a guy who took the mound with as much intensity as Nolan Ryan? The guy was just one of the meanest pitchers to ever toe the hill, and with a fastball that could kill you if it hit you in the right (or wrong, I suppose) spot, he had all of the intimidation he needed to be great.
However, you don't become baseball's strikeout king with a great fastball alone. Ryan knew how to pitch, and he had the perfect repertoire of pitches for his style of play.
He also had one of the game's most intense looks on the mound, a look that told the hitter he meant more than business—he'd throw a fastball right through you if he had to.
5. J.J. Putz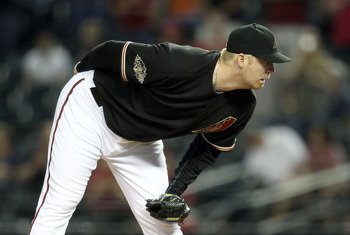 Christian Petersen/Getty Images
J.J. Putz probably isn't a guy you expected to see when you opened up this list, but when it comes down to it, the right-handed closer—now playing for the Arizona Diamondbacks—has one of the best stares in the game.
Having done his pre-delivery stare for his entire career, I didn't see much of it until he joined the New York Mets for the 2009 season, and it's come to the surface yet again now that he's closing for the D-Backs.
Putz may not be the most entertaining pitcher to have played the game, but he's been very effective just about everywhere he's gone (sorry, Mets fans!). The prototypical reliever, Putz has a very good fastball/slider combination, but it's that ice-cold stare that gives him an extra edge.
At 6'5" and 250 pounds, the knee-buckling stare is just a little something extra for a very solid reliever.
4. Dave Stewart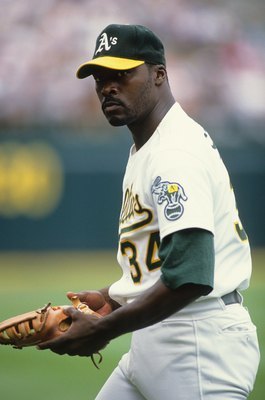 Dave Stewart was a mean-looking guy, and he knew it.
During the late 1980s and early 1990s, when Stewart was at his best, he had the meanest stare in the game, which helped him to 20 wins over each of four straight seasons, including some of the most successful postseason pitching in the history of the Oakland A's.
It was that pre-delivery stare that lands him on this list, though.
There were few pitchers in the history of the game who could send chills up your spine with a look alone, and Stewart was one of those guys. He didn't have the greatest "stuff" on the mound—in fact, he probably didn't have the greatest stuff on that staff—but he made up for that with intimidation, and it worked well for him.
3. Jonathan Papelbon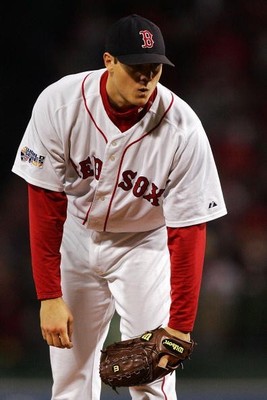 Jonathan Papelbon has played the closer's role so well that people forget he came through the Boston Red Sox system as a starting pitcher. That didn't last long at the major league level, though, with just three starts under his belt. The team quickly learned he was much better suited for a role in the bullpen, and the move paid dividends.
One of the things that has elevated Papelbon's closer persona to a higher level is his routine stare before he goes into his delivery. The oversized bill of his cap casts a shadow down upon his eyes, and he glares out toward the hitter before delivering a pitch.
This bit of intimidation, and one of the most recognizable stares in the game, has helped Papelbon collect 205 saves in just under six full seasons as the closer for the Red Sox.
2. Andy Pettitte
If there is one guy who was a lock to make this list, it's Andy Pettitte.
He's never had overpowering stuff, and had he played for any other team besides the New York Yankees for the majority of his career, his numbers may be a lot worse off than they are now.
But two things propelled Pettitte to stardom in the Big Apple: his postseason success (19-10, 3.83 ERA) and "the stare."
Pettitte popularized the stare in New York and around baseball and became the poster boy for pitchers without overwhelming "stuff" but large amounts of intimidation. Some of the most iconic moments of the World Series have come from the man with the most postseason wins in the history of baseball and the legendary stare.
1. Bob Gibson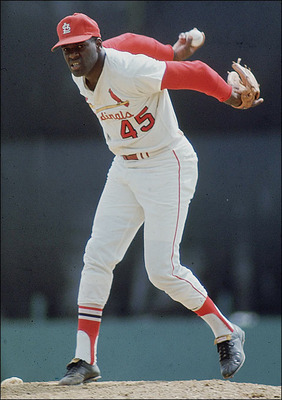 Bob Gibson is widely regarded as the scariest, most intimidating pitcher to have ever gripped a baseball.
If you asked me, Gibson is easily one of the top five greatest pitchers of all time, and it was his on-the-field persona that gave him an edge.
Don't get me wrong—Gibby was very talented. He had a repertoire of pitches that baffled hitters, and he would have been fine without a mean streak. But his presence made him unique.
He was just a mean-looking guy, and he wasn't afraid to talk the talk either. He was like the Rambo of baseball—no matter how tough the job was, he was the guy you wanted doing it, and he often got it done. When he was on the hill, Gibson had a stare that would send chills down your spine if you were at the plate or watching from home.
Combined with his one-of-a-kind delivery, Gibson was truly frightening, but easily one of the greatest of all time.
So There You Have It!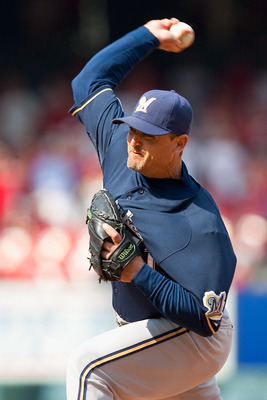 Dilip Vishwanat/Getty Images
Now that you've seen my list of the greatest stares in the history of baseball, I'm curious to get your feedback. I'm far from perfect and no baseball historian, so I'm sure there are a few great stares that I missed. Let me know in the comments section below, and as always, thanks for reading!
Keep Reading