Could Aaron Rodgers or any QB Really Play a Full Season with No Interceptions?
July 2, 2011
Kevin C. Cox/Getty Images
I recently stumbled upon an old Sports Illustrated issue that included the 2010 NFL Playoff Preview. After seeing the front cover photo of Vince Wilfork that labeled him a "mass obstruction," I figured it would be interesting to look back and see how successful Peter King was with his predictions and picks.
For the the Philadelphia Eagles, King declared that "all hope rests on their reborn—and remade—quarterback." He was right, in a sense. Michael Vick was leading a potential game-winning drive to send his team to the Divisional Round when he threw the pick that cost him the game, dashing the hopes of the Lincoln Financial Field fans.
For the New Orleans Saints, King was also spot on when he wrote, "Brees will get the points, but will the defense play down to the level of the Seahawks?" The answer to his question was "yes" and a 7-9 team won a playoff game by a score of 41-36.
King also only missed one thing in his assessment of the Green Bay Packers. He wrote, "They're hitting the road, but with Aaron Rodgers at the wheel they could drive all the way to XLV." The Pack did exactly that, however, King had them losing to the Patriots in the big game, a mistake that could cost him his reliability among today's other top psychics.
In reality, no one can accurately predict the future and King wrote an excellent playoff preview. Although what really caught my attention was something even bolder than any of King's predictions.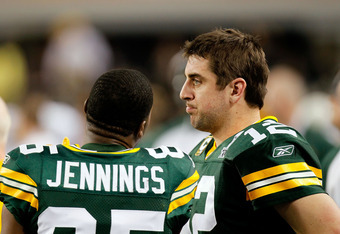 Kevin C. Cox/Getty Images
In the beginning of the Packers write up, WR Greg Jennings is quoted as saying, "He (Aaron Rodgers) can be the first guy to go through a season without throwing an interception. He's that good. If there was a quarterback who could do it, it would be A-Rod."
Was Jennings really serious or was he simply trying to put into words how great he feels the Super Bowl XLV MVP truly is?
No starting quarterback who has ever played a major part of an NFL season hasn't seen an errant pass land in the hands of the defense at least once.
According to ProFootballReference.com, Damon Huard currently holds the record for interception percentage after a single season even though he only played in 10 games. The next two all-time leaders did play a full 16-game season and both had four interceptions—Tom Brady in 2010 and Steven DeBerg in 1990.
A season with no picks is unimaginable for any QB. Even if the quarterback never threw a poor pass, forces beyond his control can land the ball in the arms of the enemy. Dropped or bobbled passes often find their way to the other team and nothing good happens after a receiver loses his footing.
Just like a perfect game in baseball, everything from the officials to his teammates would have to be perfect for a pickless season.
Andy Lyons/Getty Images
Rodgers didn't even play a full season in 2010 and still wound up with 11 interceptions. In 2009, he threw 30 TDs to only seven picks and that was considered highly efficient.
In the Pack's incredible postseason run, Rodgers threw two INTs, both in the NFC Championship against the Bears. Again, only one of those were his fault as the other went through Donald Driver's hands and bounced off his foot right to the defender.
Rodgers had one of the best playoff performances of all-time by a quarterback, yet it proved that he nor any other NFL QB will ever play even a majority of the season without throwing a single pick. No team will ever expect a flawless campaign like that and the Packers will just be happy if A-Rod throws less INTs than his predecessor.