Andrew McCutchen and the All-NL Central Team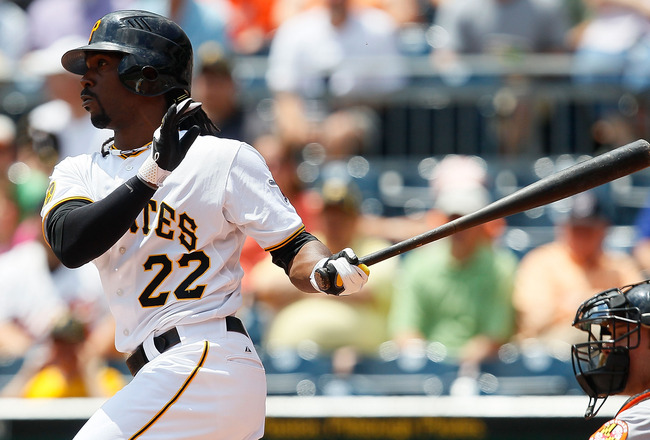 Jared Wickerham/Getty Images
The NL Central has had a lot of drama so far this season, with four teams separated by four games or less. This is due in large part of many outstanding performances by unexpected players.
The intense battle has blown up in the NL Central with the development of the Pirates and the injury of Albert Pujols. With so many competitive teams—the NL Central is the only division with six—there are bound to be many talented players.
With the All-Star Break just around the corner, there is still a lot of baseball to be played. With that said we still can get a pretty good idea of who has come to play this year.
Here is the All-NL Central Team of 2011 thus far.
Catcher: Yadier Molina, Cardinals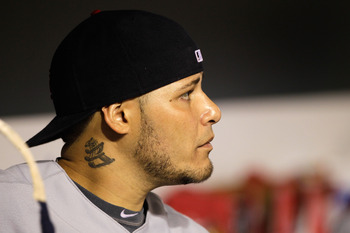 Rob Carr/Getty Images
Out of the three Molina brothers, Yadier is the most successful and recognizable and is currently hitting a respectable .280. It's easy to look at stats and decide what a player means to a lineup, but what Molina brings to the table is much more important than what his numbers may suggest.
Molina has won multiple gold gloves and is one of the best in the game at pumping up his pitchers—he definitely brings consistency to the pitching staff. He is also known around the league for having one of best arms behind the plate.
At a time when the MLB lacks good catchers, Yadier Molina is considered one of the best year-in and year-out.
This makes him an obvious choice for the All-NL Central team.
First Base: Prince Fielder, Milwaukee Brewers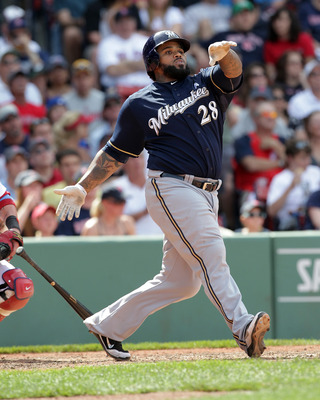 Jim Rogash/Getty Images
The NL Central is a powerhouse for first basemen, with Albert Pujols, Prince Fielder, Joey Votto, and Carlos Pena. With Pujols hurt, it came down to Joey Votto and Prince Fielder.
Fielder edges out the field due to both his excellent all-around hitting numbers and Votto's home run struggles. Fielder—who has been one of the league's best power hitters since his arrival—is hitting .298 with 21 home runs and 69 RBIs and is also slugging and outstanding .588.
He has been a very big part in the Brewers success this season and will continue to dominate the league's pitching in the second half.
Second Base: Brandon Phillips, Cincinnati Reds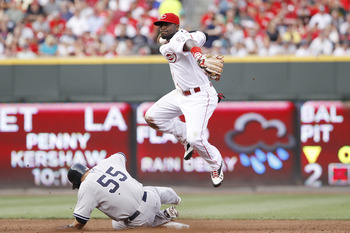 Joe Robbins/Getty Images
Brandon Phillips is having a great year once again for the Reds.
Phillips has played a huge role at the top of the Reds lineup over the past few years and currently has a .300 average and a .351 OBP.
He has also hit eight home runs, which—for a second baseman—makes him somewhat of a duel threat.
Phillips is also a solid defensive player and has had some All-Star appearances, but ultimately it's his stats that get him onto the All-NL Central team.
Shortstop: Starlin Castro, Chicago Cubs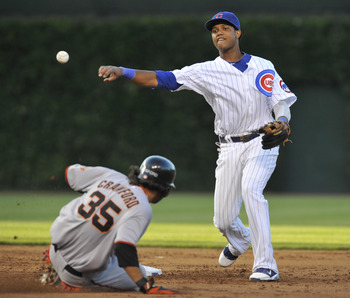 David Banks/Getty Images
Starlin Castro had an excellent rookie campaign last season, and this year he is building off his success. This year he is swinging an excellent bat hitting .310, slugging .408, and driving in 37 runs. Castro has enormous talent and is showing that he could be one of the league's best shortstops in the future.
Castro has shown signs of excellence in the last two years and is progressively continuing to prove that he belongs among the elite group of shortstops in the league. He still has much to learn, especially defensively, but the sky is the limit for this young player.
Third Base: Aramis Ramirez, Chicago Cubs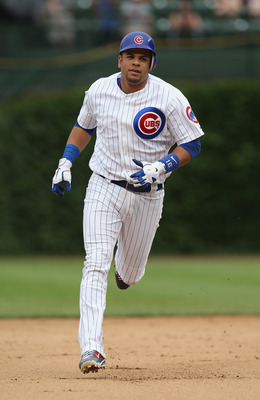 Jonathan Daniel/Getty Images
After a disappointing 2010 season, Ramirez has turned things around in 2011. His batting average is up 50 points, and his slugging is up almost 40 points. In his 14th year in the league he is probably getting towards the tail end of his career. Even with his age he can still have a couple of quality seasons left.
Ramirez has been with the Cubs for almost a decade, and fans have appreciated his consistently good play throughout his career as a Cub.
OF: Ryan Braun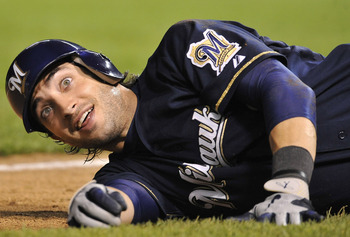 David Banks/Getty Images
Ryan Braun has been one of the most consistent players in the league the last couple of years. He is hitting .321, with 16 home runs, and 60 runs batted in, while slugging .562. A lineup that contains Ryan Braun and Prince Fielder is a nightmare for opposing pitchers.
Ryan Braun has proven that he can be one of the most explosive and versatile hitters in the game. He has long career ahead of him as a perennial all-star.
OF: Andrew McCutchen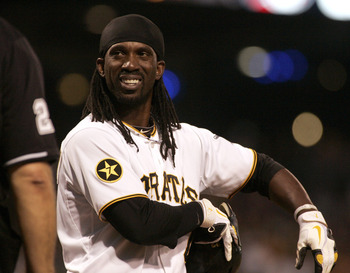 Justin K. Aller/Getty Images
Andrew McCutchen has been a very big part of the Pirates success this season. He is hitting .280, with 11 home runs, and has a .385 OBP. In his third year in the MLB he is starting to be a more consistent hitter. He is one of best developing players in the league. He also shows a great deal of speed on the base paths, and has stolen 15 bases so far this year.
The Pirates are looking for their first winning season in almost two decades, and this season the Pirates are looking like they can finish above .500, along with competing for the NL Central title. Much of the Pirates success this season has to be credited to McCutchen.
OF: Matt Holiday, St. Louis Cardinals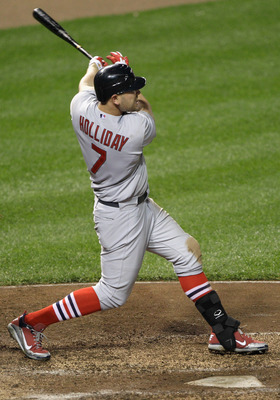 Rob Carr/Getty Images
Matt Holiday has not been healthy all year, but in his 57 games he has been putting up ridiculous numbers. He is hitting .322, with 10 home runs, 40 runs batted in, and an amazing .423 OBP. Matt Holiday is filling the void of Albert Pujols and has helped put the Cardinals on top of the Central.
When Pujols returns, if Matt Holiday is still putting these numbers the Cardinals will be very tough to beat to say the least, especially if they can get their pitching going.
Conclusion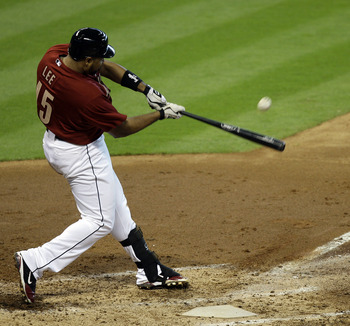 Bob Levey/Getty Images
Astros fans, I tried to get somebody in there but i just couldn't. As compensation I've made the picture for this slide Carlos Lee. So there.
The NL Central is really close at the top, and any number of teams could win it.
These eight players could end up being the difference makers for their respective teams—their performance on the field could make or break their clubs.
We'll just have to wait and see how it plays out.
Keep Reading