Michael Vick, Nike Union Is a Victory for Sports Fans
July 1, 2011
Chris Trotman/Getty Images
There are days when it's hard to think of yourself as a sports fan. Then are days like today.
News broke this morning from CNBC's Darren Rovell that Michael Vick and Nike decided to join forces once again. This was no doubt historic as it was the first time in the company's history that they have dropped an athlete then signed them back years later.
The reason for Vick's initial drop from the brand is as well known as any athlete's fall from grace. In 2007, Michael Vick was convicted of charges related to illegal dogfighting.
The news shook the foundation of sports fans and created a nationwide outrage. It landed Vick in jail and broke, having lost everything over a heinous mistake.
Now Vick steps back into the spotlight, slowly but surely and it's a good day for sports fans. There is no question that what Vick did was wrong. It's a crime that was needless, cruel and there is no doubt in my mind that if Michael Vick could take it back, he would.
But he can't and there are some who will never forgive him for what he has done, and Vick is clearly aware of that.
Vick handled his release from prison, and his attempt to get back in civil graces of society, in the right way. We live in a very cynical age of sports fans. Everyone is guilty until proven innocent.
Long gone are the days of "Say it ain't so, Joe," and long live the days of syringes, regrettable twitter posts, and sports talk radio and message boards being a chance to dwell on all that is bad in the sports world. It's a tough place to be an athlete, though no athlete would dream of changing it.
Vick's move into prison, and the scrutiny he faced upon his release was immense, but Vick handled things the right way. There appeared to be no show, no sign of needing to grab that spotlight, no sign of trying to beg for the forgiveness of the people.
Vick simply kept his head down, surrounded himself with the right people and showed contrition for his actions. Michael Vick understood the magnitude of his actions and didn't attempt to right his wrongs, he just made a decision to be a better person going forward.
At the end of the day the sports world forgave him because sports fans are always ready and willing to forgive. For a world that is as cynical as the sports world, it's the one place where people's memory of your good actions far outweigh the memory of your mistakes.
There are few actions that can't be forgiven, but so long as the guilty party tells the truth and shows remorse, there is hope. Occasionally, that remorse is contrived and put on, but even the act of showing remorse will get you sway.
At the heart of it all we, as people, believe we should be forgiven for our mistakes. Sports is not always an accurate reflection of our own lives, but often it's an accurate reflection of human nature.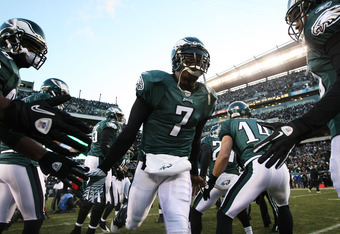 Al Bello/Getty Images
Forgiveness of family or friends is easiest when they seems concerned about what they did and honest about their own vulnerability as people. It's what makes us feel better about how they have wronged us.
Clearly, this won't take Vick to being the most popular athlete, or the most popular athlete in his own sport, but it shows Vick that if you can play, you can find acceptance.
What might make Vick's turnaround more remarkable is that, as an athlete once as vilified as any not named O.J. Simpson, he is now a role model. He serves as the blueprint for other athletes going through their own public nightmares.
Of course, all this comes with the understanding that Vick's play was the primary reason for the new endorsement deal. While Nike may have forgiven Vick for what he did, they were unlikely to sign him had he not had such a breakthrough season.
So clearly, there were factors bigger than forgiveness at work.
Still, Nike must have known that Vick was marketable once again. There is no chance that they sign an athlete that can't move product.
Nike did their research and realized that the sports fan had forgiven Vick, and rightfully so. He has worked hard to be better and the sports word has rewarded him for it.
It's a good day to be a sports fan.