New York Yankees: What Will They Do When CC Sabathia Opts out of Contract?
July 1, 2011
Al Bello/Getty Images
CC Sabathia is in the midst of a seven-year, $161 million contract to play for the New York Yankees. He has a clause in the contract that will allow him to opt out of the contract after this season, his third in New York.
Sabathia has been the most durable pitcher in baseball. He has been everything the Yankees could have hoped for when they signed him. He is one of the best aces in baseball and can be relied upon to stop a losing streak or give the bullpen much-needed rest. He also led the Yankees to the World Series in 2009.
It can be said that Sabathia has accomplished everything he and the Yankees wanted when they signed him.
So will Sabathia opt out? I will sum it up right now.
The Yankees need CC a lot more than CC needs the Yankees.
CC has all the leverage right now. After leaving yesterday's game in the eighth inning against his former club, the Milwaukee Brewers, he received a standing ovation. He is a major reason why the Yankees are in first place. Without CC, the Yankees would have an average rotation. CC makes the Yankees a good pitching team.
So how much more will the Yankees have to pay to keep him? A lot.
When Sabathia first signed with the Yankees, they had to overpay to get him because CC is a West Coast guy. He is from Oakland and does a lot of charity work over there. Having accomplished everything he wanted in New York, he may pack his bags and go back to the West Coast.
One team that may take a splash at him is the Angels. With the Dodgers struggling financially, this may be the Angels' chance to step up and sign a big free agent and finally become the No. 1 team in town.
From a baseball perspective, the Angels will have to compete with Felix Hernandez and Michael Pineda for the next couple of years, so why not have an ace of their own? Trade Haran and take the financial blow and get Sabathia to have a Weaver-Sabathia one-two punch. That is a good rotation any day.
The AL West is very winnable too, with the Rangers struggling. Arte Moreno is an aggressive owner (Exhibit A: Vernon Wells) and may just pay enough to get Sabathia.
No other West Coast team is really in the market for Sabathia. Oakland would be Sabathia's ideal destination, but they just do not have the money to pay for him. The Giants do not need pitching, the Dodgers certainly don't have the money considering they just filed for bankruptcy, the Mariners have young pitchers and San Diego doesn't have the money.
It is even a stretch to say the Angels do have the money to sign Sabathia. The Yankees will be competing with themselves most likely if CC does opt out.
Let's look at this from another angle as well. If the Yankees fail to keep Sabathia, what would all of baseball say? This would be an embarrassment for the Yankees, an organization who overpays for free agents and happily pays luxury taxes to win. For the Yankees to let arguably their best player walk away because of money would be shocking and embarrassing.
The fans would not be happy and the organization would take a beating from the media for failing to keep their ace. The Yankees simply cannot let Sabathia walk away because of his pitching skills and their reputation as a big-spending ballclub.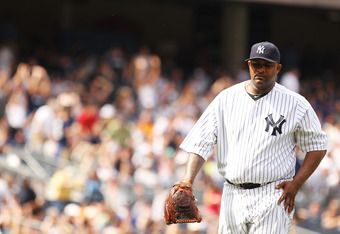 Al Bello/Getty Images
Nobody will pay more than the Yankees. The Yankees have already shown that they are willing to do whatever it takes to get players opting out of their contracts with Alex Rodriguez. They are paying him a ridiculous amount of money now and will be until A-Rod is 42 years old. A-Rod cashed in; soon Sabathia will too.
Sabathia is a much classier athlete than A-Rod is. For all anybody knows, CC may be happy to play in New York and play out his contract. But it was no secret that the Yankees had to overpay CC for him to come to New York (why else would he work in an opt-out clause if he didn't know if he would like New York or have a desire to leave?).
I feel if he really wanted to go back to the West Coast, he would take a pay cut to do it. He just seems like that type of guy.
Having said that, CC is very good friends with Prince Fielder from his days in Milwaukee. Would each take a pay cut to play together? Digest that for a while. Not likely but it could happen.
He is also very good friends with Cliff Lee, who could be telling CC to go wherever he is happy, as Lee did this past offseason. That could be New York or somewhere else, who knows.
CC is a smart guy; he could get more money to play in New York or go somewhere else and play closer to home.
So if CC opts out, what do the Yankees do? Well, they have to pay him whatever he wants. They just have to. Look, Hughes is not an ace—he's a good No. 2 pitcher. Nova is the same—he won't be an ace. Burnett is already an overpaid No. 3 pitcher. And then the Yankees will just fill in the No. 4 and 5 pitchers.
They have no big arms coming up who have the potential to be an ace, and there really is no one on the trade market capable of being an ace in the long term (Felix Hernandez is not going anywhere). The Yankees would have to overpay for Sabathia again in order to retain his services.
Sabathia is always amongst the league leaders in innings pitched, but when is that all going to catch up to him? Not only that, but Sabathia has always been overweight. This could also catch up with him in the future. The Yankees are in no position to not pay for Sabathia, but they may have to bite the bullet in order to keep him in pinstripes.
Do the Yankees want to pay Sabathia that amount of money for a long time? No, but will they have to in order to win? Yes. Get the blank check ready, Steinbrenners, because CC has all the leverage.
Feel free to leave a comment and thanks for the read.