MLB: Top 5 AL MVP Candidates Through the First Half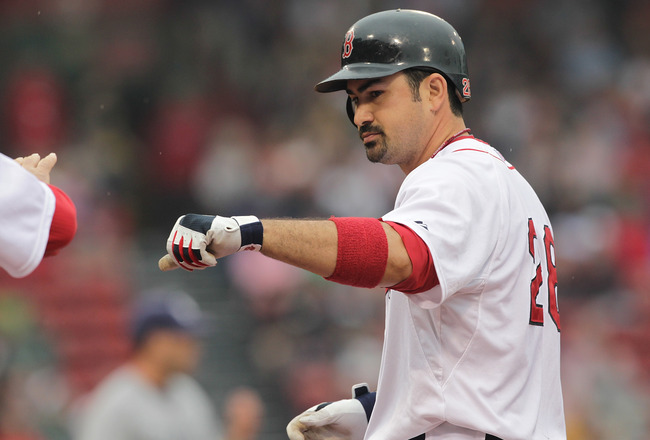 Jim Rogash/Getty Images
The Major League Baseball season is almost halfway finished, and the races, both individual and team-related, are beginning to take shape.
In the American League, the MVP race is centering around a bunch of guys who have yet to win one in either league. Perennial contenders such as Alex Rodriguez and Joe Mauer are not having their best years, which has left the door open for new candidates.
Now, the term Most Valuable Player is almost always debated as to what it actually means. Is it the absolute best player no matter what team he plays for? Is it the best player on the best team? Is it the most well-rounded player?
When I look for MVP candidates, I tend to look for the best players on good, not necessarily the best, teams. MVP winners do depend on their teammates, whether it's to drive them in or protect them in the lineup, so team success is a factor. Also, most MVP winners are based solely on offensive production, and rarely is defense a factor.
I'm also not a fan of putting pitchers in the race unless their season is something we haven't seen in many years considering they have their own award.
So, here are the top five candidates to win the prestigious award.
Honorable Mentions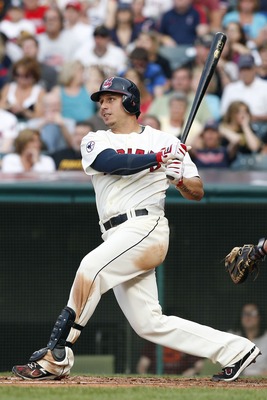 David Maxwell/Getty Images
5. Mark Teixeira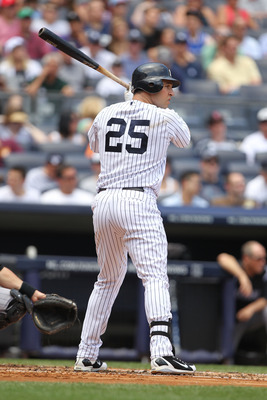 Al Bello/Getty Images
Season: .243 BA, 25 HR, 63 RBI, 42 BB, 51 SO, .351 OBP, .541 SLG, .892 OPS
Remember when Mark Teixeira was perceived as being a slow starter? Well, that certainly hasn't been the case this year.
While his average is down significantly, Teixeira is leading the league in home runs and is on pace to hit over 50 for the first time in his career.
The fact that he's also not striking out that much is a good sign that he's putting the ball in play consistently; he's just putting the ball where the fielders are when it's not headed for the outfield bleachers.
It will be scary to see his numbers if Teixeira does his typical second-half surge.
4. Jose Bautista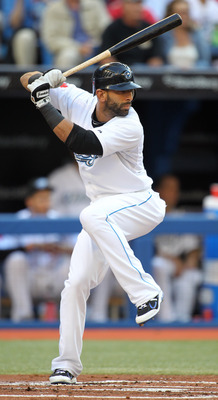 Claus Andersen/Getty Images
Season: .326 BA, 61 R, 24 HR, 52 RBI, 69 BB, 48 SO, .470 OBP, .659 SLG, 1.129 OPS
Easily the best numbers for a player whose team does not appear to be in contention for a playoff spot, Jose Bautista would probably be holding down the top spot if the Blue Jays were better or playing in a division that didn't also have the Red Sox, Yankees and Rays, AKA the Division O' Death.
Bautista is currently in the top five in seven categories (all the ones listed except for RBI and SO), and has proven that last season's power surge was no fluke.
He's actually become a better hitter now as his strikeout numbers have decreased significantly, meaning he's learned to stop chasing balls out of the zone and look for ones he can put 400 feet.
In less than two years, he's become one of the most feared hitters in the majors.
3. Curtis Granderson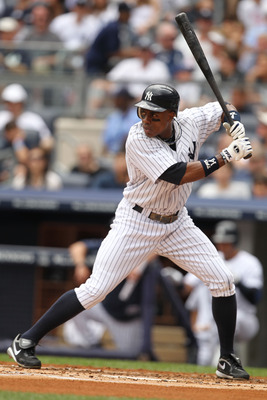 Al Bello/Getty Images
Season: .276 BA, 70 R, 7 3B, 21 HR, 56 RBI, 14 SB, .367 OBP, .575 SLG, .941 OPS
After what was a pretty disappointing debut season for the Yankees last year, Granderson has certainly made up for his struggles with one of the more impressive stat lines of the year.
Leading the league in triples and runs while also being in the top 10 in home runs and OPS is something few hitters have ever done. He's also in the top 15 in steals and is on pace to have a 40 HR-30 SB season.
Doing that for a team that will be contending for a playoff spot will put him with the favorites.
2. Miguel Cabrera
Leon Halip/Getty Images
.332 BA, 60 R, 93 H, 20 2B, 17 HR, 56 RBI, 62 BB, 43 SO, .453 OBP, .586 SLG, 1.038 OPS
Looking at Miguel Cabrera's numbers, I found it shocking that they were as phenomenal as they are considering I hadn't heard much news about his fantastic season the way I have about other players.
Though he isn't leading the league in any category, he's in the top ten in all the categories listed except strikeouts. That's 10 offensive categories, for those of you counting at home.
The crazy thing is, these numbers are only slightly better than Cabrera's season averages. The homers and runs batted in are right on par, and the rest are just a tad better, but nothing eye-popping.
Assuming Detroit is able to stay in the AL Central race, and since the Indians are beginning to look more pedestrian by the week, it's pretty likely Cabrera will once again be right in the thick of things for an MVP award, and a potential Triple Crown.
1. Adrian Gonzalez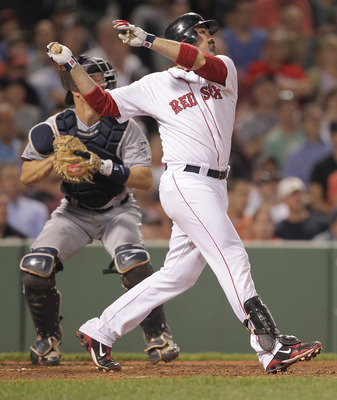 Jim Rogash/Getty Images
.352 BA, 56 R, 115 H, 25 2B, 16 HR, 71 RBI, .407 OBP, .593 SLG, 1.000 OPS
If anyone is surprised Adrian Gonzalez is the man to beat in the AL MVP race, then they clearly haven't been paying attention to the absolute tear he's been on the entire season.
Gonzalez leads the league in batting average, hits, doubles and runs batted in while being in the top five in runs, on-base percentage, slugging percentage and OPS.
People were always curious as to how much his numbers would increase if he were to ever leave San Diego and their pitcher-friendly ballpark.
Well, it looks like the biggest change hasn't been power-wise, but simply getting on base; he's headed for career highs in hits, runs batted in and batting average.
Gonzalez should continue his pace, as he's yet to show any signs of coming back down to earth, and he's been making adjustments throughout the season in an effort to counter the way pitchers are going after him.
With the Red Sox bound to be in the playoff hunt throughout the season, Gonzalez will get plenty of exposure to prove he's deserving of his first MVP award.
Keep Reading