Pittsburgh Steelers: Which NFL Player Would Help the Steelers the Most?
July 1, 2011
Jared Wickerham/Getty Images
The Pittsburgh Steelers have never been a team to make a splash in free agency or in the trade market, though on occasion they have made a big move.
Pittsburgh's biggest signing may have come in 1993 when they inked one of the all-time best pass rushers, Kevin Greene.
It wasn't until 2001 that the Steelers signed another major free agent. This time it was on the offensive side of the ball when they picked up Jeff Hartings, one of the premiere offensive linemen on the market.
But the biggest name of all came via trade in 1996 when the Steelers acquired Jerome Bettis from the St. Louis Rams.
Bettis had a great start to his career, rushing for over 1,000 yards in each of his first two seasons, including 1,429 yards as a rookie when he earned First-team All-Pro and Offensive Rookie of the Year honors.
It is the lack of free-agent signings that gets some fans upset that the Rooneys are cheap. Quite the contrary. They spend their money on keeping their own stars because the Steelers are built through the draft and refined with mid-tiered free agents.
But for the sake of discussion, let's say you get to be Kevin Colbert for a day and live in a Madden world where you can make any transaction that you'd like.
As GM of your Madden Steelers you have the freedom to sign or trade for any player that you'd like.
To make this more interesting, you can only get this player for one year and there are no cap ramifications. Who do you go out and get?
If I'm GM, right away I rule out getting a quarterback or strong safety, tight end too.
Ben Roethlisberger is one of the top quarterbacks in the league and Troy Polamalu is the class of the NFL when it comes to defensive players. Heath Miller is also a perfect fit for what the Steelers do on offense.
I am also comfortable with my pass rushing duo of James Harrison and LaMarr Woodley. Granted I could get another pass rusher who is younger than Harrison, but he simply brings it each week and at times looked like the defensive player of the year last season.
Staying on the defensive side of the ball, let's move inside. Don't get me wrong, James Farrior is the leader of the Steelers, but could you imagine Patrick Willis roaming the middle with Lawrence Timmons?
Willis is a tackling machine, with 595 career stops, and possibly the most athletic linebacker in the league, which is saying something because Timmons is darn athletic himself.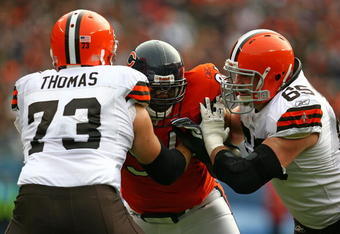 Jonathan Daniel/Getty Images
Or maybe you keep Farrior and get him some help up front.
Pittsburgh's defensive line is outstanding and they have some excellent up-and-coming talent in Ziggy Hood and Cameron Heyward, but we're talking about a one-year gift.
How about Ndamukong Suh who is the best young defensive lineman in the league or the experienced 3-4 Haloti Ngata.
Ngata plays for the rival Baltimore Ravens but is one of the premiere defensive linemen in the league. He is dominant up front and would help Pittsburgh's defense be even better.
Speaking of lines, Pittsburgh's offensive line could use a lot of help.
A player such as Jahri Evans, who is recognized as the best guard in the game by Pat Kirwan, but the key position on the line is left tackle.
There is a trio of tackles that could all help Pittsburgh. If you want a veteran who has proven himself over many years, then Jordan Gross is your man. However, there are a couple of young tackles with Joe Thomas and Jake Long, who are recognized among the league's best.
Of course the Steelers could just load up on skill players.
Larry Fitzgerald or Andre Johnson would give Roethlisberger the big target that has been missing since Plaxico Burress left. Either would be significant upgrades over what Burress brought to the table and would give the Steelers the best trio of receivers in the league to go along with Hines Ward and Mike Wallace.
At Art Rooney's request last year, the Steelers could always get more help on the ground.
Rashard Mendenhall is a good, maybe very good, running back, but not great yet.
Chris Johnson could give the Steelers two of the fastest skill players in the league while Adrian Peterson could provide the power running game. Either would boost the ground attack.
But when it comes down to it, Pittsburgh did not lose the Super Bowl because of their offense, as frustrating as Bruce Arians can be. They lost because of the secondary not being able to cover Jordy Nelson for goodness' sake.
Pittsburgh could put another playmaker alongside Troy Polamalu. How would the game's second best safety, Ed Reed, look back there? Probably not very good as those two would not complement each other.
The clear answer is to upgrade at cornerback.
Veterans Champ Bailey and Charles Woodson have proven their worth over many years but let's think younger.
Doug Farrar of Yahoo Sports took a look at some of the game's best (and worst) cornerbacks with STATS, Inc. "Burn Rate."
This year's top free agent, Nnamdi Asomugha, was not eligible for the list, which had a minimum of 50 targets; he was only targeted 33 times and had a burn rate of 39.4 percent.
Other top cornerbacks include Tramon Williams, Brandon Carr and Stanford Routt, who apparently earned that massive contract that the Oakland Raiders gave him.
But atop the "burn rate" list and at the top of my list is who many of us wanted the Steelers to draft in 2007, Darrelle Revis.
Watching Revis at Pitt, I knew he'd be a good NFL player, just not this good.
According to STATS, Inc., Revis had 19 burns on 56 targets for a league-leading 33.9 percent.
Revis has everything that the Steelers need for a cornerback.
He can lock onto the opponent's best receiver with no safety help every week. He is a playmaker with 14 career interceptions and he is a big, physical cornerback who will help in the run defense.
Revis for just one year would by my fantasy acquisition and I believe it would not only help the Steelers get back to the Super Bowl, but also win it.
Which one player would you want on the Steelers for one year, with no salary cap hit? Discuss in the comment section below.
Follow me on Twitter @ChrisG_FC.