Atlanta Braves: Is Fredi Gonzalez Killing Jonny Venters and Craig Kimbrel?
June 30, 2011
Kevin C. Cox/Getty Images
The Atlanta Braves had played 81 games in the 2011 baseball season. For those not familiar with the rules of baseball for the last fifty years, that's exactly halfway through the season.
At the midway mark, the Braves' top-two relievers have been used at a blistering pace.
Jonny Venters has been used in 46 games this year. Craig Kimbrel has seen action in 42 of them. Venters is on pace to throw 102 innings, Kimbrel 82. Venters and Kimbrel are first and sixth in relief innings pitched. The next highest combination is the Reds' Nick Masset (7th) and Logan Ondrusek (10th). That combo has tossed 80 innings to the Venters/Kimbrel total of 94.
Those are some astounding numbers.
No two relievers in all of baseball have combined to throw 184 innings in a season since 2007 (Health Bell had 94  and Saul Rivera had 93 for the Padres). We have to go back to 2004 to find a pair of teammates to throw more than 184 innings. That year Scott Shields and Kevin Gregg of the Angels threw 193 innings.
Venter's pace hasn't been matched in five years. In 2006, Joe Torre used Scott Proctor in 83 games for the Yankees. Proctor threw 102 innings that year. Five years and one Tommy John surgery later, he's only thrown 143 more.
Venters already saw a ton of work last year when he appeared in 79 games and threw 83 innings. That total was the third highest amongst relievers. It goes without saying that Venters and Kimbrel are on pace for career highs in appearances, innings and pitches thrown. Those marks take into account their minor league stints.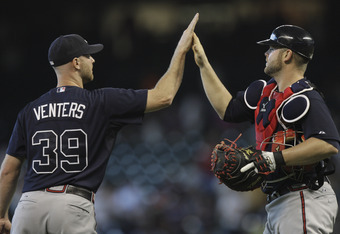 Bob Levey/Getty Images
Braves manager Fredi Gonzalez has leaned on these two relievers like no other manager in baseball has leaned on two others, and yet the need for Gonzalez to have done so is not obvious.
The Braves don't have a terrible bullpen. In fact it's one of the best in the game, even without Venters and Kimbrel.
Eric O'Flaherty has a 1.21 ERA in 37 innings. After a rough star Scott Linebrink has recovered well to the tune of a 3.34 mark in 32 innings. George Sherrill, misused as a lefty specialist, has a 2.61 ERA. Sherrill spent three seasons as a closer. He's better against lefties than righties, but he can still get right-handed hitters out a decent rate. Back of the bullpen guys like Cristhian Martinez (3.63), Cory Gearrin (3.60) and Scott Proctor (3.14) have been steady and reliable.
Fredi Gonzalez needs to trust these men more so he can relieve the stress on Venters and Kimbrel. If the Braves had no other reliable options, the overuse of them could at least be understandable. This is not the case.
The excessive use of Venters and Kimbrel by Fredi Gonzalez is substantial and a cause of concern for all Braves fans. Things need to change if Atlanta wants to have their dynamic bullpen duo healthy and effective for a World Series run.