RB Rankings: Jamaal Charles over Adrian Peterson and Co.
July 8, 2011
Jamie Squire/Getty Images
I love creating rankings and sharing them because inevitably debate will arise. However, I grow frustrated with fantasy players and pundits who simply anoint players high rankings based upon past performance alone.
Believe me, I'm keenly aware of how important it is to evaluate and study past games, seasons, and stats, but I feel too many sites and writers toe the line to ensure limited negative feedback. Needless to say, I'm willing to put myself out there and offer rankings that not only take into account last year's stats and trends but also reflect changes in personnel, coaching, and schemes.
Below is a quick-hitting guide to my top 10 with positive and negative circumstances to monitor, as well as backs 11-20 with quicker notes.
*These rankings are geared toward points per reception (PPR) leagues, but I wouldn't vary them too much for standard leagues.
Tier One: The Unquestioned Elite
1. Jamaal Charles (Bye 6): You want to know what makes a player elite? When his production is scarily steady game-to-game throughout the season. In games 1-8 of 2010, Charles had 113 carries for 719 yards and 6.4 yards per carry; in games 9-16 he had 117 carries for 748 yards and 6.4 yards per carry. Claims will be made that increasing Charles' workload will decrease his effectiveness—I'd like to find out. He only had three games with over 20 carries in 2010, yet still managed to finish second in yards to Arian Foster, despite nearly 100 less carries.
Easily the Chiefs' best player, Charles is poised to see his carries and reception numbers increase. I love drafting running backs young (he's only 24), especially when they have unique game-breaking agility and pass-catching ability. Charles fits the bill across the board. If I'm drafting first in a PPR league, I'm taking JC Superstar.
(+) Thomas Jones is on the decline and the Chiefs' offensive weapons are solid enough to open space and holes, but not so great that Charles won't remain the focal point.
(-) Durability and questions about whether he can maintain an insane six-plus yard per carry are warranted.
2. Adrian Peterson (Bye 9): In falling short of 1,300 rushing yards (by a mere two yards) for the first time in his four-year career, AP still proved to be arguably the game's most reliable fantasy running back. His 4.6 ypc average was near his lofty 4.8 career norm, he hauled in a serviceable 36 passes, tallied double-digit TDs again (12) and only lost a single fumble. Of course, let's not forget he did all of this with a declining Brett Favre and sundry less-than-potent passers at the helm. He's only 26, reliably healthy, and he's missed a mere three games in four seasons.
All-Day is as solid and surefire pick as you can make.
(+) With a new QB, Peterson will be the bread and butter on offense. Percy Harvin, Visanthe Shiancoe, and possibly Sidney Rice (free agent) will keep defenses from overplaying the run. Finally, playing in a contract year will keep Peterson highly motivated.
(-) If Rice leaves (likely), Peterson will surely see more eight-man fronts—especially if the rookie QB Christian Ponder is behind center.
3. Arian Foster (Bye 11): Many had Foster pegged as a sleeper last year, but I highly doubt many foresaw the fantasy fireworks Foster would produce in 2010. The league's leading rusher with more than 1,600 yards on the ground, Foster also tallied 18 TDs and 66 catches for another 600-plus yards. In other words, he was an elite fantasy option in all phases of the game.
Buoyed by a superior passing attack, Foster's blend of speed and size will continue to assure him 20-plus touches per game even if Ben Tate returns from his injury from a year ago. Some may question Foster's staying power, referencing Dom Davis and Steve Slaton as Texans' backs to shine and fizzle, but I feel like Foster's combination of skills and his Priest Holmes-esque nose for the end zone will allow him to remain a top-three back yet again.
Besides, with Gary Kubiak's backside on the front burner in Houston, one would expect the coach to utilize one of his best weapons.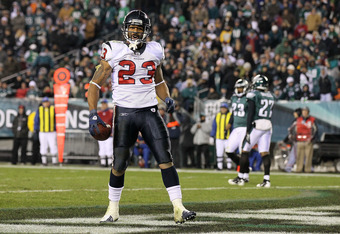 Jim McIsaac/Getty Images
(+) Favorable division games, fantasy playoff tilts with the Bengals and Panthers, as well as low mileage make him a strong candidate to duplicate last season's success.
(-) Ben Tate could steal carries, and concerns about Foster's ability to sustain his workload are legit. Not to mention Foster's numbers dipped a bit when Owen Daniels returned to the lineup and the passing game opened up again.
4. Chris Johnson (Bye 6): For some this will be too low, but I actually had to force myself to give him the fourth spot in these rankings. Obviously, the talent and extreme play-making ability of CJ2K is indisputable; however, there are some real, severe warning signs indicating Johnson will be closer or below 2010's numbers rather than recreating his magical 2009 stats.
First, when the lockout ends don't be surprised to see Johnson's personal holdout begin. Tragically underpaid at $800,000 per, don't expect him in camp. Secondly, his ypc average dipped from an other-worldly clip of 5.6 in 2009 to a slightly above average 4.3 in 2010—not to mention he failed to crack 60 yards rushing in a surprising seven games. Finally, a new coach, a new offensive coordinator, and the likelihood of a rookie QB will leave the offense in flux. Should you avoid Johnson in the top five? No, but I'm not sure he's the surefire top-three back many paint him to be, nor would I fault you for gambling on any of the three above or the next two on the list.
(+) With a 2,000 yard season on his résumé, Johnson's ceiling is unquestioned. Also, the uncertainty of a new offense may mean Johnson receives even more of a workload.
(-) A holdout is beyond likely, and being the focal point of a meek offense may stunt his numbers.
Tier Two: Top-Notch & Tantalizing
5. LeSean McCoy (Bye 7): I'll be the first to admit I didn't buy the "Shady" hype when he first emerged with Philly. I didn't think the Brian Westbrook comparisons had merit, but I've changed my mind and tune on No. 25's potential in the Eagles offense. McCoy only topped 100 yards rushing three times in 2010; however, he compiled more than 80 total yards in eight of the other games. Likewise, he snared 78 passes to easily lead amongst running backs—and had four catches or more in 12 games.
Yes, his carries need to increase for him to be a top five back as he only mustered 207 last season, but if they do his combination of receiving and rushing stats will be nearly unparalleled in the league. Combine his 5.2 ypc average with the explosiveness around him in Michael Vick, DeSean Jackson, and Jeremy Maclin and it is easy to see why Shady's potential and future are lights out.
(+) McCoy caught nearly 80 passes in Andy Reid's pass-happy offense. He has room for improvement and Reid has publicly noted he feels McCoy can handle a heavier workload. The offense will score points and he'll be a beneficiary of many red zone trips.
(-) There's a lot of weapons other than McCoy and Reid won't necessarily feed him the ball more. If Vick gets hurt, McCoy may struggle against defenses focused solely on limiting him. Unless he does see 250 carries, McCoy may not meet expectations against a decidedly difficult schedule.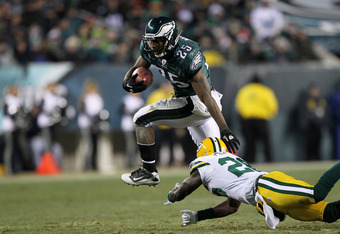 Al Bello/Getty Images
6. Ray Rice (Bye 5): Following 2009's electric breakout campaign, Rice's 2010 season felt a little like a small letdown. Though he failed to match the 2,000-plus total yards and nearly 80 catches of 2009, he still piled up more than 1,200 yards on the ground and finished third amongst running backs in both receptions (63) and receiving yards (556). He also saw his carries increase by 53. Rice will face Pittsburgh twice as well as the Jets, but the great news: He'll be done with those three games AND his bye after Week 9. Tilts with the Browns and Bengals (four total), the NFC West (four) and the AFC South leave me to recommend Rice as a no-brainer first rounder and potential top-three back in 2011.
(+) With 60+ catches the past two seasons, Rice makes amends for his lack of TD's by racking up the catches. Also, Willis McGahee, aka the TD thief, may be on his way out of town.
(-) A mere five rushing TDs on 307 carries in 2010 is alarming. Not to mention Rice is not quite the same game-breaker as the backs ranked 1-5.
7. Darren McFadden (Bye 8): Run DMC finally lived up to the hype and expectations heaped upon him when he entered the league from Arkansas. His size, speed, and soft hands allowed the former bust to emerge as a legitimate top 10 running back with top five potential for 2011. McFadden tallied more than 1,100 yards on the ground with an impressive 5.2 ypc average. Add in another 507 yards receiving on 47 receptions for 10 total TDs and you can see why many owners will see D-Mac as a first rounder this year.
It's not all gravy with McFadden, however; the detractors will point to the three games he missed with injury, as well as questionable quarterbacking and the looming talent of Michael Bush. The bottom line is McFadden is capable of booming into the top three at the position—or plummeting due to injury and inconsistency. Do I think you can safely pick him in round one? Yes, but I would be sure to pick up Bush in the middle rounds just to be safe. 
(+) McFadden had a career-high 223 carries in 2010 and he's the unquestioned No. 1 back in Oakland when healthy. In 10 of the 13 games he started a year ago he tallied either 100 total yards, a TD, or both. He's a true multi-threat out of the backfield.
(-) He's only played in a possible 38 out of 48 games in three seasons, Bush is more than capable of taking on the load, and the Raiders offense isn't exactly a juggernaut.
8. Rashard Mendenhall (Bye 11): Questionable tweets aside, Mendenhall is a young, powerful back on a rock-solid team that creates scoring chances and thrives on running the ball. On the flip side, Mendenhall is looking to continue his rise to stardom a season after toting the rock nearly 400 times (postseason included).
Mendenhall provides a bit of a conundrum for fantasy owners—is he closer to the bruising-but-nimble back with the 4.6 ypc average but only seven TDs of 2009 or he is more likely to hit pay dirt (13 TDs in 2010) but with a lower average (3.9 in '10)? My guess is somewhere in between. If you are looking for a safer option in the back end of the first or early second rounds, banking on 1,200-plus rushing yards and 10 TDs from Mendenhall seems like a good choice.
(+) He's young (just turned 24 in June), plays on a highly proficient offense, and has limited competition or challenges to his role.
(-) The 385 total carries from a year ago is eye-opening. It's also worth noting he cracked 100 rushing yards in a mere four games last season; he's not going to single-handedly light up the scoreboard for you as other backs ranked higher may do. 
Tier Three: Talented Question Marks
9. Jonathan Stewart (Bye 9): Yes, I'm willing to take a few major leaps of faith with the "Daily Show" for 2011. First, I fully expect the Panthers to let DeAngelo Williams walk via free agency. Secondly, I expect Cam Newton to be just competent and athletic enough that defenses won't be able to utterly ignore the first-year signal caller. Finally, I expect Stewart to capitalize on his immense talent for a full campaign.
Here are a couple of things to consider: Stewart's career yards per carry is a solid 4.7, he has amassed 24 touchdowns in 46 career games (with only 10 starts), and this offseason is the first of his career where he hasn't been dealing with some sort of foot ailment. Right tackle Jeff Otah should return at close to 100 percent providing instant stability to the line. When Williams leaves—not if— I'm rolling the dice on the extreme upside of Stewart in late round three or early fourth and feeling good about landing a legitimate No. 1 running back.
(+) If Steve Smith exits as well, Stewart will clearly be the best player on the offense. He's also the kind of running back whose numbers improve with more carries. His overall health is the best it has been as a pro.
(-) He's never received more than 221 carries in a season and his past foot injuries are a concern. Newton's presence will assuredly lead to more eight-man fronts and this team won't likely be playing with many leads.
Christian Petersen/Getty Images
10. Frank Gore (Bye 7): Mr. Gore, aka "the inconvenient truth," has become the inconvenient letdown for many owners over the years. 2010 was no exception to the rule. Gore failed to last an entire season for the fourth-straight year, but what many fantasy pundits fail to recognize is prior to 2010 Gore had missed a grand total of five games in four seasons. His injury, though devastating to owners last year, occurred early enough in 2010 to allow him to fully heal without surgery for 2011. He sports a lifetime 4.7 ypc average, grabs around 50 catches a year, and has failed to reach 1,000 yards on the ground only once since 2006. Not to mention he had a ridiculous 1,300 total yards compiled already when he went down in Week 12 last year.
Enter Jim Harbaugh, give his rookie linemen another year of experience, tack on a player motivated to succeed and achieve one final payday in a contract year, and I think you have the makings of a legit late first rounder. Gore as your No. 1 back is sound, but he's an amazing No. 2 if you are lucky enough to grab him there. 
(+) Very few backs see the total number of targets and carries Gore receives. He's the focal point of the 49ers' attack and Harbaugh would be remiss to change that fact.
(-) At 28 years old and coming off a hip injury, Gore may have lost a step and could finally lose carries to Anthony Dixon or the rookie Kendall Hunter. 
11. Maurice Jones-Drew (Bye 9): Many of the same injury and durability questions which dog Gore also apply to MJD. Coming off serious knee surgery (from a bone-on-bone situation), Jones-Drew will have many doubters in 2011. However, it is hard to ignore his explosive presence, his work ethic, and his 37 total TDs the past three seasons. I'm banking on the Jaguar juggernaut to have one more rock-solid campaign before succumbing to the brutality of the position. Wise owners would be prudent to also select Rashad Jennings just in case. 
(+) Still young (26) and known for an relentless work ethic, MJD should rebound for at least a year.
(-) He may lose carries and could have a rookie QB at the helm on an already mediocre offense.
Tier Four: Consistent with Concerns
12. Matt Forte (Bye 8): Forte's 2010 campaign was a true mixed bag. He fought off the hangover from a pedestrian sophomore year, as well as Chester Taylor, and amassed a solid 1,600 total yards and nine TDs. However, in eight games he rushed for 50 yards or fewer. With an average of nearly 60 catches and eight total TDs per year, Forte is a legitimate second-round pick in PPR leagues, but just don't be surprised if his rushing totals are far from the league leaders.
(+) A great receiving back with little competition for carries in an above average offense.
(-) Weak rushing numbers and a suspect offensive line make him reliant on catching passes.
13. Michael Turner (Bye 8): Few backs are as good in the red zone and can compile big chunks of yards like Turner. However, Turner is no longer young (29) for a running back and he saw his carries hit over 330 in 2010. When he received 376 in 2008, Turner's numbers plummeted the following year. He's a TD machine with 39 rushing scores the past three years despite missing five games in 2009. Just be aware that his paltry rushing average of 3.5 yards per tote the last four weeks of 2009 came against the Panthers (twice), Seahawks and Saints—not exactly the cream of the crop in rush defenses.
(+) He's the man in the backfield, and he will receive the bulk of the red zone carries on a highly potent offense.
(-) A much tougher schedule awaits in 2011, he rarely catches anything, the Falcons are poised to become more of a pass-first offense and those 330-plus carries loom large.
14. LeGarrette Blount (Bye 8): Blount didn't take the lead as the Bucs' main back until Week 8, but once he took over he was a beast. He still cracked 1,000 yards and managed six TDs. Surprisingly agile for such a big man (pushing 250 lbs.), Blount's inefficiency in short yardage prevented him from breaking out even more as a rookie. Slated to start from Week 1, expectations are high for the smash-mouth (no pun intended) back from Eugene, Ore. Many are calling for a top 10 campaign, but I don't see it yet for this young talented back.
(+) Should get the majority of carries, especially in the red zone on an offense with great potential.
(-) He'll struggle to catch 20 passes and until he becomes a better short-yardage runner his touchdown upside will be limited. The schedule won't be nearly as soft in 2011.
15. Steven Jackson (Bye 5): Quick, name the last season Steven Jackson scored 10 touchdowns. Try 2006 when he had an outstanding 16 scores. TDs aren't everything in fantasy, but the serious downward trend in Jackson's scores and red zone use over the past four to five seasons is cause for concern.
Another cause for concern: his 907 carries the past three seasons. Combine all of this with a new offensive coordinator who loves to pass and a rushing average that dipped below four (3.8) in 2010 and I'm not sure S-Jax is the same beastly runner he was even two years ago. He does have soft hands as evidenced by his average of 45 catches the past three years, but he's only cracked 50 catches once since that amazing 2006 season.
(+) He played all 16 contests in 2010 and his all-around game keeps him on the field in nearly every down and situation.
(-) A young QB on the rise and a plummeting yard per carry average are a combination for falling off the cliff in a hurry in the fantasy realm.
The Next Five:
16. Ahmad Bradshaw: Bradshaw was given the first significant workload of his career in 2010 and he responded by turning his career high 276 carries into a solid 1,235 yards at 4.5 yards per pop. He was no slouch in the passing game either, as he totaled another 300-plus yards on 47 catches. He's likely to be a true free agent when the new labor agreement comes to fruition; therefore, other teams could court Bradshaw, but it would behoove the G-Men to retain the electric back. His first-half numbers were special and if he can put them together over a full season he'll be a steal in the third or fourth rounds.
17. DeAngelo Williams: Williams' landing spot could raise or lower his rank a bit. His talent is undoubted, but injury concerns and a weak start to last year's shortened season create apprehension. He'll look to recapture the 5.0 ypc average he obtained from 2007-09. If he lands with John Fox in Denver, or even with Miami as the challenger to rookie Daniel Thomas, Williams should be a viable No. 2 running back.
18. Ryan Mathews: Part of me is reluctant to place Mathews in the top 20, while another part of me wonders if this is too low. There's no denying his talent and his overall numbers from 2010 were not nearly as bad as it may have seemed. He amassed more than 800 total yards and seven touchdowns despite missing four games and only starting nine others. His 4.3 yards per carry is impressive for a rookie and he's playing on an extremely potent offense. If he can stay healthy—a big if—and make San Diego forget Mike Tolbert he'll end the year much higher than No. 18.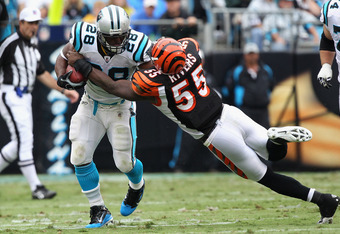 Streeter Lecka/Getty Images
19. Peyton Hillis: Hillis' surprisingly special 2010 season is being forgotten for several reasons. First, Montario Hardesty has legitimate talent. Secondly, Hillis faded badly the last five games with a mere 272 yards rushing. Finally, let's not forget the Madden Curse. Despite more than 1,300 total yards and 13 TDs a year ago, don't be surprised to see Hillis rank closer to 20 than 10 in the final running back rankings.
20. Mark Ingram: The Saints haven't had a truly reliable and potent running game since they made their Super Bowl run in 2009. Perhaps Sean Payton was thinking of that very fact when he traded back into the first round of the NFL draft to select this Heisman-winning bruiser from Alabama. Ingram reminds many of Emmitt Smith due to his stature, SEC roots, and blend of deceptive power and speed. The Saints have a crowded backfield, but Reggie Bush may be jettisoned and Pierre Thomas seems to draw the ire of Payton. I wouldn't be shocked to see Ingram tally 1,100 yards rushing and double digit TDs, making him a an ideal target in the fifth round.
Five that just missed: BenJarvus Green-Ellis, Shonn Greene, Ryan Grant, Felix Jones, & Knowshon Moreno.
Check out these related articles for my QB Ranks and 10 solid Draft Day Rules:
QB Rankings: http://bleacherreport.com/articles/751253-2011-fantasy-qb-rankings-philip-rivers-over-tom-brady-and-peyton-manning
Draft Day Rules: http://bleacherreport.com/articles/741196-michael-vick-or-aaron-rodgers-10-fantasy-drafting-rules-for-success