Albert Pujols Injury: 5 Long-Term Effects of Pujols' Injury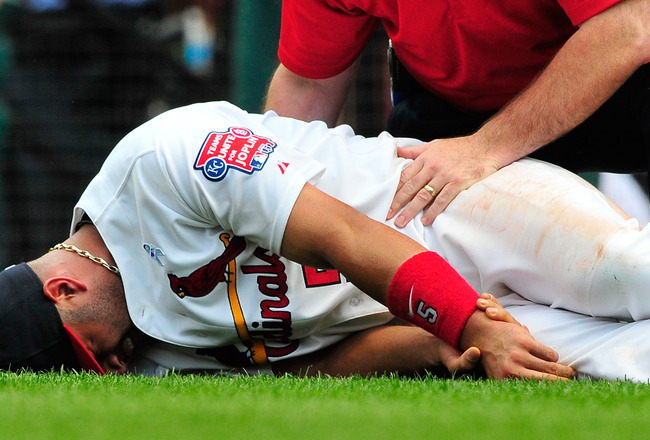 Jeff Curry/Getty Images
There's no denying that Albert Pujols will be the most coveted free agent at the end of the 2011 season. Since his arrival in the major leagues, back in 2001, Albert Pujols has arguably been one of the most consistently dominant figures in all professional sports.
For the past 10 years, Pujols has earned a reputation for being one of baseball's purest and most powerful hitters while possessing a durability rarely seen in today's game. Over the course of Pujols' decade as a member of the St. Louis Cardinals, Albert has seemingly done it all—nine All-Star Game appearances, six Silver Slugger awards, two Rawlings Gold Glove awards, a Rookie of the Year award, a NLCS MVP award, and already three National League MVP awards.
Simply stated, there has not been a more productive nor more highly decorated player in Major League Baseball in this millennium.
With such past success, it only seems natural that Pujols would be on the cusp of one of the most lucrative contracts in Major League Baseball history.
After choosing not to accept an offer from the Cardinals prior to the 2010 season, Pujols' season has been an audition of sorts. Although his season began with an uncharacteristically slow start, Pujols caught fire in June, and it appeared the Cardinals' slugger was primed for a big run at a big contract.
All that changed on June 19th, when Pujols collided with Wilson Betemit of the Kansas City Royals and wound up on the disabled list for just the second time in his decade-long career. A broken wrist was found to be the result of the collision, rendering Pujols inactive for anywhere from four to eight weeks.
Though Pujols has expressed his confidence in a full recovery—much like any athlete would—the likelihood of the Cardinals' first baseman returning to perennial MVP form aren't as sure a bet as many would believe.
With the St. Louis Cardinals' playoff hopes now in jeopardy, Albert Pujols' free agency fortune may be dwindling as well.
Here are five long-term effects of Albert Pujols' injury.
Lingering Pain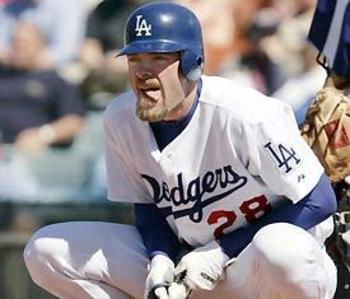 In 2005, Jayson Werth, now of the Washington Nationals, suffered a broken wrist after being struck by a pitch in the very first game of spring training.
"During the first game of spring training in 2005, I got hit in the wrist by [A.J.] Burnett," Werth recalls. "I was out for two months right away."
The injury set off a solid year's worth of pain, doctor's visits, tests and surgery that did nothing more than prolong his stay on the disabled list.
"No matter who I saw for my wrist, it was always the same old thing: As long as you can tolerate it, you can play," Werth says.
Eventually, Werth found an answer for his pain. But it did take the 2009 All-Star nearly four years to get his career on track.
Had Werth not been able to find a way to fully recover from his injury and the pain that accompanied it, odds are he would no longer be in Major League Baseball.
Decrease in Power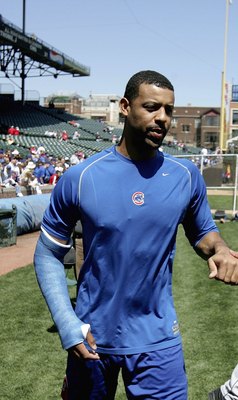 Jonathan Daniel/Getty Images
Baseball is a game of hands. Whether in the field or at the plate, a ballplayer's hands are vital.
Unfortunately for Albert Pujols, historically, players who have suffered injuries to their wrists, or hands in general, have typically struggled with regaining the level of power they had prior to their injury.
Just six years ago, Albert Pujols' reign as the proverbial king of National League first basemen was heavily challenged by then-Cubs first baseman Derrek Lee. In 2005, Lee bested Pujols in batting average and home runs, and trailed Pujols in RBI by just 10. After such a tremendous season by Lee, it seemed as if Pujols would have company for quite some time.
In 2006, however, things went terribly awry for Lee and the Cubs.
Less than three weeks into the season, Lee suffered from a broken wrist in an eerily similar collision with Dodgers shortstop Rafael Furcal. Much like with Pujols' injury, Lee was initially given a timeline of around six to eight weeks for recovery. Lee's injury, however, kept him on the disabled list for nearly 100 games.
Upon his return from injury, Lee never quite returned to form. In 2007, Lee hit just 22 home runs, and in 2008, Lee's power once again failed him as he connected for just 20 homers.
Another bit of eerie coincidence is that, much like Pujols, Lee's injury took place at the age of 30.
Lee currently is hitting just .242 with six homers and 22 RBI for the Baltimore Orioles.
Leery Suitors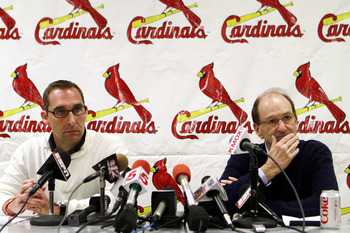 Marc Serota/Getty Images
Suffering a wrist injury in this, his contract year, can have no positive effect for Pujols in regard to a future contract. Already considered to be a bit older than many clubs desire, potential suitors of Pujols must now deal with the worry of potentially acquiring damaged goods.
It is believed that Pujols desires a contract in the neighborhood of 10 years at $300 million. Now that Pujols has suffered a potentially career-altering injury, his value is sure to drop.
End of an Era for Cardinals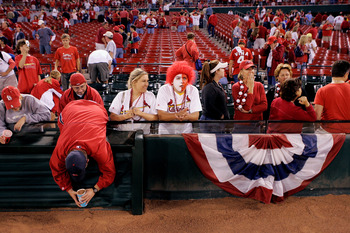 Brian Bahr/Getty Images
The timing of Pujols' injury couldn't be any worse for Cardinals fans. With St. Louis in the thick of the NL Central title race, and with injuries to other key players like Adam Wainwright and Matt Holiday, the Cardinals could ill-afford to lose their best overall player.
Currently, the Cardinals are a team built mainly around Pujols and are a roster loaded with role players who best compliment Pujols' abilities. If Pujols is offered a better deal at the end of this season and chooses to leave St. Louis, the Cardinals may find themselves several years away from returning to contention.
If the injury to Pujols takes longer than expected to heal, Cardinals fans may have seen their hero of the past decade already play his final game.
Contract Speculation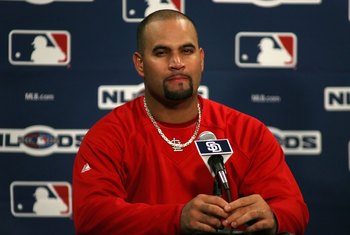 Christian Petersen/Getty Images
Early in 2011, Albert Pujols declined what was reported as a contract worth $200 million for eight seasons in St. Louis.
There are not many individuals in professional sports who would have the audacity to decline such a lucrative offer, let alone feel they deserve a better one. But Pujols feels he is the most valuable player in the major leagues today, and intends on getting his due from the team with which he chooses to sign.
Now that Pujols has landed on the disabled list, the slugger's demands may seem a little more on the ridiculous side than ever before.
Would Pujols now consider signing less of a deal?
Is the injury to Pujols potentially the greatest possible scenario for Cardinals fans?
Will Pujols shrug the injury off and still demand top dollar?
Lots of questions arise in light of the Pujols injury, with just one certainty: the winter of 2011 is sure to be quite a spectacle with Albert Pujols on the market—injured or not.
Keep Reading

St Louis Cardinals: Like this team?