Minnesota Vikings: 5 Reasons Why Visanthe Shiancoe Will Have a Big Year in 2011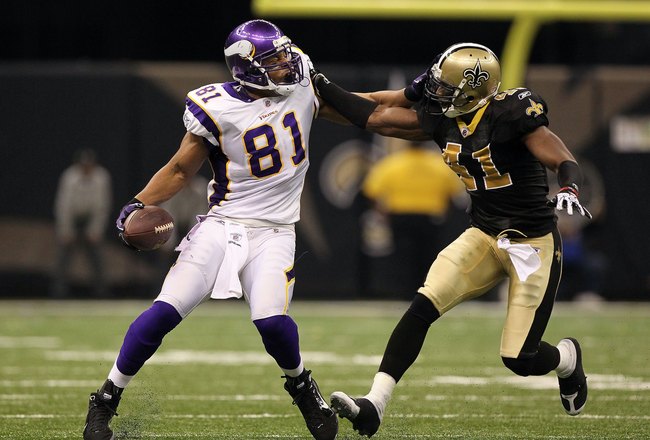 Jed Jacobsohn/Getty Images
The Minnesota Vikings should be concerned with their situation at WR with Sidney Rice allegedly testing the free agency market.
They should be concerned having a rookie QB as the only viable starter on their roster.
One thing they won't have to worry about, though, is their depth at TE.
They have two veterans in Visanthe Shiancoe and Jim Kleinsasser, and a new able-bodied rookie in Kyle Rudolph.
I think that Shiancoe is definitely in the prime of his career and will not only be the most productive TE for the Vikings, but one of the most productive offensive players for the team in 2011.
Staying Busy During the Lockout
Of all of the athletes I follow on Twitter, Shiancoe is not only the most active, but he is always tweeting about his workouts. Every morning, it's a new tweet about a new workout.
The video above displays the intense kinds of workouts that Shiancoe puts himself through on a regular basis, just so that he can be at the top of his game when the season rolls around, if the season rolls around.
The thing that impresses me the most watching his workout videos is Shiancoe's physique. He is every bit as ripped as any other great TE, but stays so lean and quick; he is essentially a TE/WR hybrid with just the way he is built.
One thing that Shiancoe seems to be doing right, unlike his fellow offensive starting veterans, is getting acquainted with the team's new QB. Christian Ponder took it upon himself to try to get to know his teammates and get them acquainted with the playbook, and most of the veterans haven't been to a single practice, except Shiancoe.
I don't know what all of the Vikings are doing to stay in shape during the lockouts. I'm just saying that it seems like Shiancoe is doing everything right from my point of view.
Improving Statistical Trends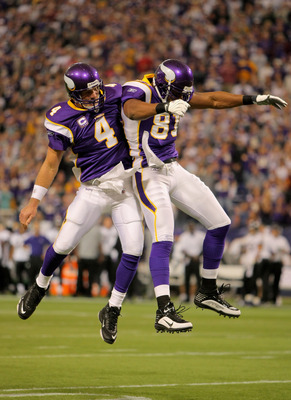 Doug Pensinger/Getty Images
Shiancoe started his career behind Jeremy Shockey as a New York Giant in 2003. Shockey was at the height of his career, making it difficult for a young Shiancoe to get much attention.
That all changed when he came to Minnesota; Shiancoe immediately became "the guy" at TE.
Shiancoe's statistics show steady improvement over his eight-year career and I think they will continue with the addition of a steady QB in Ponder.
In 2009, with the help of Brett Favre, Shiancoe's number of touchdowns jumped up to a career-high 11. I think that just goes to show how much Shiancoe benefits from having a steady QB throwing him the ball. If Ponder is that guy, I think Shiancoe could top 11 touchdowns easily in 2011.
Fighting to Stay Ahead of Rookie Kyle Rudolph on Depth Chart
With their second-round selection in the 2011 NFL Draft, the Minnesota Vikings selected TE Kyle Rudolph out of Notre Dame. Rudolph was considered the best TE in the draft class and potentially the league's next great TE.
What better motivation for Shiancoe to show the rookie who the alpha-dog is in Minnesota?
With Bill Musgrave's new playbook allegedly containing many two-TE sets, Rudolph and Shiancoe will likely be on the field together quite often, but I think with the fact that Rudolph can stretch the field so well will likely result in a lot of check-downs to Shiancoe underneath.
I don't doubt that someday Rudolph could be one of the league's great players, but I do know that right now, this is Shiancoe's house.
Rookie QB Will Rely on Tight Ends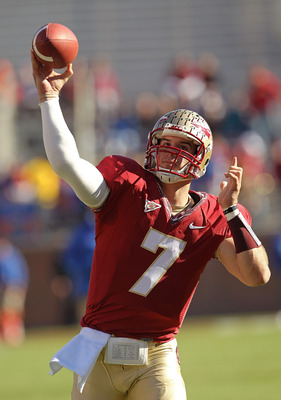 Mike Ehrmann/Getty Images
Speaking of the NFL draft, the Vikings big money pick was finally on a QB in 2011. Christian Ponder will hopefully prove to be the face of the Vikings' franchise in the coming years.
In my opinion, Ponder is coming into the best possible situation: the league's best RB, a solid receiving core and a great TE.
If Sidney Rice stays, Ponder will be able to spread the ball around to many receivers that can help make things happen for him on offense. Ponder is not known necessarily for his arm strength, though, so check-downs and underneath routes will result in a lot of touches for the team's TEs and slot receivers.
I think that at the same time, if Rice leaves, Shiancoe is the next best receiving option on the Vikings offense and will really have to step up his game to push that offense to a high level—something I think he is very capable of.
I think that either way, Shiancoe is going to get a lot of touches this season because of his rookie QB. He instantly became one of Brett Favre's favorite targets, so I think it could be just as easy for a rookie to fall in love with him too.
Entering a Contract Year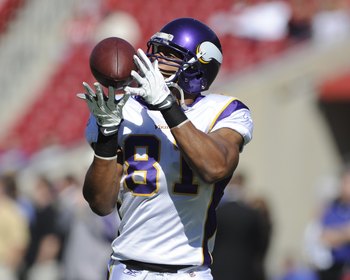 Al Messerschmidt/Getty Images
I think that perhaps the most important thing to Shiancoe from a business standpoint, going into 2011, is that he will be a free agent at the end of the season.
As a Vikings fan, I hope Shiancoe stays in purple for a lot longer but there is always the chance that he could pursue other interests.
If he wants to post a solid resume' while testing the free agent market, he will have to show that he can perform at a high level without Brett Favre throwing him the ball.
Shiancoe could cement himself as one of the best free agents going into the 2012 offseason, potentially landing him a big contract the following year.
This is something that will probably have him working harder than ever to be productive in 2011.
Conclusion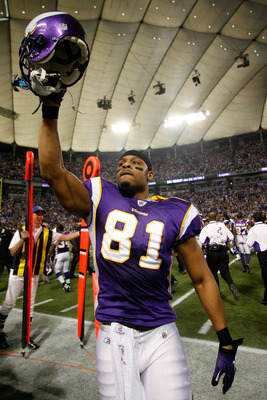 Elsa/Getty Images
In conclusion, I think that Shiancoe is poised to have a career year. I think that all of these factors tie in together to motivate him into all of the hard work that his Twitter page shows on a daily basis.
I want to see Shiancoe as a Viking for years to come; a solid year in 2011 could provide the incentive for the Vikings to give him a contract he deserves and the fans want to see him receive.
Keep Reading

Minnesota Vikings: Like this team?