2011 Philadelphia Eagles: 4 Moves the Eagles Should Make When the Lockout Ends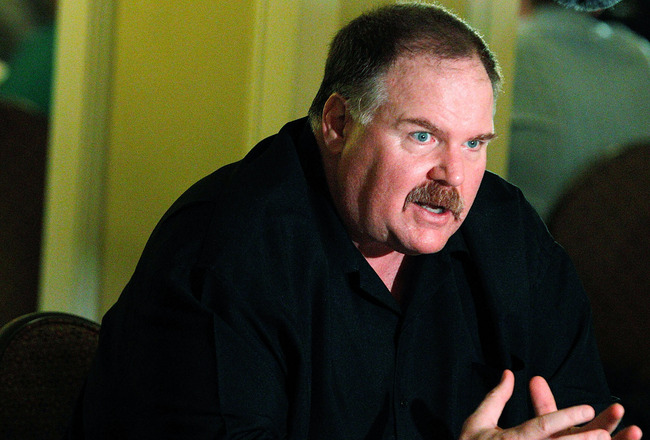 Andy Reid and company have some important decisions to make once the 2011 NFL season is open for business.
Sean Gardner/Getty Images
The current NFL lockout has made preparing for the 2011 season hard for all teams. They had to go into the 2011 NFL Draft without a preceding free agency period. The results of the new CBA, in particular the proposed rookie wage scale, could have altered team plans to move in or out of the top of the draft.
The Eagles were hit especially hard due to the fact that they have a big trading chip in Kevin Kolb. He could have landed the Eagles a first-round pick. Instead, they are stuck in a situation where the market for Kolb has grown thinner due to other teams addressing their quarterback needs through the draft. That, however, doesn't mean there still isn't a market for him and that they can't get a high pick in the 2012 NFL Draft in a trade.
Trading Kolb is one of a few things the Eagles need to do in order to contend for a Super Bowl in the 2011 season.
Trade Kevin Kolb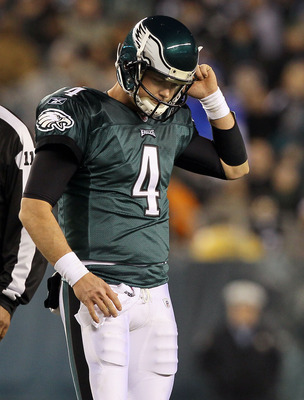 One of the Eagles top priorities should be to trade Kevin Kolb for a high draft pick
Jim McIsaac/Getty Images
Kevin Kolb can be a good starting quarterback in this league. The problem is the Eagles have an even better starting quarterback In Michael Vick. The Eagles have a top-five quarterback when he is at his best. It does not make sense to go into a season with two quarterbacks of this caliber.
In a league where quarterback is king, Kolb is the perfect trading chip. There are a handful of teams that need an upgrade at the position. Teams are looking to turn the franchise around with quality play and stability at the quarterback position. Kolb can offer this to teams such as the Cardinals, Raiders, Vikings or 49ers.
It would be in the Eagles' best interest to trade Kolb, as he does not want to continue as a backup. To keep him this year would mean losing him after the 2011 season without receiving any compensation.
The Eagles can't let that happen.
Sign Nnamdi Asomugha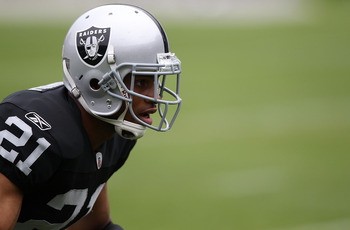 Nnamdi Asomugha would be a huge upgrade to the Eagles secondary that allowed 31 TD passes in 2011
Jed Jacobsohn/Getty Images
It is no secret the Eagles secondary struggled mightily in 2010. They gave up 31 touchdown passes, which was a large contributor to their defense being last in the league in red zone efficiency.
The Eagles have a top corner in Asante Samuel. However, the problem in 2010 was not Samuel, it was the corners playing opposite him. Whether it was Dimitri Patterson or Ellis Hobbs, the right side of the Eagles defense was routinely picked apart in 2010.
Nnamdi Asomugha, known as one of the top cover-corners in the game, would add a much needed presence on the other side of the field. His skills as a cover-corner compliment Asante Samuel's skills as a risk taker and ball hawk. Together these two would not only help the secondary, but also help the defensive line by allowing them to register some "coverage sacks" due to the quarterback not finding open men downfield.
Pay DeSean Jackson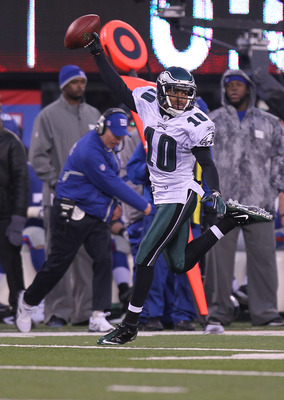 DeSean Jackson had 1,056 receiving yards and 8 total TDs in 2010
Nick Laham/Getty Images
DeSean Jackson is the Eagles' big play threat. He's the type of player that could change the course of a game, or even a season, with a single play. He proved this as recently as December 19, 2010 when he capped off an Eagles 24-point comeback against the Giants with a punt return for a TD as time expired.
Plays like that are what make Jackson a special player.
Jackson slid into the second round in the 2008 NFL Draft. As such, his contract does not reflect what he has done, and what he means to this team. He knows this, which is why he is not happy with his contract situation.
Jackson has made it known that he is looking for an extension and pay raise. The Eagles should work with him to get something done. If not, DeSean is very capable of a T.O.-like explosion that could ruin a season. Let's not forget about all the character concerns teams had about him coming out of UCLA (which is the reason he was available in the second round for the Eagles to grab).
The Eagles need to make him happy and retain one of the best big-play receivers in the league.
Sign Albert Haynesworth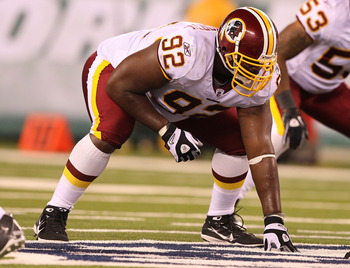 Albert Haynesworth would make a nice addition to a defensive tackle unit that only garnered nine sacks in 2010.
Al Bello/Getty Images
Following the assumption Redskins' coach Mike Shanahan releases Albert Haynesworth, the Eagles should make a run at signing him. When he wants to be, Haynesworth can be the most dominant defensive lineman in the NFL.
The Eagles' defensive tackles only registered nine sacks in 2010, that is not getting the job done. First-round picks Mike Patterson and Brodrick Bunkley are nice tackles, but they are more rotational tackles who shouldn't be counted on as heavily as the Eagles are forced to rely on them.
This signing would not be without risk. Haynesworth has a checkered past including attitude, work ethic concerns, taking plays off and playing dirty. Being reunited with former defensive line coach Jim Washburn could relieve some of those concerns. Washburn, who has publicly stated that he would like Haynesworth to join the Eagles, got the most out of the big lineman in Tennessee. Haynesworth flourished under Washburn's tutelage and there is no reason to think it couldn't happen again.
A focused and productive Haynesworth can transform the Eagles' defensive line. He can provide needed pressure up the middle that collapses the pocket and forces quarterbacks to scramble and be uncomfortable.
Keep Reading

Philadelphia Eagles: Like this team?