Adrian Gonzalez: Manny Ramirez Without The "Manny"
June 24, 2011
Jim Rogash/Getty Images
Any mention of Manny Ramirez usually makes people think of "Manny being Manny." That was the only way frustrated Red Sox fans seemed able to justify the zany antics that came along with Manny Ramirez's outstanding abilities as a hitter.
On the field, and especially at the plate, Manny was a legendary player. Over his seven full seasons with Boston, he hit .313 with an astounding OPS of 1.006. On average he drove in 114 runs every season and had 36 home runs. Manny could flat-out hit.
Along with Manny's abilities came his personality, and that's where people got fed up. Instead of his 555 career home runs, he'll be remembered most for the three failed PED tests and forgetting what knee was injured after he pulled himself from an important series with the Yankees.
Fans have even forgotten just how important he was in winning those two championships in Boston after an 86-year drought.
In the post-Manny era, the Sox have primarily used Kevin Youkilis in the fourth spot, as well as appearances by Victor Martinez, Adrian Beltre and Jason Bay. Those are all fine hitters and certainly contributed to the Red Sox over their time with the team—they just aren't the offensive force that Manny was.

If they can hit .300, they can't hit 30 home runs. Only Jason Bay came close to being the power threat of Manny, but he only posted a .267 batting average. Since trading Manny, the Red Sox haven't had that hitter who instilled fear into the other teams.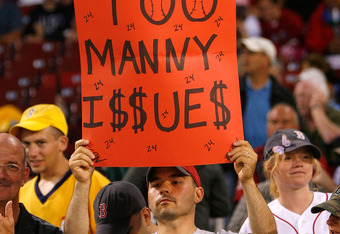 Jim Rogash/Getty Images
Enter Adrian Gonzalez.
Adrian had been playing out his career in the pitchers haven that is known as PETCO Park. For his career, he posted good numbers of a .288 average, 32 home runs a season, 100 RBI and an .888 OPS. But since joining the Red Sox he's gotten flat-out ridiculous. His 63 RBI leads the Majors, and his .359 batting average leads MLB by more than 20 points over Jose Reyes.
He's been getting even better too. Over the 19 games in June, he's been hitting .447 with an OPS of 1.314. He was solid in May as well, and was a major part of the Red Sox finding themselves offensively. Gonzalez is a lot of the reason the Sox have found their way back to first place.
How could he not be? Every time the Red Sox take the field they have Adrian Gonzalez penciled in for the No. 4 position in the batting order. He provides protection for the top of the lineup, and he is good enough to push back other quality hitters such as Youkilis and Ortiz behind him. He's a quality hitter with power, patience and a high batting average.
Most importantly, he's a guy who comes to the park to play. Manny Ramirez was a flake who would one day decide to play hard and the next day decide he'd just be there for the pay check. Even when he tried, he'd still wind up with horrible mental errors. For all the good that came with Manny, he came with an airport full of baggage and it led to him being traded for Jason Bay during a pennant race.
That's certainly not the case with Adrian. He's a quality player who plays the game the right way, and plays it the way that helps teams win the most. He's a good defensive player, but he can lead a lineup with his bat anchoring the middle of the order. You know what you're going to get every night out of him.
Manny certainly was good for the Sox while he was there. They used him to win a pair of World Championships and erase the stigma of losing to the Yankees every season. But you can't help but point out the fact they traded him away during a pennant race.
Adrian Gonzalez brings a whole lot to the field and has the bat the Red Sox need to anchor the order. After limping along for a few seasons without an offensive force in their lineup, they've finally found their man in Adrian.