Chris Johnson vs. Adrian Peterson: Who's the Best Running Back in the NFL?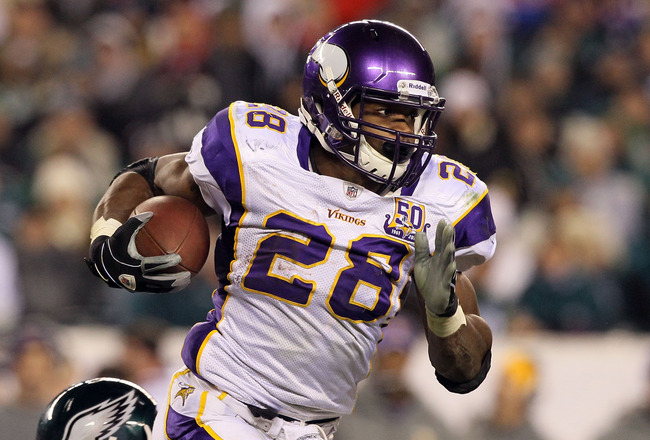 Jim McIsaac/Getty Images
The NFL today is a quarterback driven league so many tend to forget the importance of the running back position.
We saw it in action as Mark Ingram was the sole running back taken in this year's draft. Moreover, teams are switching over to the running back by committee system which limits the heavy investment in a particular player.
Of course, that's not to say there aren't any more star runners left. Players such as Maurice Jones-Drew and Steven Jackson remain the staples of their respective team's offense and continue to dominate their opponents.
But who's the best running back in the NFL today? Is it Minnesota Vikings' Adrian Peterson or Tennessee Titans' Chris Johnson?
Let's compare the two and find out!
Rushing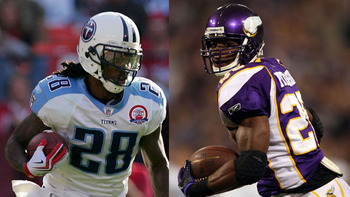 Running backs are often asked to do a wide array of tasks including acting as a receiver and providing assistance in pass protection, but their primary responsibility remains running the ball.
The two backs have different styles of play. Peterson is much more violent and aggressive while Johnson is more of a breakaway runner. However, when it comes to production they're about the same.
Honestly, there's no one distinction between the two when it comes to being a pure runner.
Winner: Tie
Scoring
Win McNamee/Getty Images
While amassing a ton of yards is great, at the end of the day the winner is determined by the scoreboard.
In four seasons, Peterson has already rushed into the endzone on 52 occasions and twice more through the air, giving him a whopping total of 54.
At the current pace that Chris Johnson is going at, it would take him 67 contests to get to that number which is about six more than it took Peterson.
Winner: Adrian Peterson
Big Plays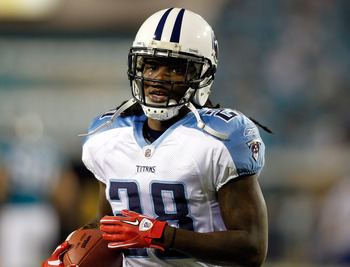 J. Meric/Getty Images
When a running back shreds through a defense for a big game, it not only moves the ball down the field but it can deliver a crushing blow to their opposition mentally.
Chris Johnson has a significant advantage in regards to rushes over 20 yards, but Peterson makes up for it in the receiving game. Combining both, they average just over one per game. So, yet again this is a close one.
But since running the ball has a bit more weight and Johnson had three more 100+ yard games, I'm going to give him the slight edge.
Winner: Chris Johnson
Consistency/Durability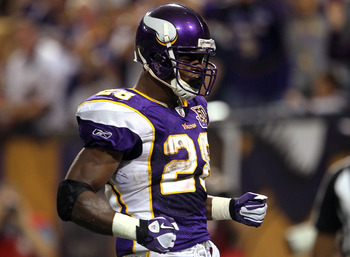 Adrian Peterson Chris Johnson
Jeff Gross/Getty Images
What good is a player if he's not consistent? You must be able to produce at a high level on a weekly basis if you hope to stick around in the NFL.
Chris Johnson dipped his production from a tremendous 2008 when he became just the sixth rusher in NFL history to eclipse 2,000 yards.
Meanwhile, Peterson stayed on par with his previous season with 86.5 yards per game. Only four times did he have fifteen or more yards below that average.
On the flip side, there were eight times that Johnson had fifteen or more yards below his 86.4 average. Interestingly enough, he had over 111 yards in each of those other eight games. So it's fair to see he's been rather erratic in his performance. At times, he'll dominate and at others he'll struggle.
As for durability, Peterson's running style does make him susceptible to injury but at the same time Johnson's smaller frame leaves him exposed to nasty hits from larger defenders.
Luckily, injuries haven't hurt either much so far as Peterson's only missed three games and Johnson's missed one.
Winner: Adrian Peterson
Versatility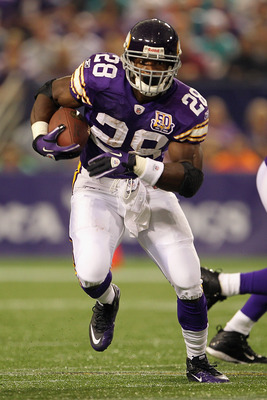 Adrian Peterson touchdown
Jamie Squire/Getty Images
You would think that with Chris Johnson's unique elusiveness, he'd be the more versatile. Well, think again.
While he's certainly an asset in the aerial attack, he's no match for Adrian Peterson especially when it comes to blocking.
Even though he was only a two down back for the earlier part of his career, Peterson managed to record a career 9.8 YPC over Johnson's 7.4. In addition, last year he had nearly four yards more per reception.
And while both can run inside and out, Peterson is much more effective doing so.
Winner: Adrian Peterson
Importance to Team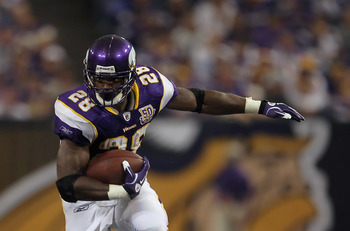 Jeff Gross/Getty Images
A player's importance to his team is an accurate indicator of his overall value and talent. Both Adrian Peterson and Chris Johnson are integral keys to their team's success and when you tally it all up, they account for over a third of their respective team's offense.
With Peterson having a slight advantage in that category and the fact that the Vikings suffered their second biggest loss of the season when he was injured gives me just enough to give him the edge.
Winner: Adrian Peterson
Final Verdict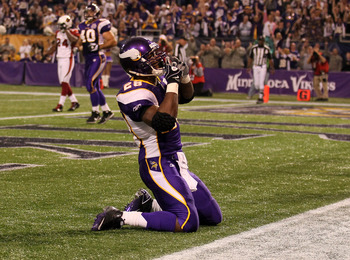 Stephen Dunn/Getty Images
When it's all said and done, I'd be ecstatic if I could put either one of these talented running backs in my backfield.
However, if I had to choose I'd make the tough decision and go with Adrian Peterson.
Sure if this was last year, I may have given the edge to Chris Johnson especially considering Peterson's fumbling issues. But since then, Johnson dropped in production and Peterson only coughed up one fumble.
By the categories I compared the two in, he had a 4-1 advantage with one tie.
The Best Running Back Is...Adrian Peterson
Keep Reading