Green Bay Packers: The 5 Most Ridiculous Catches in Packers History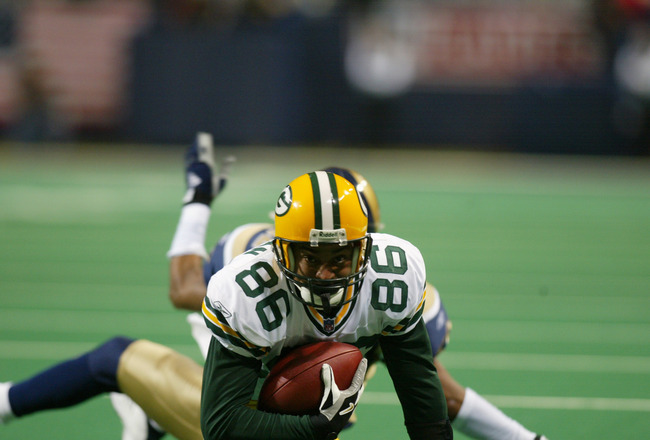 Tom Hauck/Getty Images
Why exactly do we watch football?
Well, there are two main reasons. To be entertained and to see our favorite team win (or lose).
One of the most entertaining things in all of sports are those ridiculous catches that occur and make you think, "How did he do that?"
So what better way to entertain you then to show you the five best catches in Green Bay Packers history?
Honorable Mention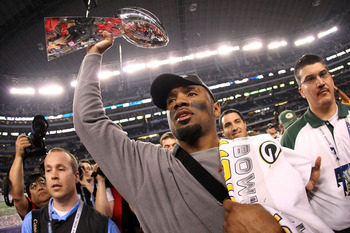 Doug Pensinger/Getty Images
5. James Lofton Fingertip Catch
Skip to 5:35 to see the catch.
James Lofton is, like the video to the side says, one of the top Green Bay receivers of all time.
Great players make great catches and Lofton certainly made a spectacular one here.
Though it doesn't look fantastic at first glance, on a scale of one to 100 of difficulty I'd give this catch a 100.
Lofton barely makes the grab, brings it back to his body with one hand and then absorbs the hit given to him.
Add that up and you get the fifth best catch in Packers' history.
4. Donald Driver's One Handed Grab vs. St. Louis
Though overshadowed by many other great catches you see week in and week out, this was pure concentration on the part of Donald Driver.
Despite being interfered with, and only having one hand free to catch the ball, Driver never takes his eye off the ball.
To top it off, he cradles the ball with one arm and prevents it from hitting the ground.
Just an all-around sterling play by one of the Packers' most underrated receivers.
3. Max McGee's Super Bowl One Handed Catch
Skip to :20 to see the catch. Actually, just watch the whole thing. You've got a minute to spare, right?
The first ever Super Bowl ended with a victory over the Kansas City Chiefs.
McGee was nearing the end of his career when he made this catch and didn't believe he was going to play in Super Bowl I.
Hung over from the previous night, McGee entered the game due to an injury to Boyd Dowler.
What ensued was a stellar performance from the backup receiver as he recorded seven receptions for 138 yards and two touchdowns.
He also made the first touchdown in Super Bowl history a memorable one.
2. Robert Brooks' 99 Yard Touchdown Catch
While this wasn't necessarily a spectacular catch, the whole play was just amazing.
The Packers are backed up to their own one-yard line, a place where most teams try to just get a couple yards to give their punter some breathing room.
After the catch, Brooks just races down the field for the touchdown.
And for those who don't know, this is the longest reception in NFL history.
1. Antonio Freeman's Monday Night Football Catch
He did what!?
Regarded by some as the best catch of all time, this play had it all.
On 3rd and 4 in overtime, the Packers needed to get about 10 or 15 more yards to put themselves in field goal range.
Things looked bad when Freeman tripped and Cris Dishman has the ball wrapped up in his hands.
Unfortunately for the Vikings, Dishman drops the ball onto Freeman's back and the rest is history.
The juke near the end is just the icing on the cake.
Keep Reading

Green Bay Packers: Like this team?