Pittsburgh Steelers: Ravens' Imitation Is the Sincerest Form of Flattery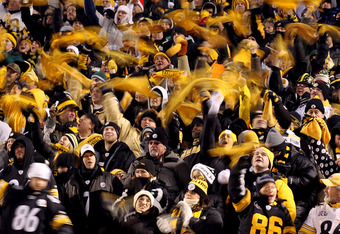 Al Bello/Getty Images
The Pittsburgh Steelers and Baltimore Ravens are the fiercest rivals in the NFL today. Every time these two teams match up you can expect a hard-nosed, physical football game.
The two teams are mirror images of each other, built around a franchise quarterback on offense and two of the best defenses in the league. Players are beat up after playing in this game.
Ryan Clark has knocked out Willis McGahee. Ray Lewis broke Rashard Mendenhall's shoulder. Ben Roethlisberger had his nose broke by Haloti Ngata.
But at the end of the day, more often than not, the Steelers come out on top, particularly in the playoffs.
After yet another playoff loss this past season John Harbaugh stated that he thinks about the Steelers "every single day, in all honesty."
Apparently the Baltimore Ravens scoreboard operator can't either. According to the Raven's official website:
HELP US! YOU DECIDE
You can help make our home games even more exciting and fun, while making M&T Bank Stadium more intimidating for visiting teams. Our fans are outstanding and our home record is an indication of how much you help us. Since 2000, the Ravens have the third best home record in the NFL (and 19-5 in the last three years under Coach John Harbaugh).
How do you feel about the Ravens asking fans for a "pump-up" song?
What we want to do is raise the noise level at M&T. When we told Coach Harbaugh about this, he was enthused. "We know how good our fans are – and they're great at M&T. They get it and they help us win. If we can take the noise to another level, let's do it," the head coach exclaimed.
Ravens fans picked the name of our team and helped in choosing the amenities when we built our stadium. Now, you can help pick a "pump-up" song we would use when we need a big defensive stand for our team. Please send us your suggestions.
Though this announcement has since been mysteriously taken down, it is quite obvious that the Ravens are trying to find their own version of "Renegade."
If you aren't familiar with "Renegade," here is a quick rundown.
At a crucial moment of the game, typically in the fourth quarter when the Steelers need a big defensive stop, the screen on the Jumbotron goes to black.
The fans no what is coming and get to their feet. Then you hear the lyrics, "Oh mama I'm in fear for my life from the long arm of the law…" The screen is black and white as you see LaMarr Woodley spraying water from his mouth as he does during the pre-game introductions.
As the slow part of the song continues, the screen "beats" with the bass, almost like a heartbeat.
Renegade played right before Deshea Townsend's game-winning interception return in 2008 game against the Dallas Cowboys.
The slow build up gives the crowd time to energize before the "Ahhhh…The jig is up, the news is out, they finally found me." Now you have over 65,000 fans waving Terrible Towels screaming to a montage of big defensive hits, and some by Hines Ward too.
When the video comes to a close, highlights of big hits are right in time with the thud of the bass and then a "Defense" chant. The video sends the crowd into a frenzy and more often than not, the defense as well.
There is nothing like experiencing "Renegade" at Heinz Field, especially in a big game against the Ravens.
It is no mystery why Baltimore would also want to make their home games "more exciting and fun, while making M&T Bank Stadium more intimidating for visiting team." It works for the Steelers, why not for them?
If you can't beat 'em, join 'em, right? The NFL is a copycat league and Baltimore is going that route to enhance their home field advantage. You can't blame them. The Steelers are a very successful organization.
Baltimore has built an elite defense like the Steelers. They play a physical brand of football like the Steelers. They wear black jerseys like the Steelers. They even copied the Terrible Towel when they passed out "Rally Towels."
Larry French/Getty Images
To the Ravens' credit, it did help out a charity like the Terrible Towel does.
Regardless, the Ravens took their arch rival's iconic towel and made their own version of it.
When they passed them out in 2009, Baltimore gave white towels to the fans. (White? Really?)
Mark Clayton liked the idea as it reminded him of what Heinz Field looked like.
"Honestly, when we were in Pittsburgh for a Monday night game and they had those towels going, that was awesome," he said. "It felt like a college atmosphere, electric-like. That was tight."
Ray Lewis was not so enthusiastic.
When asked if he would be waving a towel Lewis replied, "No."
I wonder if Lewis' view of "Renegade" was closer to what Clayton had of the towels because the video makes the atmosphere electric.
Apparently someone in the Ravens organization doesn't believe their fans are good enough or that their defense can rise to the occasion anymore. Or maybe they are just that jealous of what Steelers fans bring after "Renegade."
From the Steelers' perspective, the whole thing is quite amusing. Here you have a coach and a roster that does nothing but make excuses why they can't beat the Steelers, yet their organization continues to model themselves or borrow ideas from Pittsburgh.
Regardless, Baltimore's search for a "pump up" song is just another way for them to imitate Pittsburgh, and remember imitation is the sincerest form of flattery.
Follow me on Twitter.
This article is
What is the duplicate article?
Why is this article offensive?
Where is this article plagiarized from?
Why is this article poorly edited?

Pittsburgh Steelers: Like this team?