NFL Trade Speculation: 8 Quarterbacks Who Could Be Traded in 2012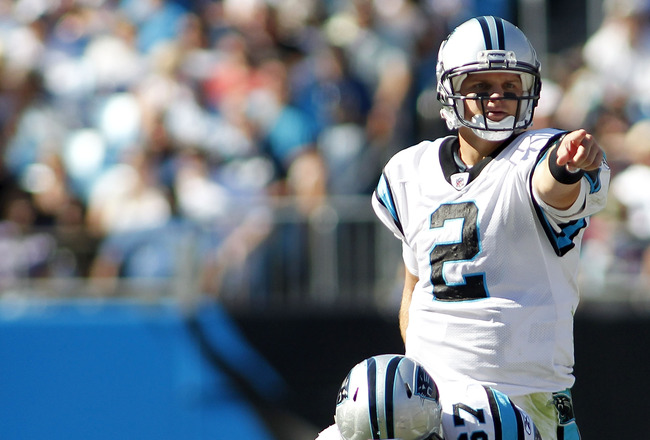 Geoff Burke/Getty Images
Every offseason there are a handful of quarterbacks on the trading block.
Sometimes it's because they've had the chance to be starters and haven't delivered the results that are expected from them. Sometimes it's because they have the talent to be a started, but their current team doesn't have plans to give them their starting job any time soon.
Whether their team is looking to make a change or they want to get value for a player who is too good to be just sitting on their bench, there are quarterbacks available every year and no lack of teams that want them.
We know the players who are available this year, but what about next year?
Here are the eight quarterbacks that will be available for trade in 2012.
8. Ryan Mallett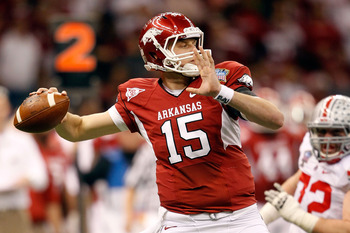 Matthew Stockman/Getty Images
Ryan Mallett was one of the more intriguing quarterback prospects to come out of college in years.
He has all the measurable talents needed to not just be good but great at the NFL level. It's the questions about all the other things that go into being a starting quarterback in the league that led many teams to pass on him during this past draft.
As usual, the New England Patriots jumped on him once they felt like his value was at the right level.
The Patriots are masters at controlling the information that's made public about their players. They will showcase his strong arm during the preseason, then make sure that the comments coming out about him during the 2011 season paint him in the best possible light.
Then, next offseason when teams are hungry for new quarterbacks, the Patriots will trade him for better value then they paid. It's the Patriot Way.
7. John Beck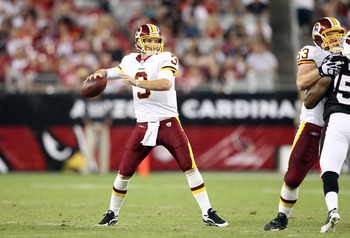 Christian Petersen/Getty Images
The Washington Redskins are clearly not enamored with any of the quarterbacks currently on their roster. Including John Beck.
Beck has yet to put up the type of numbers that would make Washington want him to be their starter on a long term basis.
Depending on what happens with Donovan McNabb this season, he might get the chance to improve his trade value on the field during 2011.
NFL teams are always looking for quarterbacks, even those that have yet to live up to expectations on other squads. The Redskins will be ready to move on from Beck after this year, and there will always be someone looking for a backup who could become a starter.
6. Colt McCoy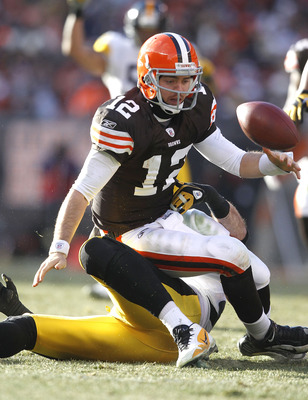 Matt Sullivan/Getty Images
Colt McCoy came into the NFL with the reputation as being a leader and a winner.
He proved once again that being those two things at the highest level of football is difficult even for the best signal callers.
His rookie season wasn't a total disappointment. There were times when McCoy showed the type of talent that made the Browns use a third round pick on him. He displayed a veterans savvy in managing his offense to a victory over the Patriots in Week 9, completing 14 of 19 passes with a 101.6 QB rating.
Unfortunately, expectations can warp so much of the way NFL quarterbacks are judged, and McCoy came into the league with plenty. If he doesn't have a much improved sophomore campaign the Browns will be looking for other options at quarterback.
5. Tony Romo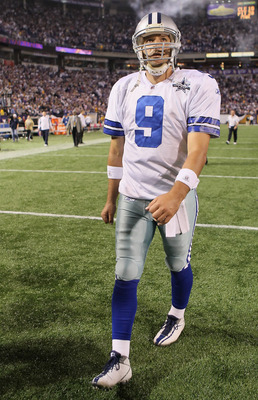 Jeff Gross/Getty Images
Dallas has been an underachieving team for years now, and you know that it's starting to get to their outspoken owner Jerry Jones.
The majority of the blame for their lack of playoff success has fallen on the shoulders of their franchise quarterback.
Romo was an undrafted free agent player who climbed up the depth chart to become the starting signal caller for America's Team. If he doesn't lead them to a deep playoff run in 2011, Jerry Jones will be looking to shake things up, and the first place he's going to look at is the quarterback position.
4. Jay Culter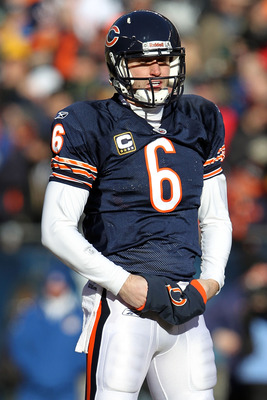 Jamie Squire/Getty Images
Cutler is going into the 2011 on one of the hottest seats in the league among starting quarterbacks.
The Chicago Bears fans and media are hyper critical of their team's players, and no position gets the level of scrutiny that the starting quarterback does.
The Bears have chewed up and spit out one quarterback after another. If Cutler doesn't get his team to the Superbowl, or at least show some toughness and determination during the playoffs this year, the city is going to be screaming for him to be traded.
3. Donovan McNabb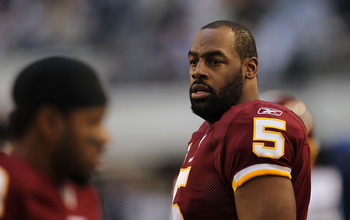 Ronald Martinez/Getty Images
It seems like every time you start talking about quarterbacks who are on the trading block the name Donovan McNabb is bound to come up.
After years of rumors that Philadelphia would send him packing, they finally pulled the trigger last offseason, sending him to the division rival Washington Redskins.
His 2010 season in Washington left plenty to be desired, and there are already serious rumors that he will be traded before the start of 2011. The only problem with this scenario is that the Redskins don't have any other quarterbacks on their roster ready to take the starting job.
McNabb will have plenty of motivation to prove that he can still be a starting NFL quarterback this year. 2011 will be his last chance to show other teams that he has what it takes before Washington shops his services in 2012.
2. Jimmy Clausen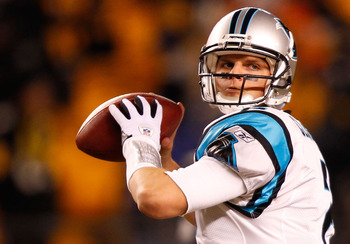 Jared Wickerham/Getty Images
You don't draft a quarterback with the No. 1 overall pick in the NFL draft then sit him on the bench for more than one year.
Jimmy Clausen's days in Carolina were numbered as soon as Roger Goodell said Cam Newton's name on that stage in New York.
Clausen had some respectable results last year, considering he was a rookie quarterback with a bad supporting cast around him. The lockout and Newton's lack of college experience should mean that Clausen gets at least a few starts this season to further showcase what he can bring to another team.
But, of course, he would have to play at a Pro Bowl level to keep a No. 1 overall pick on the bench for long.
1. David Garrard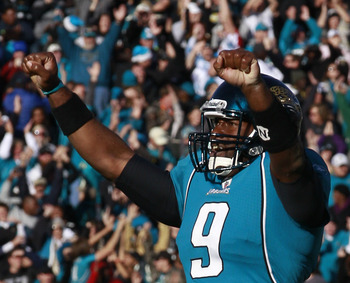 Sam Greenwood/Getty Images
Every offseason there's one proven veteran quarterback who is available because their team has moved on to a younger model.
In 2012, that player will be David Garrard.
The Jaguars used their first-round pick this year to get the strong armed Blake Gabbert. Gabbert has all the raw skills to be a really good quarterback in the NFL, and the Jaguars are not going to be able to keep him off the field for long.
Garrard is likely to get starts this season, especially early on, but he will be too valuable to quarterback needy teams next offseason to keep him on the roster for 2012.
Keep Reading