Baltimore Orioles: 8 Free Agents They Could Target for 2012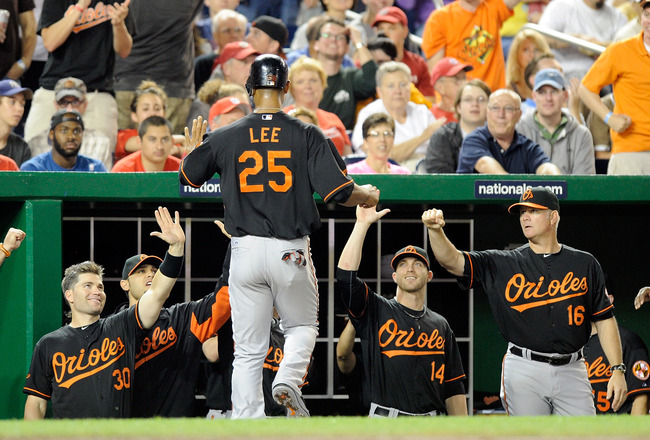 Greg Fiume/Getty Images
Five days after the 2011 Major League Baseball postseason ends, many players will be testing the open waters of the free agent market.
These players - big and little names alike - are going to be making decisions for the future of their career, the teams they're effecting, and their lives. It's safe to say that these men will play a large roll in how the 2012 MLB baseball season shapes out.
They hold the power to make or break a franchise.
The Baltimore Orioles desperately need some of that "make a franchise" power.
With the young core players on the team seeming to develop this year, the O's can look to add a big name or two this offseason to try and push the team to the next level.
Rumors will always be rumors, but don't be surprised to see the O's go after any of the following guys on this list this winter, listed in no particular order.
Jonathan Broxton; Closer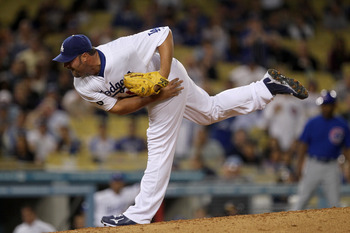 Stephen Dunn/Getty Images
Seemingly always in need of bullpen help, the Baltimore Orioles are sure to go into the 2012 offseason looking to add some bullpen pieces, and Jonathan Broxton could be a guy for them to look at.
Having a few late-inning guys already, the O's could look to add some competition to that mix with Broxton, who has been a closer with the Los Angeles Dodgers the past three seasons.
Though he has a plus-5 ERA so far this year in only 12.2 innings, he could be attractive to the Orioles because he's proven he has the skills to be effective at the major-league level, and he wouldn't break the bank, allowing the O's to pursue other free agents as well during the offseason.
If not the closer, he could become a set-up man with the team, or even a sixth or seventh inning bridge type middle relief arm.
Matt Capps; Closer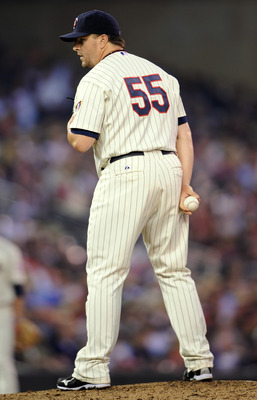 Hannah Foslien/Getty Images
Think of Matt Capps in the same way I described Jonathan Broxton in the previous slide, but a better version.
Don't get me wrong, Broxton definitely has the skills to succeed, but his recent struggles would leave any team that signs him more worried than one who signs Capps.
As I said, the O's always need bullpen help, and good late-inning pitching is hard to come by. Capps could pitch the seventh, eighth, or ninth innings, and be a reliable power arm in any of them.
A lot, however, would depend on how much Capps would be asking for, and if he'd be willing to sign with a struggling franchise still trying to build a winning team after all these years.
George Sherrill; Middle Reliever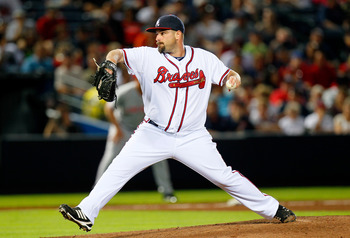 Kevin C. Cox/Getty Images
Another thing the Orioles are seemingly always in need of is good left-handed relief pitching.
George Sherrill certainly fits that bill.
Sherrill, a former O himself, is having a very nice season thus far with the Atlanta Braves, pitching to a 2.33 ERA over 19.1 innings.
Sherrill had success as the closer of the O's for a year and a half stretch during 2008-2009, and during that time stated many times that he loved playing in Baltimore and would like to stay. A reunion would not be a far-fetched idea at all.
With virtually no one in the organization who could be looked towards to fill a left-handed specialist role this season or next, the Orioles will certainly be looking to add one or two of those types of guys this coming offseason.
Best of all, he would come at a reasonable price, leaving the O's with plenty of money to go after bigger names.
Joel Pineiro; Starting Pitcher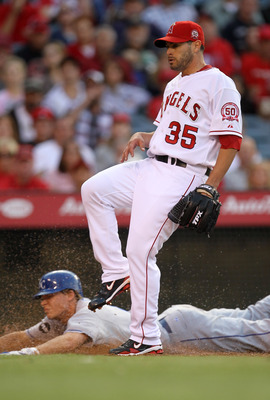 Stephen Dunn/Getty Images
For the last few offseasons, the Birds have tried to add a veteran starting pitcher or two to help take some pressure off the developing young staff and ace by default Jeremy Guthrie.
I don't see any reason why they won't do the same come this winter.
Joel Pineiro is a good pitcher for the O's to look at adding because he isn't an expensive ace type, but is a solid number two, three, or four rotation starter.
The Orioles will be hoping for their young guns such as Jake Arrieta and Zach Britton to take the next step and lead the O's back to contention, but having another veteran along with Guthrie will help take some of the burden away from them on that front.
Pineiro will be 33 this September, so he probably will be willing to take a one or two year deal. The only issue could be price, as he was signed to a two-year, $16 million deal by the Los Angeles Angels of Anaheim prior to the 2010 season.
Considering his age, however, he could take somewhat of a pay cut.
Aaron Harang; Starting Pitcher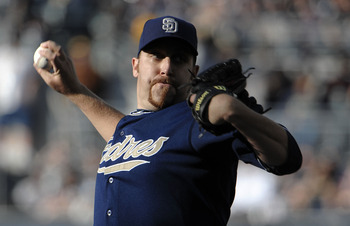 Denis Poroy/Getty Images
Aaron Harang is having a great bounce-back year with the San Diego Padres, going 7-2 with a 3.71 ERA over 80.0 innings this season on a one-year deal.
Harang is another type of veteran pitcher who could help take some pressure off of the O's young pitching staff and Jeremy Guthrie.
He was the ace of the Cincinnati Reds' pitching staff for a couple of seasons a few years back, and could be slotted into the number one or two role if he came to Baltimore, unless a young starter for the O's shows he is capable of taking on such a role.
I see Harang coming to Baltimore as the least likely of anyone on this list, however, due to the fact that he'd probably be looking for a multi-year contract with a somewhat higher price after his rebound year, assuming he stays on the same pace he's on. That's probably not something the O's would be willing to offer him.
Prince Fielder; First Baseman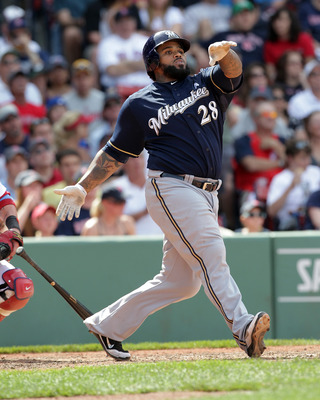 Jim Rogash/Getty Images
The slugging superstar of the Milwaukee Brewers is expected to walk on the only team he's known at the end of the 2011 season, and many don't think that the Brewers have the financial resources to resign him.
Many also think the O's have a solid chance at landing the big first baseman.
He is expected to be desiring a deal similar to the seven-year, $154 million one that first baseman Adrian Gonzalez and the Boston Red Sox agreed to earlier this season.
They can definitely afford a player like that, and they proved it by making a serious run at New York Yankees first baseman Mark Teixeira prior to the 2009 season.
One concern, though, is Fielder's body type, as he is overweight. Many scouts wonder how long it will be before he makes a move to DH. No team in baseball would want to pay a full-time DH that kind of superstar money.
But would seeing how many homers his left-handed bat could hit at Camden Yards be worth it?
Lance Berkman; First Baseman/Corner Outfielder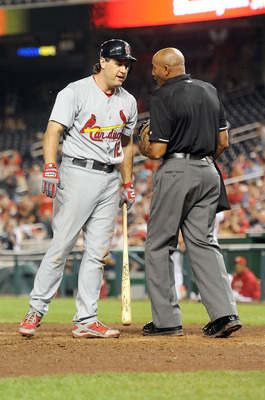 Greg Fiume/Getty Images
Big Puma is having quite the revival year with on a one-year deal he signed with the St. Louis Cardinals last offseason, as he is batting .308 with 17 homers and 51 RBI.
To think he would duplicate that pace in 2012 is silly, but he could still be an effective run producer next season.
Berkman's defense is slightly worse than Prince Fielder's is at first base, and defense is something that Orioles manager Buck Showalter lives by. However, his bat would most certainly be an upgrade at the position for the club.
Plus, just his presence would help the other young hitters on the team such as Adam Jones and Matt Wieters, who seem to be breaking out some this year.
Look for the O's to go after Berkman only if they can't land Fielder.
Koji Uehara; Late-Inning Reliever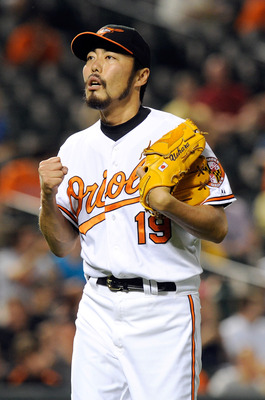 Greg Fiume/Getty Images
Uehara's option for the 2012 season vests if he appears in 55 games or ends 25 this season, something he is on pace to achieve.
The Orioles most certainly hope it does, because that would mean three things: Uehara has been effective yet again in a late-inning role, the team gets a steal by keeping him on a $4 million salary next season, and most importantly of all, he stayed healthy during the season.
But if for whatever reason Uehara's option for next season doesn't vest, then the Orioles will be looking at resigning him for next year.
After bringing him over from Japan prior to 2009, the O's are the only professional American team Uehara has ever played with, which mean he would love to stay with the club. He and his family love the city of Baltimore, and have lives there, with his children going to school in the city and the family owning a house.
Uehara can fill a variety of relief pitching roles, including middle relief, set-up, and closing duties.
Both parties would love to get a deal done, and would work together until that happens, because coming to a contractual agreement would only benefit both sides.
Keep Reading

Baltimore Orioles: Like this team?