Colin Kaepernick Interview: 5 Questions with the New 49er Quarterback
June 21, 2011
Noel Vasquez/Getty Images
I recently had the privilege of asking new 49ers quarterback Colin Kaepernick a few quick questions after reaching out to him for an interview.
Kaepernick, who is recovering from a minor leg surgery, was drafted by San Francisco in the second round of the 2011 draft. Despite the recent procedure, the Nevada standout recently attended the 49ers player-run mini-camp at San Jose State, where he began going over the new playbook and meeting a lot of his new teammates for the first time.
Below is our quick chat; I added some impressions in italics after some of his answers:
Me: How has everything been for you since being drafted to the 49ers?

Colin Kaepernick: Been going great. Meeting new teammates and getting into a workout routine. It's been awesome.
Me: How helpful do you think the mini-camp has been for your transition to the NFL and as preparation to compete this September?
Kaepernick: It's been very helpful, just to get my feet wet.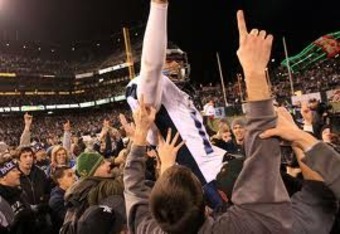 I imagine the learning was limited since no coaches could be there to go over the fine details, but I am sure it shed some light on the big picture for Kaepernick.
Speaking of getting his feet wet, Colin reportedly ran two miles at Stanford Hospital last week and is apparently close to getting a release from doctors.
The "injury" was definitely minor, based on all the reports and the recovery time, but one can assume he was not 100 percent when testing at the combine in February.
Me: You ran a 4.53-second 40-yard-dash at the combine. As fast as that is, I think I read somewhere that you are actually faster than that. What is the fastest 40 time you ever remember being clocked at?
Kaepernick: 4.43.
A 4.43 40-yard dash is extremely fast. There are defensive backs in the league who can't do that. Colin is also 6'5", 233 pounds. His speed puts him among the fastest quarterbacks in the league.
At that size and that speed, Colin is a freak at the quarterback position.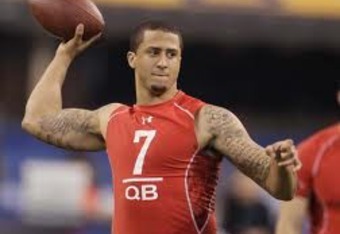 Me: I know you have spoken with Jerry Rice, via Twitter at least. Have you spoken or met with any of the other legends from San Francisco?
Kaepernick: Yes, I've spoken with Ronnie Lott, which was cool.
I love that he has spoken with Jerry Rice and Ronnie Lott, the greatest wide receiver and the greatest safety to ever play the game. 
Hopefully Kaepernick will also get to meet Steve Young and Joe Montana soon. I imagine they would have an infinite amount of wisdom they could share with the young quarterback. 
This last question may sound like a bit of a no-brainer to a lot of you reading this. I just wanted to hear him say it.
Me: Do you believe you will be a great quarterback here in San Francisco?
Kaepernick: Yes.
One-word answer. If Colin Kaepernick believes it, and coach Jim Harbaugh believes it, 49ers fans should believe the second-rounder can harness his potential.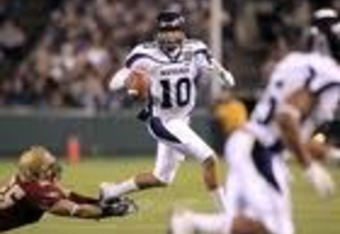 Me: That is what I wanted to hear. I know you are busy, so thank you for your time, Colin. Niner fans are thrilled to have you. We look forward to seeing you out there. Good luck to you!
Kaepernick: Thank you, Ryan—much appreciated.
Thanks to Colin Kaepernick for taking the time to answer my questions—and to Bleacher Report for allowing this opportunity. 
Thank you for reading; please follow me on Twitter @ryanthebroker.