For Seattle Mariners, Youth Movement Featuring Ackley, Pineda Is in Full Swing
June 20, 2011
Otto Greule Jr/Getty Images
You could chalk up the Seattle Mariner's eyebrow-raising season to the seeming pattern of performance the past several years—low expectations leading to an overachieving team, leading to hype and a subsequently disappointing team. This year, it was their turn to overachieve.
And sure enough, they have. But before their success is passed off as just continuing the sequence, there's something different about the team this year.
For the first time in years, instead of free-agent signings, it's the youth pulling the team this year. Credit can be given to veterans like Miguel Olivo and Adam Kennedy, but talent developed within the system is what's really turning the wheels this year. This year, it's because of Michael Pineda, rather than in spite of Rob Johnson.
It's odd really. When a team is rebuilding, it's because youth needs time to adjust to the majors. But this year, the M's have achieved the paradox of success in the midst of rebuilding.
Earlier this year, I broke down the early-season surprises of Justin Smoak and Michael Pineda (read here) predicting that they would be the catalyst for an overhaul of the Mariners roster. Closing in on halfway through the season, Smoak is leading the team in home runs and RBIs, and rookie Pineda has matched, if not surpassed King Felix's impact on the team.
And it didn't stop there, with Carlos Peguero and Greg Halman hitting the majors. Peguero has flashed big league power, hammering five home runs in 100 ABs (easily a 20 to 25-plus HR guy). Halman has been on a tear, hitting .440 in 25 ABs.
And just like that, all of a sudden, there might finally be an answer for left-field, vacated by duds like Milton Bradley and more recently, Michael Saunders (let's face it, he just didn't work out). The confidence in this youth movement has even called out Franklin Gutierrez for his marginal offensive value, with Halman already having made starts in center field in place of Guti.
While we're at it, we might as well throw in guys like Doug Fister and Jason Vargas as players who took the next step and became indispensable members of the team.
But right now, the name on the tip of everyone's tongues is Dustin Ackley.
Here's a good factoid to stash away for future trivia questions: What was the name of the pitcher that Mariners great Dustin Ackley got his first career base hit off of? (Roy Oswalt)
Okay, maybe I'm looking through my seldom-worn rose-tinted M's glasses again. But really, you don't see such impressive play from fresh call-ups that often, and you don't see talent like Ackley that often either.
Experiencing action in the majors for the very first time, Ackley certainly didn't look like a rookie out there. His disciplined approach at the plate showed, and by the end of the Phillies series, Ackley was batting .273 with a home run, a triple and two RBIs. In fact, the pivotal triple against the Phillies Sunday was the only legitimately stroked hit the M's had off of Cole Hamels all game long.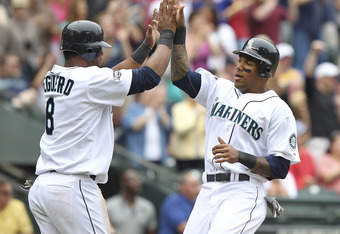 Otto Greule Jr/Getty Images
And then there's his defense—often that aspect is overlooked when evaluating a prospect, but Ackley looked like a veteran at second base, turning difficult double-plays and showing outstanding range.
It's only been three games, and Ackley already has the makings of a stud second baseman. Witnessing Ackley's debut on Friday and Saturday for myself at Safeco, I couldn't help but envision him becoming his Philly counterpart—Chase Utley. Remind me to get his jersey as soon as it comes out.
Riding the youth wave, the Mariners now find themselves in the thick of a genuine playoff race, just half a game back of Texas for first. The team could certainly find themselves mortgaging their future for a piece or two for a playoff run, but the call-ups will continue. Prospects like Dan Cortes and Alex Liddi are a phone call away from seeing major-league action, and I fully expect to see them come September, if not earlier.
But until then, it's an unfolding season that makes it an exciting summer to be a Mariners fan.