Top 15 Biggest Disappointments and Busts in Vikings History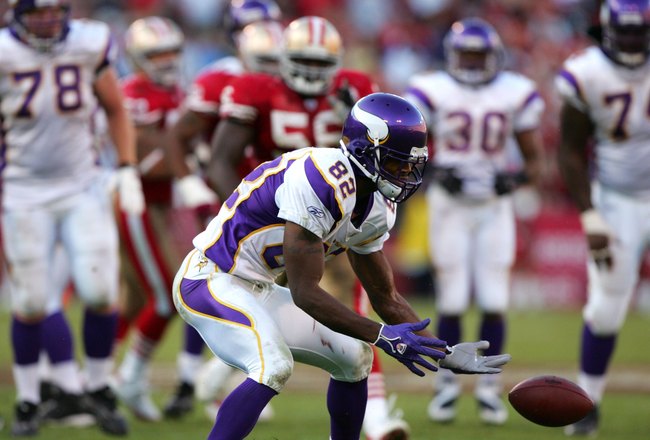 Jed Jacobsohn/Getty Images
Since 1961, the Minnesota Vikings have had their fair share of wonderful football players. But they have also had some of the most disappointing players and biggest draft busts that many fans would care not to remember.
That's what I'm here for!
Today, I thought it would be fun to take a quick look at 20 players who were either huge draft busts or just disappointing in a Vikings uniform for one reason or another.
Some players are still currently playing for Minnesota, so in a technical way, they may find a way to turn things around, but I highly doubt it which is why they are here.
Tarvaris Jackson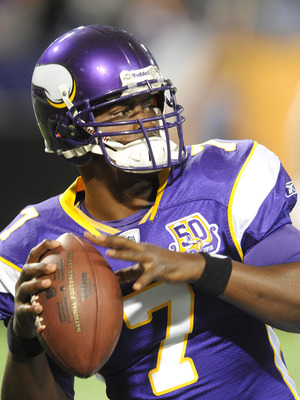 Tom Dahlin/Getty Images
What can I say; he just never came into his own even despite "Chilly's" faith in him.
In 20 games started, Jackson accumulated 3,984 yards passing, 24 touchdowns and 22 interceptions.
But he never truly became that lead quarterback they had hoped for, which has had a hand in preventing them from doing other things in the free agency market and draft.
At this point in his career, he's nothing more than a solid short-term backup.
Bernard Berrian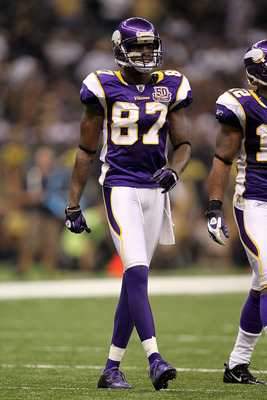 Ronald Martinez/Getty Images
For those of you who do read my articles regularly, you know I am not a Berrian fan at all.
Look, there is a reason why Chicago got rid of him after posting pedestrian numbers in four years (2,197 yards on 150 receptions and 13 touchdowns in 32 games started).
Since his inflated—unnecessary, mind you—contract signing as a Viking, Berrian has basically done LESS than that, catching 131 balls for 1,834 yards and 11 touchdowns in 37 games started.
Troy Williamson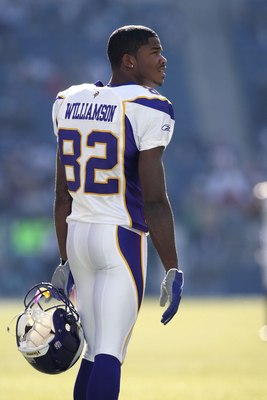 Otto Greule Jr/Getty Images
Williamson was the seventh pick of the first round in 2005 out of South Carolina and was supposed to be the next Randy Moss.
Yeah, OK! The Vikings knew they made a mistake getting rid of Moss, tried to grab a replacement fast and wound up reaping what they sowed.
Williamson never really even put in the effort that one would expect from a starting receiver, blaming nearly everything under the sun for his horrible play.
He never became what the Vikings had envisioned, and the worst part was Roddy White was selected 20 picks later.
Dimitrius Underwood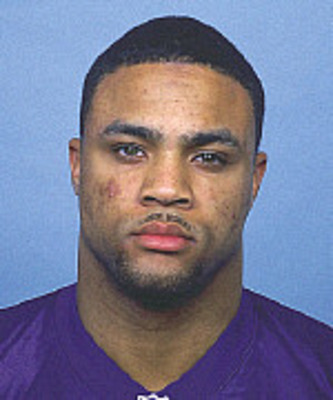 The claim to Underwood's intrigue was his above-average physicality, which prompted the Vikings to reach a year later for him.
The problem with Underwood was he never amounted to squat and never even made it out of camp with mental issues that relegated him to private care rather than NFL stardom.
Erasmus James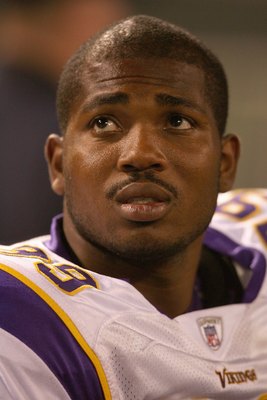 Nick Laham/Getty Images
One of the biggest busts for the Vikings was first rounder Erasmus James out of Wisconsin, hands down.
What made him so enticing was his collegiate career that garnered 124 tackles (25.5 for losses), 18 sacks, 28 quarterback hurries, seven forced fumbles, two fumble recoveries and six pass deflections.
He was even nicknamed "The Eraser" due to his ability to sack the quarterback and was an All-American in his senior year.
As a Viking, though, James garnered just five sacks in four years and never acclimated himself to the pro level.
Derrick Alexander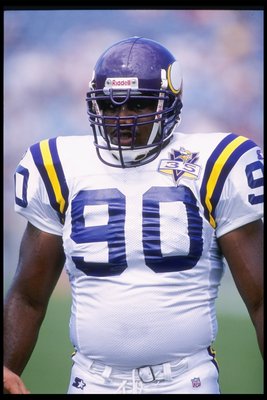 Jonathan Daniel/Getty Images
Here's the problem, there's actually TWO players under this name that wound up being a bust (the defensive end version of Alexander) and the huge disappointment in WR Derrick Alexander.
The Alexander shown wasn't entirely bad, but considering the Vikings passed on Warren Sapp due to unfounded drug rumors. The problem was that the Vikings needed an outside pass rusher at the time that Alexander never amounted to, but Sapp obviously did.
Alexander (the receiver) was a HUGE disappointment/experiment for the Vikings that just went so far south for the team in 2002.
After accumulating 6,837 yards and 39 receiving touchdowns playing for the Cleveland, Kansas City and Baltimore, Alexander garnered just 137 yards and a single touchdown as a Viking.
In his defense, he did play opposite of Randy Moss.
Leo Hayden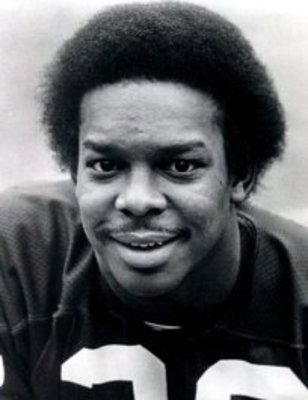 Hayden was a highly touted back out of Ohio State scooped up with the 24th pick of the first round in 1971.
But the then running back-needy Vikings never got anything out of Hayden and neither did the Rams, the team he finished his career with two years later.
Hayden played seven games for the Vikings gaining not a single yard, and subsequently spent the next two seasons with the Rams gaining 28 yards in nine touches.
Darrin Nelson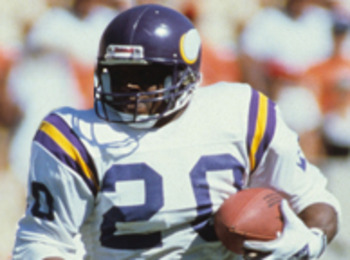 Here's an interesting player for those of you who remember him.
Nelson was the seventh pick of the first round in 1982 out of Stanford and was looked at as the dual-threat out of the backfield the Vikings were interested in. But in 10 years as a Viking he garnered just 4,231 yards and 18 touchdowns.
Why is this a problem?
At the time another back was available by the name of Marcus Allen who was picked three picks later.
Nelson finished his career as a Charger and was also involved in the infamous Herschel Walker trade fiasco.
Gerald Robinson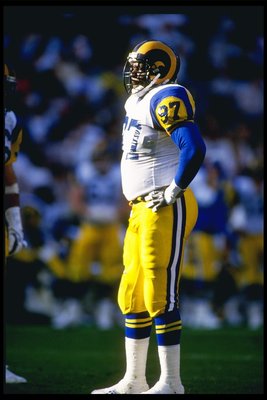 Only pic I could find kids!
Stephen Dunn/Getty Images
Another Vikings bust that inevitably wound up as a Rams or Charger (in this case both) was Gerald Robinson who was the 14th pick in the first round in 1986 out of Auburn.
Robinson was supposed to be a beefy upgrade on the interior, an upgrade that was supposed to improve the pass rush, but never panned out.
Had 3.5 sacks in 16 games for the Vikes, then spent a few seasons as a backup for the Rams and Chargers.
Dwayne Rudd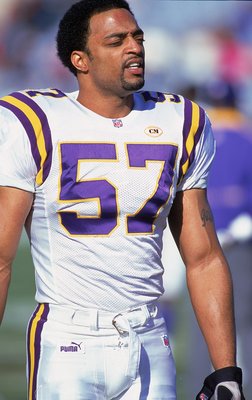 Jonathan Daniel/Getty Images
Rudd was an interesting player in the sense that he did sort of make a name for himself as a Vikings, but never truly became that defensive threat he appeared to be coming out of Alabama.
Rudd had 10 sacks and 250 tackles in four seasons with the Vikes which wasn't bad, but didn't exactly set the world on fire.
RB Corey Dillon was also available at the time.
Michael Bennett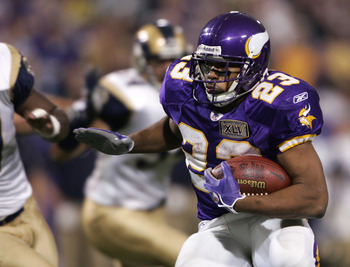 Elsa/Getty Images
Bennett was one of the softest running backs in Vikings history, but was touted as the next " big thing."
The 27th pick of the first round in 2001 out of Wisconsin, Bennett never ever became the every down back the Vikings had envisioned, and to make matters worse, they passed on WR Reggie Wayne and QB Drew Brees.
D.J. Dozier
George Rose/Getty Images
Another running back?
Well there are more historic disappointments at this position than others (thank God for 'All-Day', huh?)
Dozier was the 14th pick of the first round in 1987 out of Penn St. and spent four seasons with Minnesota racking up just 643 yards and seven touchdowns.
The only saving grace was that the 1987 draft wasn't exactly filled with a lot of promise and was arguably one of the worst draft classes ever, but Dozier was still a monumental bust.
Mardye McDole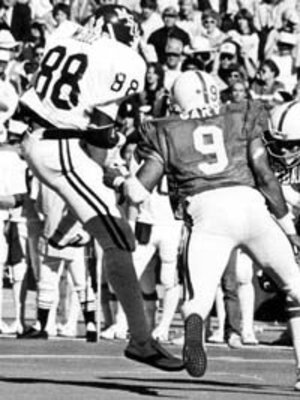 Rare college pic.
McDole was the the 39th overall selection in the second round in 1981 out of Mississippi.
McDole was also a huge bust and disappointment if ever there was one, as he had just three receptions for 29 yards in his CAREER as a Viking.
The '80s were not kind to the Vikings and part of the reason was the inability of the brass to find quality draft players.
Duane Clemons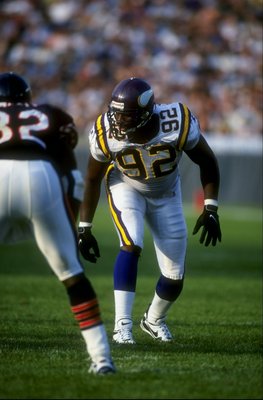 Jonathan Daniel/Getty Images
In 1996, the Vikings had yet another monumental first round bust in Duane Clemons, who was supposed to be "the guy" who was going to help bolster the interior line.
Instead he garnered just 18.5 sacks in three years of play.
The Vikings were also a bit hungry at linebacker, and it just so happened that Ray Lewis was available, which still to this day doesn't sit well for Vikings fans.
Chris Hovan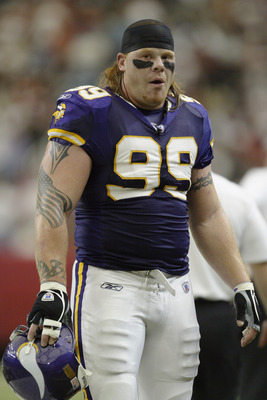 Brian Bahr/Getty Images
Another defensive lineman who never really became what the team envisioned was Chris Hovan, who at Boston College, was an All-American and was a semi-finalist for the Lombardi Award.
He also became the first player in Boston College history to be named All-Big East three times, finishing his career starting 43 of 45 games and recording 20.5 sacks.
Hovan was serviceable, but not stellar and eventually became a Buccaneer.
The Vikings could've had, amongst others, LB Keith Bulluck.
Honorable Mentions
Dwayne Rudd
Tyler Thigpen
Greg Camarillo
Hey, I hope you guys enjoyed this, and if you are interested in some fantasy advice come check out my Early Fantasy Football WR Rankings, or why i think TE Jared Cook is the next big sleeper.
Keep Reading

Minnesota Vikings: Like this team?