A Brief Summarry of What We Can Expect from the Tennessee Titans This Year
June 25, 2011
Grant Halverson/Getty Images
The news on the street is that the Titans are in a retooling process. People will tell you that it will take two to three years before the Titans can start thinking playoffs. Expectations are low, and honestly, I would love to tell you that everyone is wrong and that the Titans will have a great season, but sadly, I am not delusional.
The Titans will be bad this year. They may not be awful and they certainly will not follow in the footsteps of 2008 Detroit Lions, but anything more than 8-8 would be considered a miracle.
So what do Titans fans have to look forward to in 2011?
Well for one, we can hope that Chris Johnson does not hold out and gets a new deal. If that happens, we can expect another exciting season from him. Yeah, last year was a letdown, but I think if the offensive line can find some continuity and work together better, Johnson will rebound well.
We also will, in all likelihood, get to see Jake Locker show his stuff for the first time. In my opinion, he will struggle, but the experience will be good for him, and I think his athleticism will allow him to at least have a few good rookie highlights.
And the there is Kenny Britt, who at the moment this article was published, had six run-ins with the law since getting drafted.
What should be done about him? Should he be traded, suspended or even released? If he is suspended, how long should it be for? If The Titans trade him, what should be the asking price?
In my opinion, he should be suspended for four games and be given one more chance, and when I say one more chance, I  mean it. If he gets another arrest, he should be traded or released.
Moving on to the defensive side of the ball, the Titans have some talent but also a lot of holes. The cornerbacks are set with Cortland Finnegan and Alterraun Verner. At safety, Michael Griffin is an All-Pro talent, but Chris Hope is past his prime. Seeing if someone will replace him will be interesting.
On the defensive line, the Titans have three key player set to be free agents: Jacob Ford, Dave Ball and Jason Babin. All three are outstanding pass-rushers especially Babin, who went to the Pro Bowl. Who the Titans keep and who they let go will be key. Also at end, they have second-ear man Derrick Morgan and William Hayes. Morgan will be a starter, and Hayes is a valuable rotation player.
At defensive tackle, Tony Brown and Jason Jones look to be the starters, but Jones could move to end which would make Sen'Derrick Marks the starter.
The linebackers are not very good on this team. Gerald McRath, Will Witherspoon and Steven Tulloch are the probable starters, but Tulloch may not return as he is a free agent. If this happens, Witherspoon may move to middle linebacker and rookie Akeem Ayers will move into the outside linebacker role.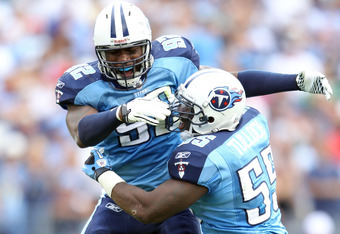 Andy Lyons/Getty Images
Even if Ayers does not become a starter, he will still be a factor as a rusher in the 3-4 package defensive coordinator Jerry Gray says he has planned. In this alignment, rookie Karl Klug may find playing time at end and thrive. He could be very valuable asset going forward, especially if they move to a 3-4 full time in the next few years as has been speculated.
The one area the Titans have very few problems in is special teams. They have one of the leagues top kickers in Rob Bironas, a Pro Bowl kick returner in Marc Mariani, a solid punter Brett Kern and many solid coverage guys such as Tim Shaw. Overall, it may be one of the league's best and a definite strength for the Titans.
Overall, the Titans may not be a very good team, but they have some solid young talent. Going forward, the Titans could be a good team in a few years. This year though, I am predicting 8-8.