MLB Trade Rumors: Each Team's Player the Hometown Fans Most Want to Move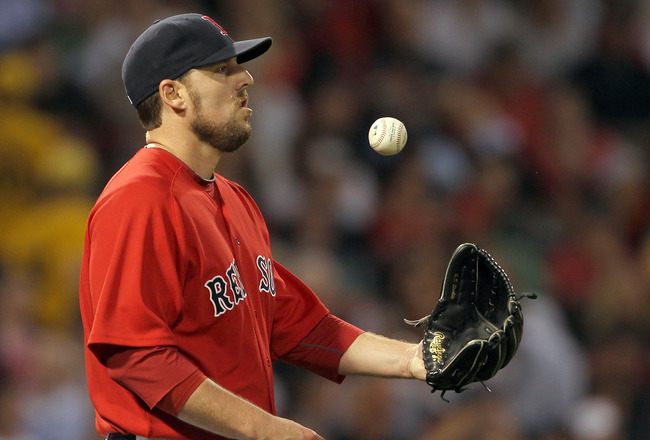 Jim Rogash/Getty Images
Every MLB team has at one point or another been wrapped up in a horrible contract. The New York Yankees had Carl Pavano, while the Milwaukee Brewers had Jeff Suppan.
With the trade deadline fast approaching, every teams' fans have at least one player on their team they never want to see at the ballpark again.
Here is a list I compiled of Each Team's Player the Hometown Fans Most Want to Move.
Arizona Diamondbacks: Joe Saunders
Christian Petersen/Getty Images
When the Arizona Diamondbacks acquired Joe Saunders from the Los Angeles Angels at last year's trade deadline, they thought they were getting a consistent, mid-rotation starter to help groom some of their younger pitchers.
Saunders has responded by going 6-14 with a 4.38 ERA and a paltry 1.44 WHIP through his first 27 starts in Arizona, not quite what they had in mind when shipping Dan Haren to Los Angeles.
Saunders will earn $5.5 million this season and will earn even more in his last arbitration year in 2012. The D-Backs need to lock up some of their young talent, and Saunders is a waste of the fans' and the organization's money.
Atlanta Braves: Nate McLouth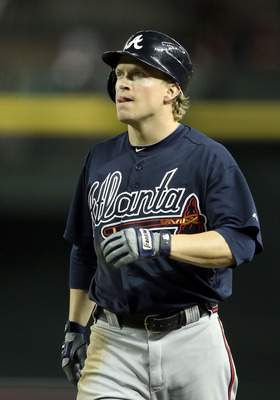 Christian Petersen/Getty Images
Nate McLouth may be the most hated man in Atlanta—and rightfully so.
"He gives us everything we're looking for," Atlanta general manager Frank Wren said. "He gives us an extra outfield bat. He gives us speed. He gives us defense. He brings a lot to the table."
I guess everything the Braves were looking for referred to the .231 batting average and 20 home runs of production McLouth has brought to Atlanta in parts of three seasons.
To make matters worse, to acquire McLouth, the Braves gave up a slew of young prospects, including Charlie Morton—who is 7-3 with a 3.21 ERA this season for the resurgent Pittsburgh Pirates.
Baltimore Orioles: Nick Markakis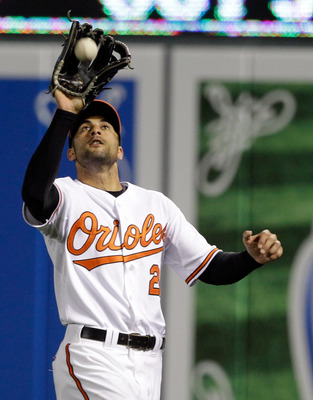 Rob Carr/Getty Images
After a breakout 2007 season, Nick Markakis appeared to be one of the brightest young stars in MLB.
Unfortunately, 2007 still remains his best season as a pro, and fans are growing less patient with his mediocre play.
Owed a guaranteed $44 million through 2014, Orioles fans want nothing more than to get rid of his wasted payroll so they can bring in a few big-time free agents (maybe Prince Fielder?) to pull them out of the cellar in the AL East.
Boston Red Sox: John Lackey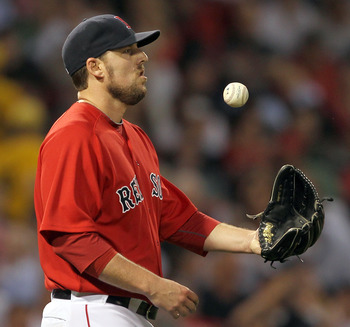 Jim Rogash/Getty Images
This could be the worst free agent signing in Boston Red Sox history, and Red Sox Nation would love to see John Lackey and his bloated contract sent packing.
Lackey is 5-5 this season despite a 7.02 ERA—obviously due to the high octane offense in Boston.
Through his first 43 starts in Beantown, Lackey is 19-16 with a 4.96 ERA and 1.449 WHIP. That is good enough for a 86 ERA+, making Lackey one of the worst pitchers in baseball over that time.
Owed more than $15 million per season through 2014, Lackey would be almost impossible to move.
Chicago Cubs: Alfonso Soriano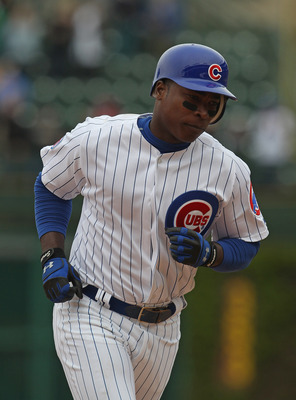 Jonathan Daniel/Getty Images
Alfonso Soriano arrived to the north side of Chicago as an All-Star in 2007, but he has quickly worn out his welcome with Cubs' fans.
Other than the fact that his production has noticeably declined during every passing season in Chicago, the Cubs' are on the hook for $18 million per season through 2014.
Carlos Zambrano could have made the list as well—although I'm not sure which of the two that Cubs' fans would rather have sent packing.
Chicago White Sox: Adam Dunn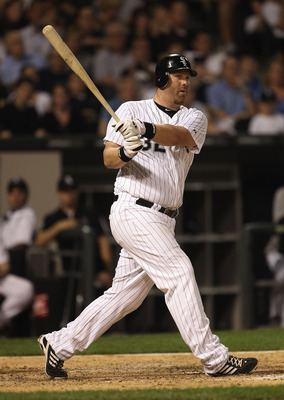 Jonathan Daniel/Getty Images
If the Chicago White Sox and their fans could have a redo on last offseason, there is absolutely no way they would have signed Adam Dunn to a four-year, $56 million deal.
Dunn can't even get his batting average above the Mendoza Line in 2011. We all keep waiting for his bat to wake up and for all those homers we expected of him playing his home games at US Cellular Field.
This is a clear example of why some players shouldn't be given long-term deals. Once they get their money, their production level tanks.
Cincinnati Reds: Francisco Cordero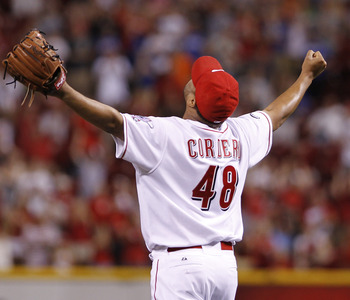 Joe Robbins/Getty Images
Francisco Cordero is already as good as gone, but Cincinnati Reds fans wouldn't mind his departure coming sooner rather than later.
While he has pitched much better this season—in a contract year, of course—then he has the past few seasons, I think the Reds learned real quick that giving $45 million to a 33-year-old closer who appears to gain five-pounds a month wasn't a good idea.
Plus, the more money they can save this season will help them lock up some of their core players for the long-term.
Cleveland Indians: Grady Sizemore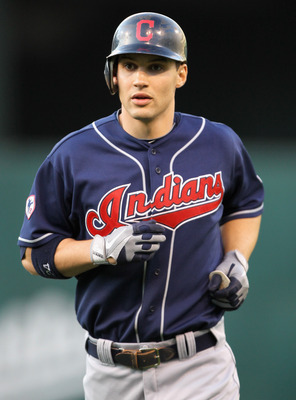 Ezra Shaw/Getty Images
This was a tough one, as just a few seasons ago, Grady Sizemore was quickly on his way to becoming one of MLB's best players while being a fan favorite in Cleveland.
With growing frustration over Sizemore's inability to stay on the field—and lack of production in his minimal time on the field—Indians' fans are ready for a new beginning.
With the team off to a fast start in 2011, there is finally hope back in Cleveland. It's the perfect chance to cut ties with the former face of the franchise while beginning a fresh, new era of Indians baseball.
Colorado Rockies: Aaron Cook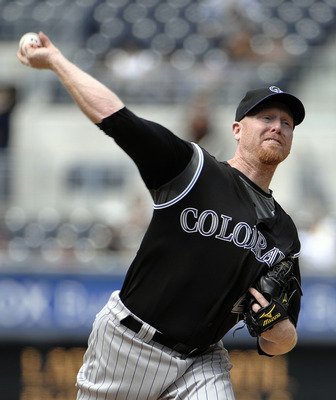 Denis Poroy/Getty Images
Aaron Cook was drafted by the Colorado Rockies back in 1997 but has always lived in the shadows of his teammate and fan-favorite, Todd Helton.
On the hook for nearly $10 million dollars in 2011 with a mutual option for 2012, it's the right time for the Rockies to cut ties with the one-time All-Star pitcher.
Cook is all but forgotten in Colorado after a few injury-plagued, less than mediocre seasons. At this point, I don't even think that fans would notice if he's gone.
Detroit Tigers: Magglio Ordonez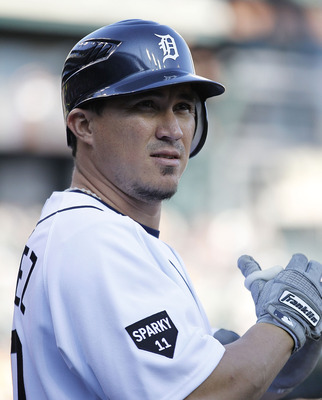 Leon Halip/Getty Images
Just when Tigers' fans thought they'd seen the last of Magglio Ordonez, the team went ahead and gave him an ill-advised one-year, $10 million deal.
Considering Ordonez hasn't been able to stay healthy in years and he was 37 years old, it made absolutely no sense for Detroit to bring him back—at least not at that price.
Predictably, Ordonez finds himself battling injuries while batting .179 on the season with one measly home run.
Florida Marlins: Javier Vazquez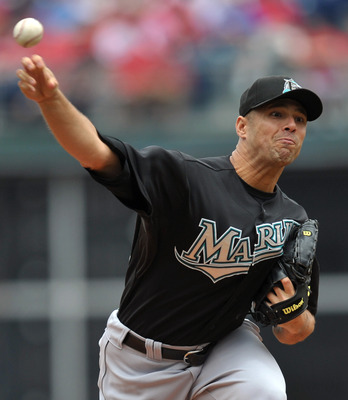 Drew Hallowell/Getty Images
While it doesn't seem right to use the words Florida Marlins and fans in the same sentence, it seemed like a good move for the Marlins to bring in Javier Vazquez this past offseason.
One year removed from looking like a staff ace with the Atlanta Braves, Vazquez seemed like a decent bet to turn things around back in the senior circuit.
The one-year, $7 million deal he received accounts for nearly half of the Marlins total payroll (kidding, but am I?), and he has responded with a 6.85 ERA and 1.676 WHIP.
The few Marlins fans that there are out there never want to see him on the mound again.
Houston Astros: Carlos Lee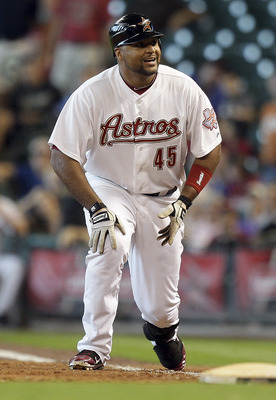 Bob Levey/Getty Images
It had to really piss off Astros' fans when Houston had a fire-sale midway through last season while sending longtime fan favorites Lance Berkman and Roy Oswalt packing.
At least they got to keep Carlos Lee, right? Wrong.
Lee gets lazier and heavier with each passing season, and fans would have much rather seen El Caballo shipped out of town instead.
With Lee earning $18.5 million per season through 2012, Astros' fans may be lost in space.
Kansas City Royals: Luke Hochevar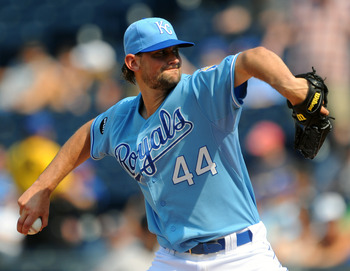 G. Newman Lowrance/Getty Images
I honestly feel sad for Kansas City Royals fans for having to continually watch Luke Hochevar get handed the ball every fifth day over the last four seasons.
It's time for the organization to admit they made a poor decision by selecting Hochevar first overall in the 2006 draft. They need to cut ties with him and move forward with what appears to be a great young nucleus in Kansas City.
A 5.45 ERA and 1.421 WHIP over his first 500 IP isn't quite what fans were expecting from the young hurler, and at this point, they want no more.
Los Angeles Angels: Vernon Wells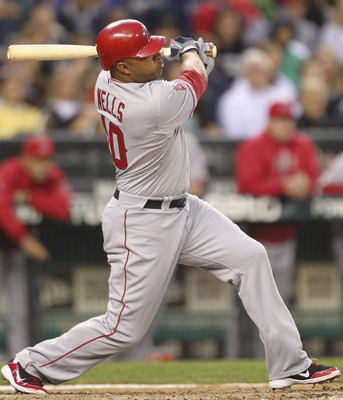 Otto Greule Jr/Getty Images
Every single human being not named Tony Reagins knew the Los Angeles Angels made a horrible move by acquiring Vernon Wells and the remaining $86 million on his contract last offseason.
The timing was absolutely horrible, as now they won't have the resources to make a run at Prince Fielder or other big free agent names after this season.
Wells—who seemed to have a bounce-back 2010 season, although still not good enough to justify his contract—has been dreadful in Los Angeles. His defense has been well below-average, and he currently has a .190 batting average.
Los Angeles Dodgers: Chad Billingsley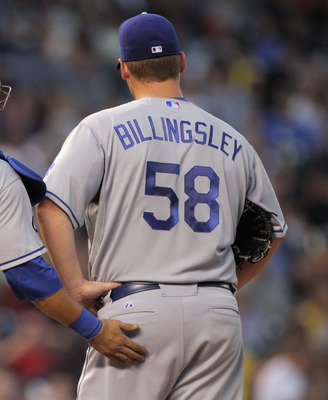 Doug Pensinger/Getty Images
Fans of the Los Angeles Dodgers are getting sick of the one step forward, two steps back routine they have seen through the beginning of Chad Billingsley's career.
Billingsley came into the 2011 season with expectations to show even more improvement while stepping up to be a solid number two starter in the Dodgers' rotation.
After getting blistered in his past four starts, he now rests with a 4.65 ERA and 1.517 WHIP—leaving fans to only hope the team gets rid of Billingsley rather than Andre Ethier or Matt Kemp.
Milwaukee Brewers: Yuniesky Betancourt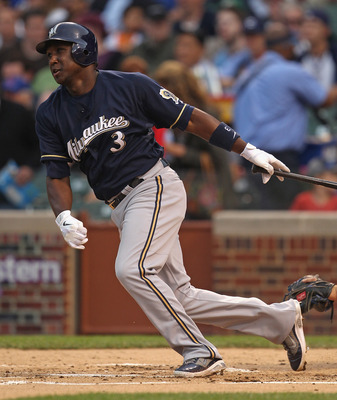 Jonathan Daniel/Getty Images
As a fan of the Milwaukee Brewers myself, I can tell you that it takes a lot for the people of Milwaukee to not like a player. Even through what seemed like the longest four year contract in MLB history held by Jeff Suppan, it wasn't until about midway through year three that fans really turned on him.
Yuniesky Betancourt had a target on his back before he even arrived in Brew Town as part of the Zack Greinke trade. It's safe to say that every bad thought imaginable has ended up being true.
While Betancourt's defense hasn't been atrocious, he is still the weakest link on a contending ball-club. With a .227 BA and a mere .251 OBP, Brewers' fans want to see Betancourt gone—and fast.
Minnesota Twins: Carl Pavano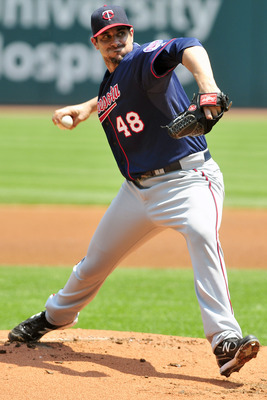 Jason Miller/Getty Images
Fans of the Minnesota Twins knew better after seeing Carl Pavano pitch well in 2010—which, by no coincidence, was a contract year.
The Twins' brass gave Pavano a two-year deal anyway, and as sure as the sun will rise, Pavano has pitched poorly so far in 2011.
Every single statistical measurement has taken a drastic decline season over season, and the Twins just wish they could re-neg on the deal at this point.
New York Mets: Carlos Beltran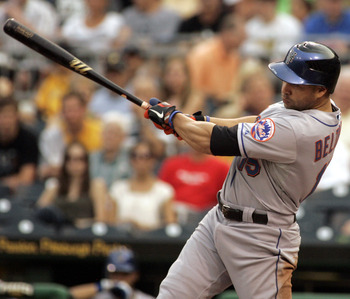 Justin K. Aller/Getty Images
This move is all about finances. Fans of the New York Mets—more than anything—would like to see Jose Reyes back in Manhattan in 2012.
This means that every dollar counts for the financially burdened franchise, and being able to shed part of Carlos Beltran's remaining $18.5 million salary for this season would be a huge step in the right direction.
Beltran gave New York some solid seasons at the beginning of his seven-year deal, but injuries quickly piled on the former All-Star, and he was only able to play in 145 games the past two seasons.
New York Yankees: A.J. Burnett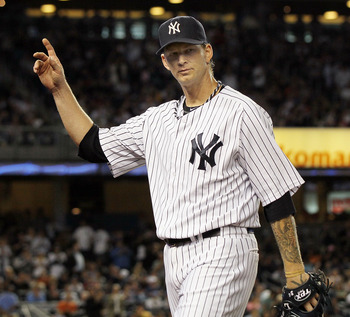 Jim McIsaac/Getty Images
The A.J. Burnett signing hasn't really gone the way the New York Yankees had hoped since they shelled out $82.5 million for his services before the 2009 season.
That is a steep price to pay for a 30-29 record, 4.51 ERA and 1.409 WHIP through his first 81 starts in the Bronx.
It's a good thing for New York that Yankee-dollars hold more value than U.S. dollars.
Oakland Athletics: Mark Ellis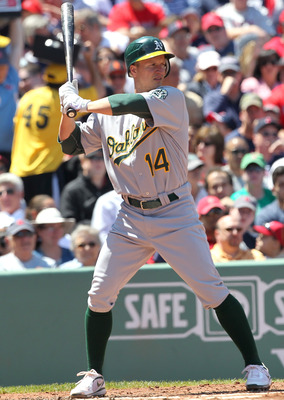 Jim Rogash/Getty Images
While Mark Ellis has provided stellar defensive play at second base throughout his career for the Oakland Athletics, fans tired of the massive hole in his bat and they've been ready to cut ties for years.
With top prospect Jemile Weeks recently called up from the minors to assume second base duties, it appears Ellis is as good as done in Oakland.
At this point, Billy Beane would just like to recoup some of the $6 million Ellis is owed through this season.
Philadelphia Phillies: Raul Ibanez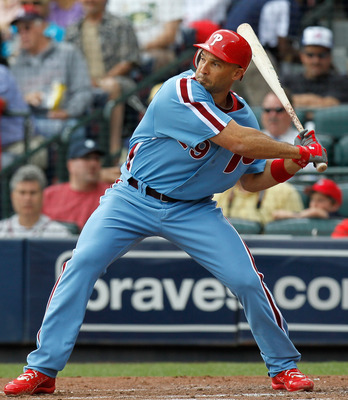 Kevin C. Cox/Getty Images
Philadelphia Phillies fans are by far the most ruthless in all of baseball—and maybe the world. We can only hope that Raul Ibanez can make it out of Philly in one piece.
It still doesn't make sense that the Phillies gave the 37-year-old outfielder with only a handful of decent seasons under his belt a three-year, $31 million deal back in 2009.
Although Ibanez slugged 34 home runs during his first season in Philly, he has shown his age—and then some—over the past season and a half.
His $11.5 million salary this season could be what prevents the Phillies from going out to get the big bat they direly need in their lineup.
Pittsburgh Pirates: Ryan Doumit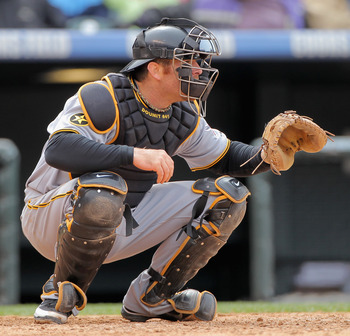 Doug Pensinger/Getty Images
The future is looking bright for the Pirates in Pittsburgh, and it is clear that fans want Doumit to be no part of that future.
Doumit—who at one point seemed to be a promising young catcher—has never played a full season in the league and hasn't been able to produce while on the field the past few seasons.
With team options totaling $15.5 million over the next two seasons that the Pirates will not even consider picking up, Doumit may find a new home fairly soon.
San Diego Padres: Brad Hawpe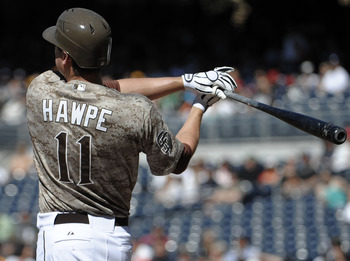 Denis Poroy/Getty Images
While taking a $2 million flier on a player generally isn't a big deal, the San Diego Padres and their fans realized it was a mistake shortly after Brad Hawpe took the field for the team.
So far in 2011, Hawpe is batting .231 with four home runs to go with some of the worst defense at first base in all of MLB.
It's hard to believe that from 2006-09, Hawpe hit 99 home runs with a .288 batting average for the Colorado Rockies.
San Francisco Giants: Barry Zito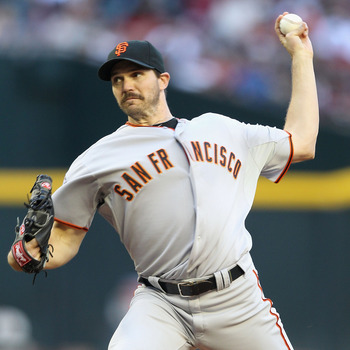 Christian Petersen/Getty Images
I could do a whole slide-show on players that the San Francisco Giants and their fans want sent out of the Bay-area.
Aaron Rowand and Miguel Tejada come to mind, but I don't think anyone would argue that Barry Zito is holding one of the worst contracts in MLB history.
The Giants are still on the hook for $46 million after the 2011 season for Zito—money that could be better used getting a bat for their stagnant offense.
In his tenure with the Giants thus far, Zito has earned roughly $1.75 million dollars per victory. It looks like that number will continue to rise.
Seattle Mariners: Jack Wilson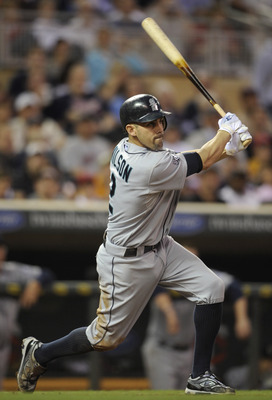 Hannah Foslien/Getty Images
I didn't even know Jack Wilson was still in the league, but at this point, Seattle Mariners fans wish that he wasn't.
While Wilson has always been a stellar defender, he has mustered only a .240 batting average through three injury-riddled seasons in Seattle.
I don't know if they can get a team to pick up the remainder of his $5 million salary for 2011—but Mariners' fans would surely like them to try.
St. Louis Cardinals: Jake Westbrook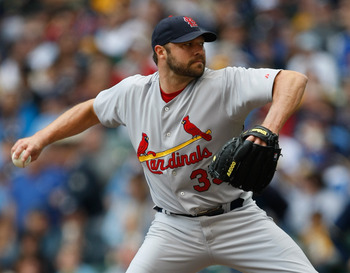 Scott Boehm/Getty Images
The St. Louis Cardinals were the latest team bitten by the contract-year bug—falling for the quality performance Jake Westbrook gave them after last years trade deadline.
So far in 2011, Westbrook has pitched to a 5.16 ERA and 1.610 WHIP. Those are not the stats that will help the Cards' stay in contention in the NL Central.
The $25 million they have tied up in Westbrook could have been used to help lure Albert Pujols back to St. Louis after 2011. Sure, they could do it anyway—but every dollar counts.
Tampa Bay Rays: B.J. Upton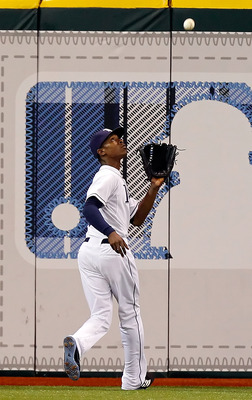 J. Meric/Getty Images
The underachieving B.J. Upton is lazy and the Tampa Bay Rays and their fans have long been ready to get rid of him.
After a stellar 2008 campaign in both the regular season and the playoffs, Upton has steadily declined in each season since.
With one more arbitration eligible season before Upton hits free agency, the Rays should flip him now while he still has some value.
Texas Rangers: Nelson Cruz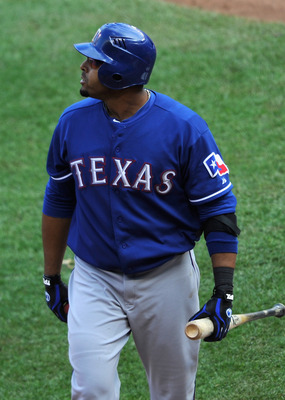 Hannah Foslien/Getty Images
Nelson Cruz has shown improvement during each of his seasons with the Texas Rangers. The problem is, he has played in fewer games each season since becoming the starting right fielder.
The Rangers and their fans are growing frustrated with Cruz for his inability to stay on the field.
Cruz has two more arbitration years before hitting free agency in 2014, so he could bring in a nice return should Texas choose to move him.
Toronto Blue Jays: Aaron Hill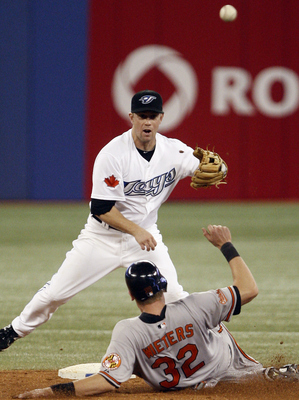 Abelimages/Getty Images
Two years ago, Aaron Hill appeared on his way to being among the elite second baseman in the league. Hill slugged 36 home runs during his All-Star 2009 season en route to a AL Silver Slugger award.
In 2010, his batting average fell to an embarrassing .205, and now in 2011, he seems to have lost every bit of power he once had.
With a promising young core in Toronto these days, Hill may be the last weak link. It's time for him to go.
Washington Nationals: Jayson Werth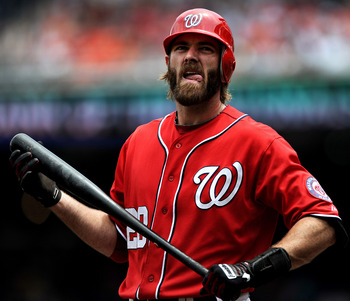 Patrick Smith/Getty Images
This is not the kind of "splash" Washington fans were hoping for when the Nationals signed Jayson Werth to an enormous contract this past offseason.
Considering the late-bloomer played his home games at hitter-friendly Citizens Bank Ballpark, most people knew Werth wouldn't be able to put up the same gaudy numbers he managed in Philly.
With a very deep free agent class coming after this season, the Nationals and their fans wish they could nix this deal and spend their money more wisely somewhere else.
Keep Reading