Boston Red Sox: 10 Possible Acquisitions in the Second Half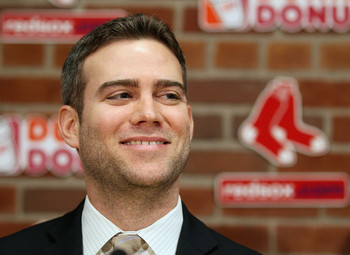 Red Sox GM Theo Epstien
No matter how strong their lineup seems heading into the season, the Boston Red Sox find themselves searching for answers every year prior to the MLB trade deadline.
The 2011 season is no different as the outfield, bullpen and starting rotation have all suffered deficiencies.
J.D. Drew is neither a short- nor long-term option in right field, the Sox recently traded Mike Cameron and Darnell McDonald's one-year breakout appears to be just that. Boston will need to address their dearth of talent in the outfield sooner or later.
Josh Reddick is putting up very impressive numbers, but the Sox no longer have any depth in the outfield which makes a move inevitable.
The rotation is banged up a bit right now and Boston has been plucking guys out of the minors to fill the gaps. The bullpen has been up and down all year aside from a few pieces and you can never have enough pitching.
Here's a gander at 10 options for the Red Sox that could step in and have a considerable impact for the run toward the playoffs.
Matt Garza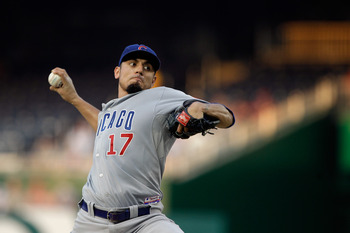 Rob Carr/Getty Images
The Chicago Tribune is connecting dots and has Cubs' pitcher Matt Garza listed as one of the Red Sox biggest targets this season.
A big impediment to this deal would be what it would take to pry Garza from Chicago. The Cubs aren't going to fire sale their talent this season, and it'll take a considerable offer to land Garza.
The 27-year-old is well known in Boston, he was always a torn in the side of the Sox during his time with Tampa. Garza was a 15-game winner last year and has a solid 4.00 career ERA.
Carlos Beltran
Ezra Shaw/Getty Images
Carlos Beltran is a smart dude.
The New York Mets' slugger recently said accepting a trade to Boston would be a "no-brainer." It gets better because Beltran is a smart dude who is hitting very well.
The outfielder is batting .285 with 13 homers and 58 RBI and leads the league in doubles with 28. He's been connected to the Red Sox before which spells good things for a possible trade.
When the Sox covet a guy they usually find a way to make it work―See Gonzalez, Adrian.
Jason Isringhausen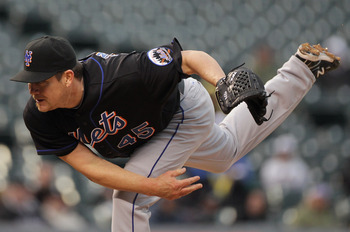 Doug Pensinger/Getty Images
Beltran isn't the only member of the Metropolitans who could be available to the Red Sox.
Former closer Jason Isringhausen has been enjoying a career resurgence in New York where he's posted a cool 3.14 ERA is 28.2 innings. He's got 15 holds and has only walked 13 batters which makes him look a lot like the pre-2008 Isringhausen.
He's out-pitched most of the members of the Sox bullpen and will probably see a lot interest this year.
Boston may very well be one of those interested teams.
Heath Bell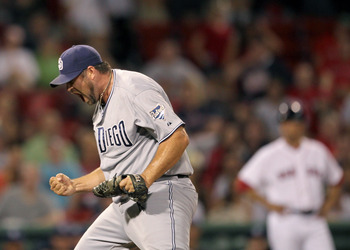 Jim Rogash/Getty Images
A flipped version of Isringhausen, Heath Bell is a former relief pitcher turned closer who says he's willing to move back to the setup role if dealt to a contender.
The 33-year-old posted a 2.43 ERA with a 1.19 WHIP and converted 26 saves in 27 chances so far this year.
He's a free agent after 2011 which makes him all the more likely to be moved. San Diego's GM Jed Hoyer is a former understudy of Sox GM Theo Epstein.
The two clubs recently worked out the Adrian Gonzalez trade and may enter into talks concerning Bell here shortly.
Nate Schierholtz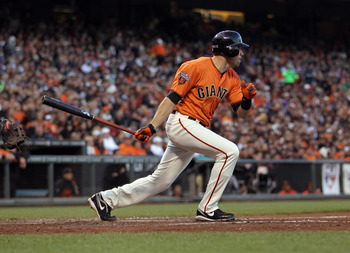 Ezra Shaw/Getty Images
I don't know how to pronounce his name, but I sure would like to see Nate Schierholtz in Boston's outfield.
The 27-year-old is a defensive whiz and has been productive this season in San Francisco. He's hitting to the tune of .293 with seven dingers, 31 runs driven in, and he's crossed the plate 30 times himself.
Mind you he's only had 222 at-bats as well.
The Giants don't need him and have made clear he's available. He'd absolutely fill a need in Boston.
Magglio Ordonez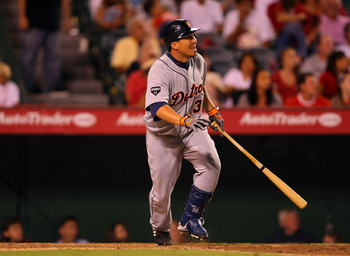 Victor Decolongon/Getty Images
Figured I'd throw in a buy low candidate because the Sox generally like to bring in reclamation veterans, granted they do this more often in the offseason.
Magglio Ordonez has been battling injuries for the majority of the 2011 and hasn't had 100-plus RBI since 2008. He hasn't lost his effectiveness however.
Ordonez has hit .298 or better since 2005 it's just getting and keeping him on the field which has been the challenge. You're not getting this guy for his defense in the outfield, and maybe he's better suited for the DH role at this point in his career, but his bat is for real.
The Red Sox could certainly get more production from the outfield if Ordonez fit correctly.
Melky Cabrera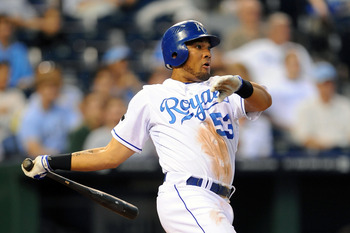 G. Newman Lowrance/Getty Images
The Kansas City Royals have been enjoying a couple of breakout seasons this year, and Melky Cabrera is the owner of one of them.
The 26-year-old is hitting .293 with 11 home runs with 55 RBI, 55 runs and 12 stolen bases.
You never want to get involved with a team looking to sell high, but it appears this guy is the real thing. He may cool off a bit, but what he's done in the Royals lineup so far has been nothing short of impressive.
Edwin Jackson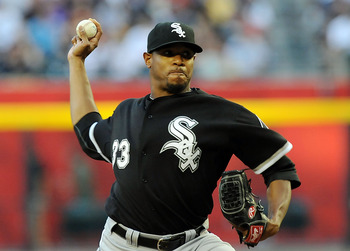 Norm Hall/Getty Images
Edwin Jackson's attainability is similar to Garza's in that it will likely take MLB talent to acquire him.
He's had a very up-and-down year, and there's a reason he's been with four different teams in four seasons. He's still an option for the Red Sox who can't be too picky if they're starting guys named Kyle Weiland and Andrew Miller.
Not snubbing those guys, but they certainly weren't intended to be in the picture this year.
Ryan Ludwick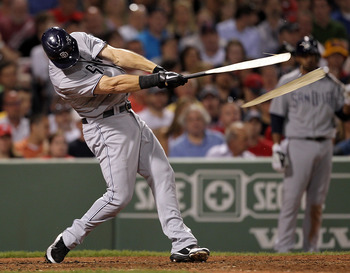 Jim Rogash/Getty Images
Another option in the outfield to look into is Ryan Ludwick of the Padres.
He's not going to hit for much of an average, he's a career .264 hitter, but he does offer production. Ludwick is batting .245 with 11 homeruns and 55 RBIs and he's not hitting in much of a lineup.
He's almost certainly available and will be owed nearly $2 million for the remainder of the season, but he's definitely a candidate for the Boston outfield.
Jason Kubel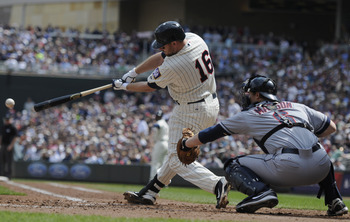 Hannah Foslien/Getty Images
One of the more underrated outfielders in the game, offensively speaking of course, has got to be Jason Kubel of the Minnesota Twins.
This is a guy who can hit .300, has 30 homerun power and can easily contribute 100-plus RBI given a full season of at-bats.
He's struggled to return from a foot injury which he suffered back in late May, but he left behind a .310 average with five homeruns and 30 RBI in just 200 at-bats.
Keep Reading

Boston Red Sox: Like this team?