2011 MLB Trade Speculation: 10 Ways the Los Angeles Dodgers Can Shed Payroll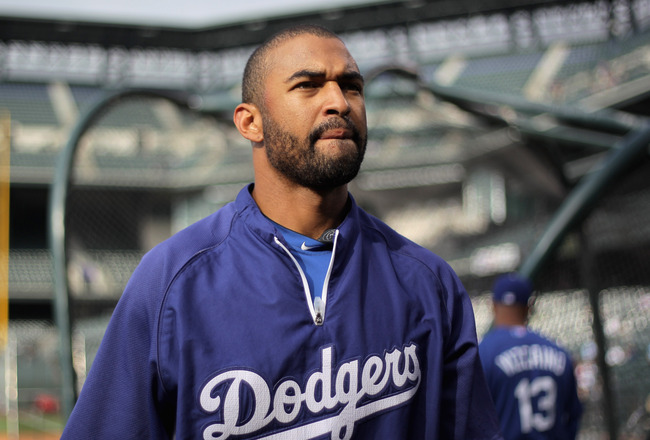 Doug Pensinger/Getty Images
With all the hoopla surrounding the Los Angeles Dodgers this year regarding team bankruptcy and an eventual roster breakdown, it's only natural to wonder how one of the most prestigious franchises in MLB history can dig themselves out of this hole.
Owner Frank McCourt could still end up being the sole owner of the team if he plays his cards right, but what does he need to do in order to make this thing work?
Trade some of his best players?
Release high contract athletes who aren't performing up to par?
Allow a complete fire sale of his roster and start from scratch?
These are just a few of the questions that Dodgers fans are asking of their owner.
While it's possible he could avoid all this if the team is sold to the right people, it's more than likely that someone is leaving L.A.
Here are 10 ways the Dodgers can instantly shed their payroll.
10. Total Team Fire Sale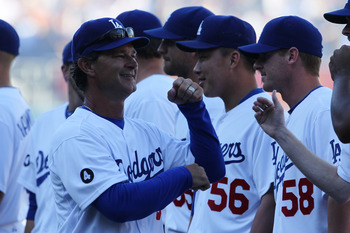 Jeff Gross/Getty Images
There's a high possibility that the Los Angeles Dodgers will have a complete fire sale of their roster, meaning everything and everyone goes.
While this seems a little drastic for a team that hasn't underachieved completely in 2011, the need for instant income could force the team to part ways with their top players.
Just by trading or releasing a few players, the Dodgers can free up millions, making it an easy solution to their financial woes.
For instance, Hiroki Kuroda, Ted Lilly and Andre Either, represent nearly $30 million in payroll for 2011.
If the Dodgers were able to get rid of those three players or even two of their contracts, it could clear up a significant chunk of their monetary debt.
9. Total Hitting Fire Sale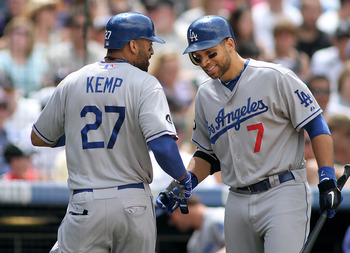 Marc Piscotty/Getty Images
Instead of totally abandoning the ship and caving in to a whole team trade frenzy, the Los Angeles Dodgers could decide to only trade away one side of their roster.
The offense.
With high profile, medium contract hitters like Matt Kemp, Andre Either, Casey Blake, and Juan Uribe, the Dodgers have a lot of firing power to trade away.
So many MLB teams, whether in a playoff hunt or not, would be more than willing to trade for some of these complimentary hitters. Except Kemp, he's a bona-fide superstar.
If the Dodgers were in that much of trouble to trade away the top-five payroll players from the hitting department, they'd clear up over $30 million in contracts just this year.
The only problem with this is who would the team have in their lineup after they trade away their best guys, Dee Gordon?
8. Total Pitching Fire Sale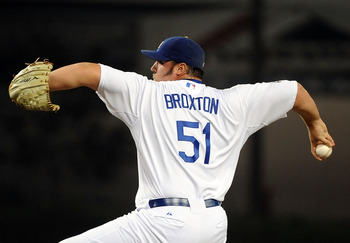 Lisa Blumenfeld/Getty Images
This approach is the same concept as the team trading away all their top hitters, except it's pitching.
The Los Angeles Dodgers have a lot of pricy contracts for the caliber of pitching their receiving this season.
Besides their best pitcher Clayton Kershaw, who stands to make a total of $500,000 this season, the rest of the Dodgers starting rotation culminates into nearly $32 million of their 2011 payroll.
What make it even worse is the fact that those four players, Hiroki Kuroda, Ted Lilly, Chad Billingsley, and Jon Garland, have combined for a lackluster record of 16-24 through the first three months of baseball.
I mean look Garland alone. He represents $5 million of the Dodgers payroll this season and has only started nine games, going 1-5 with a 4.33 ERA.
Something needs to happen.
The Dodgers have young and talented pitching in Kershaw, Rubby De La Rosa, and Zach Lee, so trading some of these pricy contracts seems like a good idea.
7. Reconstruct Contracts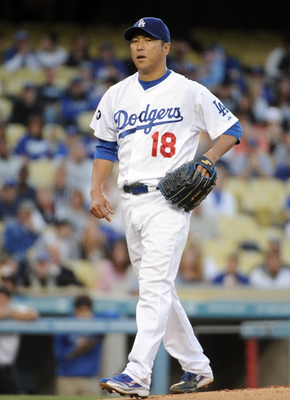 Harry How/Getty Images
This seems highly unlikely considering many of the Los Angeles Dodgers players have recently signed extensions or are looking for a healthy new contract, but ownership could lean towards reconstructing some of the team's higher salaries.
This includes Hiroki Kuroda, Andre Either and Chad Billingsley, who aren't performing like they're worth close to $10 million a piece.
Reconstructing would not only help free up much needed payroll space, but the Dodgers could also use that money to offer Clayton Kershaw the new contract extension he deservedly needs.
The fact remains, if the Dodgers want to stay competitive in the NL West without trading away all their top hitters or pitchers, a massive payroll reconstruction could do them wonders.
Only problem?
Convincing the players that lowering their income is a good thing.
6. Chad Billingsley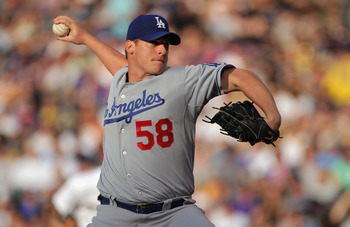 Doug Pensinger/Getty Images
Chad Billingsley is 5-6 with a 4.65 ERA and he's due to make nearly $7 million in 2011.
If that doesn't scream chopping block, I don't know what does.
For a pitcher who was labeled the ace of the staff before Clayton Kershaw came onto the scene, the Los Angeles Dodgers should of thought about trading the 26-year-old years ago.
He's been anything but an ace.
Billingsley's ERA this year is nearly 1.00 higher than his career average, meaning he's probably not performing the way the Dodgers are paying him to perform.
While it isn't going to make or break the bank for the Dodgers payroll, trading Bills will surely clear up some much needed space, making it easier to find other ways to smoothly spread their payroll thin for the rest of the season and into 2012.
5. Juan Uribe and Casey Blake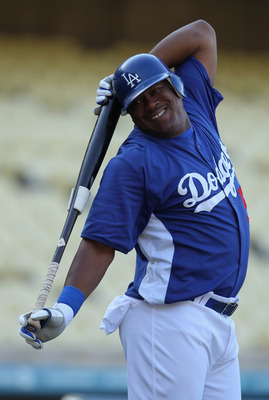 Jeff Gross/Getty Images
Look at these two guys.
Juan Uribe and Casey Blake combine for nearly 69 years of age.
They also combine for nearly $11 million in payroll salary for the Los Angeles Dodgers in 2011.
Something doesn't seem right.
Why are you going to pay middle-tier money to two of the oldest players on your team, who are both clearly spiraling in their careers?
Who knows. The Dodgers do some strange things.
But what we do know is that it's never too late to trade these guys away; well at least before the July trade deadline.
While they've underachieved for the most part in 2011, Uribe and Blake still have enough left in the tank to spark interest from other teams in bidding for their services.
These seem like the two most eligible players to be dealt in the next few weeks.
4. Matt Kemp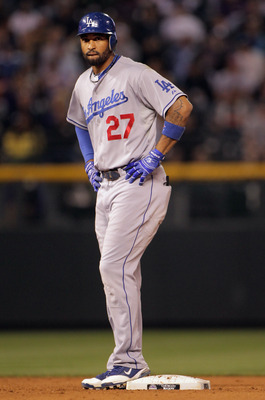 Doug Pensinger/Getty Images
I may catch some heat for this from Los Angeles Dodgers fans, but trading away the potential NL MVP would clear up some much needed space.
If the team were to trade Matt Kemp away, or better yet sell him out, it would do wonders for the 2011 and 2012 payroll.
And by selling him out, I mean trading him for minor league talent and progressive young hitters, not already established and agent-ran players with pricey contracts. That wouldn't make much sense.
So while it would be hard for the Dodgers to stay competitive without Kemp in their lineup, trading him away would help them financially and set them up for a few years down the line, offensively that is.
If the Dodgers were to let the 26-year-old go, they'd clean up over $7 million from this seasons payroll and wouldn't have to worry about compensating Kemp down the line if he were to win the MVP award in 2011.
3. Andre Either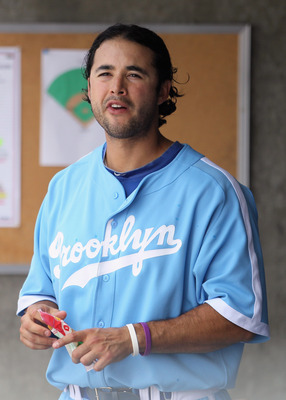 Jeff Gross/Getty Images
$9.5 million.
That's what Andre Either stands to make in 2011.
While it seems fairly reasonable for an outfielder of his top-30 status, it doesn't go a long way with a money troubled team like the Los Angeles Dodgers.
Even though Either is batting .313, his five home runs and 32 RBI suggest that he might be the most overpaid player on the Dodgers payroll, making it easy to part ways with the 29-year-old.
A lot of teams would be interested in Either because he brings a professional attitude and solid contact hitting to the game, but how many teams are willing to pay him nearly $10 million to hit below 20 home runs and 90 RBI for the season?
We'll soon find out.
2. Ted Lilly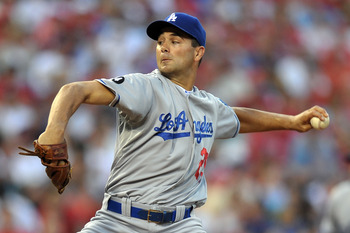 Drew Hallowell/Getty Images
Ted Lilly is the biggest head scratcher here.
While he's a very serviceable 35-year-old veteran, Lilly hasn't provided enough stability to warrant an $8 million 2011 salary.
Yet another player for the Los Angeles Dodgers who is coming up short of expectations and his value on the roster.
Lilly is currently 5-5 with a 3.98 ERA.
Not too shabby, but when you consider he makes as much as Cole Hamels and Jered Weaver combined, you can see where disappointment sets in.
1. Hiroki Kuroda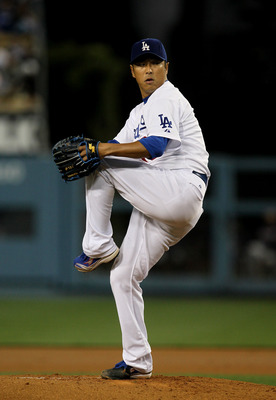 Stephen Dunn/Getty Images
Hiroki Kuroda needs to be traded.
There, I said it.
He has pitched well enough to interest a lot of contending playoff teams around the league, including maybe even the New York Yankees.
Kuroda is only 5-8, but sports a 3.31 ERA with a solid strikeout ratio.
So what's the problem you ask?
The problem is that he's currently the highest paid player on the roster at nearly $12 million and isn't even a top-three player on his team.
Kuroda's contract is going to be hard to move, but it's the one the Dodgers need to rid themselves of, because making a 36-year-old, non-ace starting pitcher your highest paid asset seems like a bad investment to me.
Keep Reading

Los Angeles Dodgers: Like this team?