5 Detroit Lions Who Need To Step Up in 2011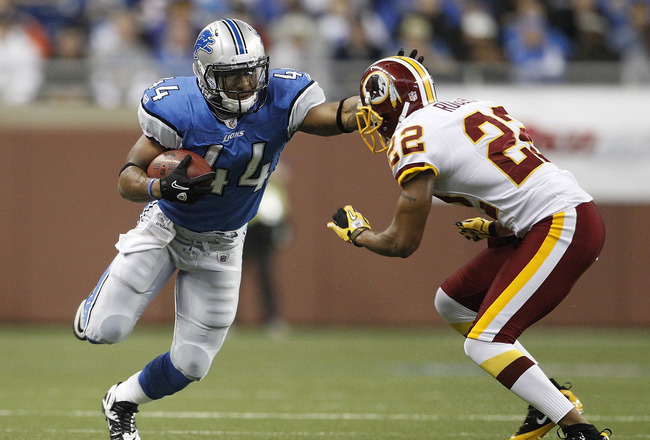 Leon Halip/Getty Images
If the Detroit Lions are to be a playoff team in 2011, then many things will need to happen. The Blue and Silver boys will need each player playing to full potential, a bit of luck and for their star players to be injury-free.
There are those like Calvin Johnson and Ndamakung Suh that we have already set lofty expectations for. Many suggest that Calvin will lead the NFL in touchdown catches and I don't see why he can't.
Every team that experiences any success needs its stars to perform, and that goes without saying, but those teams have players who step up and play above and beyond what is expected of them.
Here is a list of five Lions who need to step up if Detroit is to be a playoff team in 2011.
Nate Burelson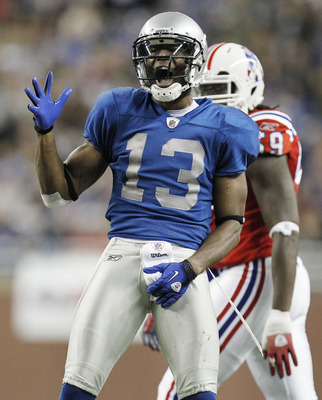 Gregory Shamus/Getty Images
Nate Burleson is the key to the Lions passing attack. I say this because if Burleson can prove himself to be a reliable target for Matthew Stafford, then it will force teams to guard him and take pressure off of Calvin Johnson. While Calvin is, no doubt, the most talented player on the offense, it will be Burleson who will give the Lions an identity on the offensive side of the ball.
Nate performed very well for the Lions last season and if he can replicate his play, then the Lions will have an aerial attack that will be difficult to stop for any defense.
Jahvid Best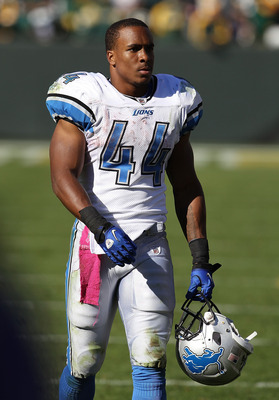 Jonathan Daniel/Getty Images
This one is painfully obvious. So obvious that I considered not putting it on the list, but without Jahvid Best at full strength next season, the Lions will struggle to find an offensive identity.
Jahvid Best looked spectacular for the first half of the 2010 season, but after suffering from turf "toes" (more than one), he looked sluggish and had clearly lost a step. Without his speed, he was quite ineffective in the second half of the year. Jahvid Best is not a power runner and his speed is his what gets him snaps.
With the addition of the more powerful Mikel Leshoure (a between-the-tackles running type), the Lions should have a great combination of speed and power to help move the ball. The Lions need Jahvid Best literally "firing on all cylinders."
Gosder Cherilus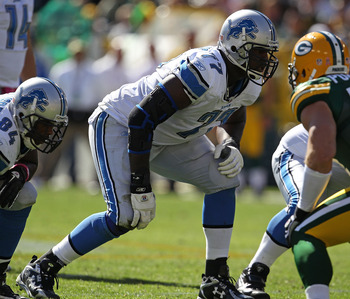 Jonathan Daniel/Getty Images
This is Gosder Cherilus' last season to prove that he is not another Detroit Lions draft bust.
Gosder has looked good at times for Detroit over the past few seasons, but more often than not, he is injured and ineffective. While he has always been particularly good at handling the pass rush (especially in a division that has Jared Allen, Clay Matthews and Julius Peppers) his run blocking has always been lacking and this season it must be better.
The Lions have two young and talented backs and they need to be able to run the ball to the right side without losing yards each time. It's time Gosder "The Monster" lives up to his first-round selection.
Louis Delmas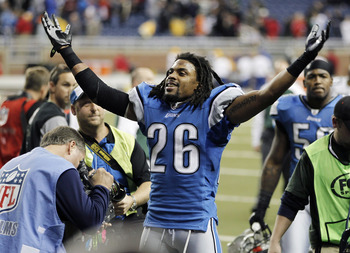 Gregory Shamus/Getty Images
Delmas is seriously a freak of nature. He has speed, awareness and is one of the hardest-hitting safeties in the NFL. The best part is, he has only been in the league for three seasons.
Last season Delmas played through injury and still put together a very solid season. Delmas has a nose for the ball and is as pure of a talent as there is. He is a true up-and-comer in the system.
The Lions secondary is still, despite Delmas, the weak point of the team. The Lions were constantly beat deep by the pass and gave up far too many passing yards to win games. Aaron Rodgers, Greg Jennings and Donald Driver wish they could play Detroit five times a season instead of two. They always have tremendous games against the Lions.
Alphonso Smith and CC Brown are not good players; they are barely adequate. It is going to be up to Louis Delmas to make them appear better than they actually are.
Bobby Carpenter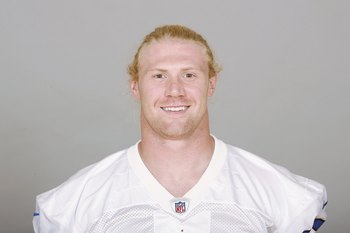 NFL Photos/Getty Images
As of now, former Ohio State standout and first-round pick Bobby Carpenter is listed on the depth chart as the starting strong-side linebacker.
Carpenter, like Cherilus, is one or two more poor seasons away from being labeled a bust by first-round draft pick standards. He was booted out of Dallas after a few poor seasons and was signed by Detroit midway through last season. Carpenter performed better than many (including myself) expected and he was rewarded with a multitude of snaps throughout the last few games of the year.
Carpenter is very strong when playing the run, but always seems to get beat when trying to play the pass. He was a good signing by the Lions last season, but if he wants to remain the team's starter, then he will need to play exceptionally well. Deandre Levy and he will be counted on next season.
Keep Reading

Detroit Lions: Like this team?