20 Worst Calls and Catchphrases in Sports‏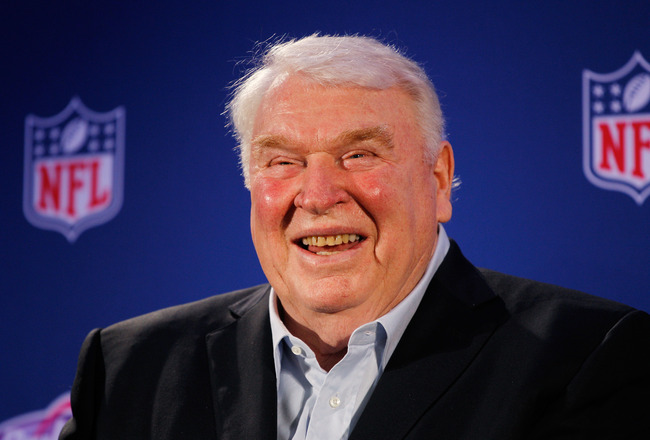 Scott Halleran/Getty Images
When considering the worst calls or catchphrases in sports, I think it's important to understand that sports commentary is an art form.
The art of sports commentary is essentially the art of understanding the moment.
I've heard it said that a truly good sports call gets right to the point, gets out of the way and lets the moment do the talking.
It can be quite annoying when a commentator ruins a great moment in sports, but it can also be quite funny.
Let's take a look at the 20 worst calls and catchphrases in sports:
20. John Madden
Madden is definitely an all-time great sports commentator.
Even though he was great, he had more than a few moments of pure stupidity.
"Ya know Al, if you score more points than the other team, chances are you will win the game!"
Stuff like that.
He also threw out catchphrases like "BOOM" just a little bit too much for my liking...
19. Count That Baby and a Foul!
George Blaha is a legend in the Detroit sports market.
He does get a little "homer-ish" at times, though.
He's also known for the awful phrase....
"COUNT THAT BABY AND A FOUL!"
18. Dick Vitale
I'M ANNOYING BABY!
OVERRATED BABY!
You get my point...
17. Joe Buck
Joe Buck is universally hated for his boring commentary and stupid moments.
This moment right here does not help his cause...
16. John Sterling: Sir Lancelot
John Sterling is the king of horrible calls.
I'm sorry Yankee fans, but this is just the truth.
Here is the first of a few of his calls that will appear on the list...
15. May Day Goal
Can you imagine how worried someone would be if they turned on the broadcast of this game right when he started screaming "may day"?
14. Suzyn Waldman
"OF ALL THE DRAMATIC THINGS! GOODNESS GRACIOUS!"
Come on, Suzyn, it wasn't that dramatic of a moment!
I'm not sure who made this video or where the pig comes from.
Let's just let that slide and focus on the call, eh?
13. What You Gunna Do with All That Junk Inside Your Trunk?
This lady threw out more horrendous catchphrases in one game than most do in their whole careers!
12. Announcer Hates Tom Cruise
This guy apparently really, really hates Tom Cruise!
"It's not about the Hollywood actors! It's the gladiators out there!"
11. Dave Mishkin
I have to give this guy credit.
He apparently gets just as excited for Game 1 of the season as he does the Stanley Cup Finals.
But really, how does he keep his voice!?
10. John Sterling: Tex Message
Another gem of a moment by Sterling...
9. Singing Announcer
I know they get real excited, but do you really have to sing!?
8. Teardrops the Size of Pineapple Chunks
Yes, he did just say teardrops the size of pineapple chunks...
Crazy.
7. Goal Crazy
This is hilarious!
I believe he is actually weeping at the end...
6. Cover Your Eardrums
This guy warms up his voice with Steven Tyler.
He also plays in an 80s cover band on the weekends.
5. Where Momma Hides the Cookies
Apparently momma hides her cookies in the top shelf...
4. Cookie Monster Strikes Again
This guy should try to get a deal with Sesame Street!
3. John Sterling: Grandy Man Can
This is the worst of the Sterling calls.
Honestly John? The Grandy Man Can!?
2. There Ain't No Flag
This call really made a bid for the No. 1 spot in my opinion.
I'm guessing these are just two high-school football slappy's calling their local game, but they became instant hits after this beauty of a call.
"AIN'T NO FLAG!"
1. Borat?
I didn't realize Borat started calling U.S. soccer matches.
I'll do what the announcer should have done here, let the moment speak for itself...
This is horrendous, so enjoy the worst call ever.
Follow Andrew on Twitter: @AKonSports
Keep Reading