Has Chipper Jones Become Too Controversial?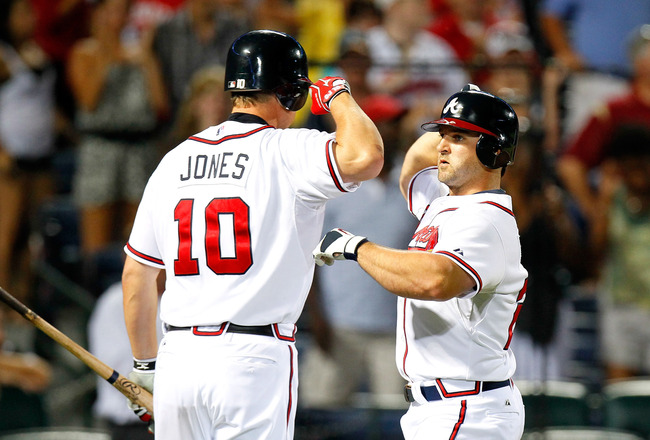 Kevin C. Cox/Getty Images
Will this latest episode involving Chipper Jones a be blow to his reputation and hurt his standing in baseball history?
Jason Heyward returned to the line up Wednesday after being called out by teammate Chipper Jones last week. The incident was a hot topic given Jones' own battle with injuries the past eight years or so. While this will be water under the bridge after the season is over regardless of how either Heyward or Jones finish the season, this is yet another blemish in what has become an injury-plagued career for Jones.
Since 2003, Jones has not not been the same player that once was, or so it would appear. Considering his injuries and aging he has actually put up more than just decent numbers.
Chipper Jones is still one of the most popular and respected players in baseball. Since 1995 he has been the face of the Atlanta Braves and has, for the most part, maintained a clean image. However, in recent years, in due partly to injuries, recent exchanges between Jones and teammates, whether taken out of context or not, have tainted Jones' image just a tad bit.
Jones was first the subject of scandal in the offseason of 1998, when his infidelity was made public. Jones apologized, took responsibility and the fans forgave him. The following season would be his best to date.
Beginning in 2007 however, with injuries mounting, Jones' character began taking hits due to comments made by him and current and ex-teammates. First, Jones was called out for what appeared to be him complaining about the Braves' interleague schedule. Next, there was a little spat with teammate John Smoltz, who believed Jones was milking an injury. Just last year, former teammate Brian Jordan criticized Jones for what he (Jordan) perceived to be a poor work ethic on the part of Jones.
Finally, the source of it all: the injuries. Some believe that he has become a liability for the team.
That is utter nonsense. In 2010, while the Braves were in the playoff hunt, Jones made the smart decision to delay the decision of retirement till after the season in order to concentrate on playing.
Jones continues to play the best ball possible with the amount of playing time his body allows him. These recent "incidents" should not taint his career or image. He certainly will not be like Ty Cobb, whose amazing career was somewhat marred by his notorious aggressive playing and unpopularity among many of his teammates. He will undoubtedly be inducted into the Hall of Fame when he retires.
Chipper Jones should be remembered for being one of the best third basemen of his time, if not all time. His generosity to his fans and his willingness to give back should not be forgotten. He should be remembered for putting his team first. Examples of this were his willingness to move to left field so that Vinny Castilla could play third base and taking a pay cut so that the Braves could retain Rafael Furcal.
I have a feeling that Chipper Jones will be just fine.
This article is
What is the duplicate article?
Why is this article offensive?
Where is this article plagiarized from?
Why is this article poorly edited?