Terrelle Pryor to Supplemental Draft: NFL Teams Most Fit for the Ohio State QB
Kevin C. Cox/Getty Images
Former Ohio State quarterback Terrelle Pryor has opted to leave school in favor of the NFL where he will enter the upcoming supplemental draft, according to a statement he made today.
His name has been amongst those involved in receiving illegal benefits from the school and many belive that was a key reason he decided to forgo his senior campaign. That, and the fact that head coach Jim Tressel resigned last month as well.
Now that his college days are over, he'll test his unique skill set in the pro game. He's certainly not the prototypical starting quarterback, but that's not to say he doesn't have what it takes to make it in the NFL. While some will look the other way, I'm certain that several teams will be interested in acquiring the former college star athlete.
That said, here are a list of the Top 5 teams who will express interest in him.
Buffalo Bills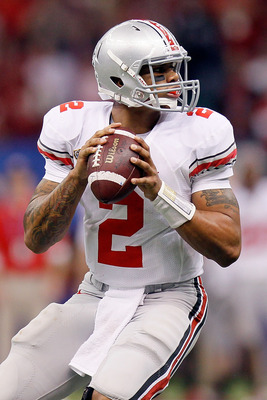 Kevin C. Cox/Getty Images
The Buffalo Bills failed to address their quarterback void in this year's NFL Draft which just goes to show how much confidence they have in their current starter Ryan Fitzpatrick.
Personally, I think he's one of the more underrated players in the NFL and despite a lackluter supporting cast, he played rather well last year as he posted a 81.8 passer rating.
Of course, that's not to say they wouldn't be better with a bit of competition at the position.
Pryor could step in and bring an added dimension to their offense and put some pressure on Fitzpatrick to work harder and improve.
Cleveland Browns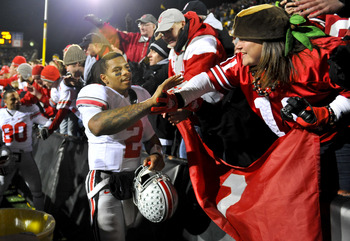 David Purdy/Getty Images
There's no denying Terrelle Pryor's celebrity status and his star power would certainly entice fans of any ball club, especially if he were to stay close to his collegetown.
While playing for Ohio State, he was one of their most beloved sports stars particularly after LeBron James left the city of Cleveland.
Even though they have their supposed quarterback of the future in Colt McCoy and Pryor wouldn't turn around their program, it's not to say that he wouldn't help develop their fanbase.
Note this is very similar to how the Jacksonville Jaguars displayed interest in drafting former Florida Gators star quarterback Tim Tebow in 2010.
Indianapolis Colts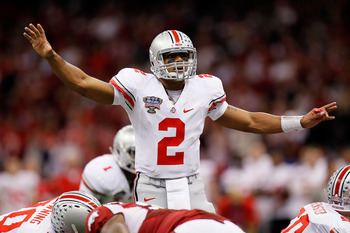 Kevin C. Cox/Getty Images
Yeah, I'm sure some of you are thinking 'Why would a team with the great Peyton Manning on their roster want to add another quarterback?'
Well the fact of the matter is that he's 35 years old and has maybe three or four years remaining in his Hall of Fame career.
That being so, it may be time to implement a similar strategy that the Green Bay Packers did in '05 by drafting Brett Favre's future successor Aaron Rodgers. Now that they're the defending Super Bowl Champions I think it's fair to say that it worked out pretty well.
Pryor isn't exactly a perfect fit for their system but with the right coaching and mentoring from No. 18, anything is possible.
It's no surprise that Pryor isn't NFL ready which is why going to a team that wouldn't need him to contribute and could afford to have him resting on the sideline for a few seasons is a dream scenaro for him.
Oakalnd Raiders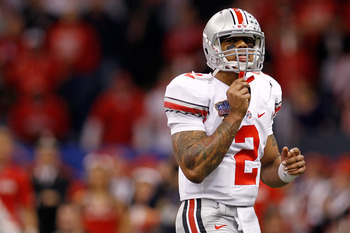 Chris Graythen/Getty Images
Anything that has unorthodox written on it, must have the Oakland Raiders interested at least as long as Al Davs is their owner.
In fact, I'm sure he's already salivating over the opportunity to add Pryor's athleticism and superstar persona.
To make matters even more likely, they're in search of quarterback help and even attempted to trade up in order to select Colin Kaepernick.
It's not a given that they'll try and draft him, but I'd be shocked if they don't look it.
Washington Redskins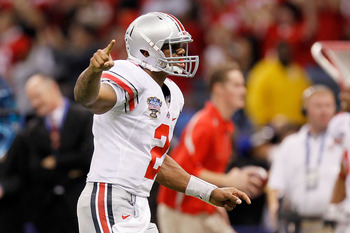 Kevin C. Cox/Getty Images
The Washington Redskins experimented with Donovan McNabb and it didn't work out, to say the least. Not only did he have one of the worst seasons of his career, but him and Mike Shanahan completely broke apart to the point where they want nothing to do with each other.
Coach Shanahan still wants to implement a West Coast Offense and with Terrelle Pryor's ability to get the ball out of his hands quickly, it makes him a perfect fit.
Moreover, I'm sure that a quarterback guru like Shanahan would be able to correct Pryor's footwork and mechanics in order to make him a polished signal caller in the NFL.
Keep Reading

Ohio State Football: Like this team?