Cleveland Indians: Why Indians Fans Shouldn't Pull out the White Flag Just Yet
June 14, 2011
After jumping out of the gate to one of their hottest starts in over a decade, the Cleveland Indians have lost 14 of their last 19 games.
During that stretch the Tribe offense has only managed 2.8 runs per game, and have been either shut-out or held to just one run nine times. In the American League that is truly a recipe for disaster, especially when you are facing some of the most potent lineups in all of baseball in the Yankees, Red Sox, Blue Jays, Rays and Rangers.
Many in Cleveland are already throwing up the white flag. Most of us have seen this happen more times than we can count. A Cleveland team shows promise, creates a buzz around the city only to let us down in the end.
We have prepared ourselves for this; it's like a defense mechanism.
It was fun while it lasted, right?
I wouldn't be so quick to jump off the bandwagon just yet folks.
Consider this: The Indians are now tied with Detroit for the best record in the Central Division with a record of 35-29. Last year, through their first 64 games, the Indians were 25-39 and 11.5 games out of first place.
They haven't had a winning record at this point in the season since 2007, when they had just three more wins at 38-26.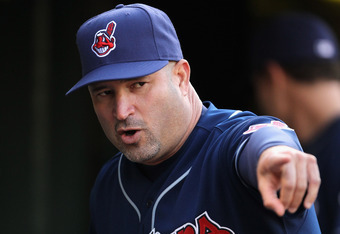 Ezra Shaw/Getty Images
Even though the offense has struggled you have to see light at the end of the tunnel.
Travis Hafner, who was batting .345 with five HRS and 22 RBI before going on the disabled list, should be back in the next week or two. Shin-Choo and Carlos Santana are too good to continue their offensive struggles; one of them if not both will get hot at some point.
Asdrubal Cabrera is continuing to put together a MVP caliber season and Grady Sizemore looks like he continues to get better each game.
The pitching overall has been very solid. Tribe starters have faltered a bit as of late but have continued to pitch well enough to keep the team in games.
The Indians bullpen is currently third best in the American League. Reliever Joe Smith hasn't given up a run in his last 12 appearances and Closer Chris Perez has converted his last 10 consecutive save opportunities.
Even after this bad stretch, the Indians are still 21-18 against teams with a record at .500 or above and they are 20-12 at home. These kids have definitely hit a rough patch in the season, but their hot start will allow them to still contend while they work out these difficulties.
There is also more help on the way down on the farm. Remember Luis Valbuena? He is quietly putting together a great season in Columbus. Valbuena currently leads the Clippers in average (.318), doubles (17), and RBI (41), not to mention his above-average defense at second base.
Valbuena also has great chemistry with Indians shortstop Asdrubal Cabrera; both grew up playing together as children in Venezuela.
The other factor, which really might be the most important, is manager Manny Acta. This guy has been the manager of the year so far in the American League and he won't let this team give up anytime soon.
He has been preaching that this team was good enough to contend since December and he continues to believe that.
Maybe that's what he was explaining to Joe Girardi the other night in New York?
You're still questioning it aren't you? That's OK. You're probably a Cleveland sports fan. We expect every team to fail in the end and every star player to leave in his prime.
This is who we are and we still love every minute of it, whether we admit it or not.
So, sit back and enjoy a team in contention. Stop looking at the glass half empty. You will thank me when September comes around.