MLB Draft Results 2011: NL West Picks of the First 4 Rounds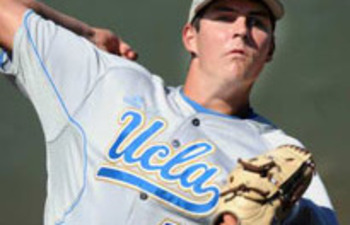 Courtesy of the LA Times
The 2011 MLB Draft has finished, and with that completion comes hundreds of new prospects, as well as thousands of hopes and expectations.
Each of the teams in the National League West division came out with several good picks.
After four rounds, each team had at least four new additions to their farm system.
This is a look at what each team of the NL West ended up with after the first four rounds.
D-Backs Round 1, 3rd Overall: Trevor Bauer, RHP, UCLA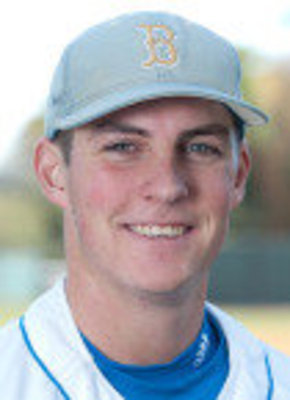 Courtesy of UCLA Athletics
The Diamondbacks have been associated with Trevor Bauer for a while.
The right-hander keeps his pitch velocity around 91-95 mph, and his movement has fooled hitters on the college level. While his stuff attracts swings, they are usually out of the zone, so hitters on the professional level may lay off more pitches.
He's been known to carry a crazy workload during his outings, throwing more than 120 pitches at least five times this season.
He's a solid choice with a good history and should move up the system pretty quickly.
D-Backs Round 1, 7th Overall: Archie Bradley, RHP, Broken Arrow Senior HS (OK)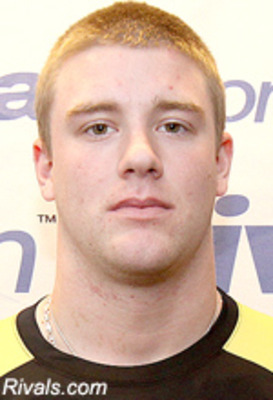 Courtesy of Rivals.com
Archie Bradley is another solid pick, with pitches generally ranging between 92-95 and reaching up to 97 mph. He has a simple delivery and has one of the best curveballs in the draft.
He's built like a quarterback and is currently committed to Oklahoma to play football next year.
However, he enjoys the diamond more, so the Diamondbacks are hoping he chooses to sign and get his baseball career started.
D-Backs Comp Round A, 43rd Overall: Andrew Chafin, LHP, Kent State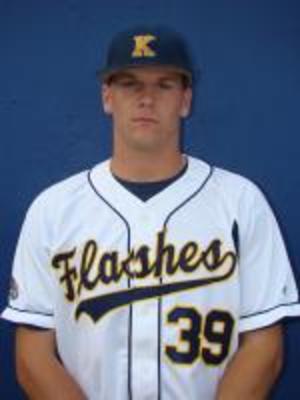 Courtesy of Kent State
The Diamondbacks took another pitcher as their third pick but took a southpaw this time in Andrew Chafin.
Tommy John surgery took Chafin out of the 2010 season, but he threw mainly between 91-94 mph during workouts.
He has a slider and changeup, both in the low 80s and inconsistent. After he has completely healed from his surgery, he should quickly get a good command of both pitches.
D-Backs Round 2, 63rd Overall: Anthony Meo, RHP, Coastal Carolina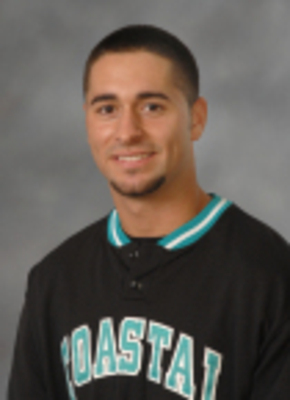 Courtesy of Coastal Carolina Baesball
Anthony Meo has a strong build, good delivery and two good pitches in his slider and fastball.
His curveball has some command issues. With improvement, Meo could grow to become a good middle-inning reliever or late-rotation starter.
D-Backs Round 3, 93rd Overall: Justin Bianco, CF, Peters Township HS (PA)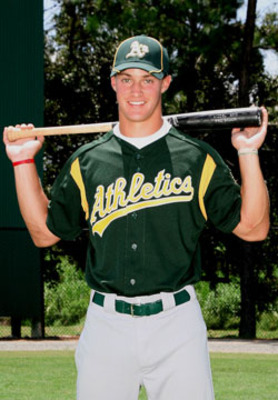 Courtesy of PerfectGameUSA
Justin Bianco was rated one of the top 10 players in Pennsylvania.
He ended his season with a .583 batting average and three home runs.
D-Backs Round 4, 124th Overall: Evan Marshall, RHP, Kansas State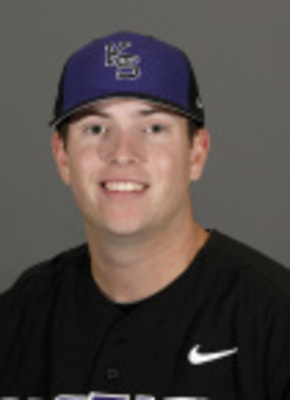 Courtesy of Kansas State
Evan Marshall will probably be a setup reliever.
He has two good pitches in his fastball and breaking ball and finished his season with a 1.71 ERA and a .222 BAA.
Rockies Round 1, 20th Overall: Tyler Anderson, LHP, Oregon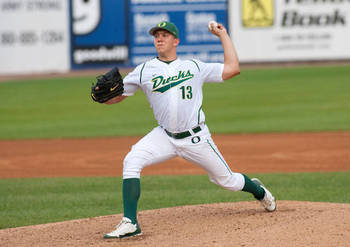 Courtesy of GoDucks.org
Tyler Anderson has a bit of work to do with his pitches. His speed will probably be between 88-91 mph and his curveballs and sliders average.
He's done well in the Pac-10, but his stuff doesn't project to work out as well in the majors. He will probably be able to improve his stuff enough to make it to the majors between late 2012 to early 2013.
Rockies Comp Round A, 45th Overall: Trevor Story, SS, Irving HS (TX)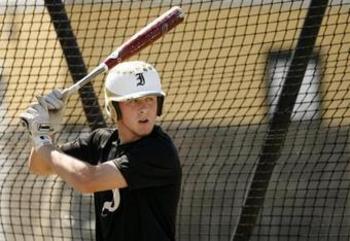 Courtesy of MLBDraftGuide.com
Colorado could have a tough time signing Trevor Story, since he has a commitment to play at LSU next year.
He's a solid shortstop with good hands and athleticism, but his offense needs work.
He has slow bat speed, and his overall swing is going to take a lot of improvement. He will need a lot of player development to become good enough for the major leagues.
Shortstop is a position many teams need though, and if the Rockies can develop him, he'll be extremely useful later on, whether it's on the field or as trade bait.
Rockies Round 2, 77th Overall: Carl Thomore, RF, East Brunswick HS (NJ)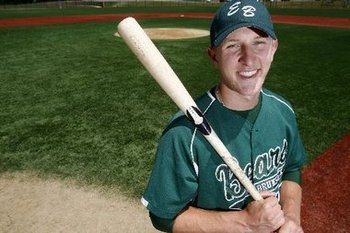 Courtesy of Patti Sapone/The Star-Ledger
Carl Thomore is a solid athlete that could become a power hitter in the majors.
He has good bat speed, and his strong arm looks to be good for a right fielder.
Rockies Round 3, 107th Overall: Peter O'Brien, C, Bethune-Cookman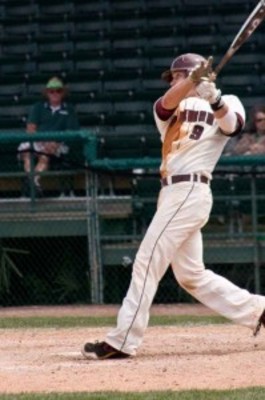 Courtesy of HBCU Sports Online
Peter O'Brien could possibly be molded into a great player.
He might be a risk, with good power but iffy defense. His impatience at the plate could either be fixed with professional coaching or exposed by better pitching.
Rockies Round 4, 138th Overall: Dillon Thomas, LF, Westbury Christian School(TX)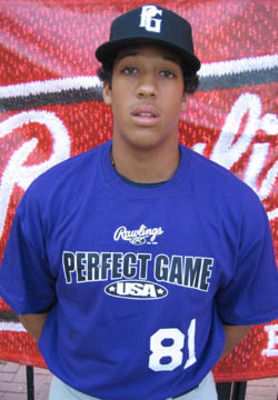 Courtesy of PerfectGameUSA
Dillon Thomas has played first base as well as the left field he was drafted for. He hit .464 with eight home runs during his senior season.
He's a Texas A&M signee, but if the Rockies can sign him, he will be helpful.
Dodgers Round 1, 16th Overall: Chris Reed, LHP, Stanford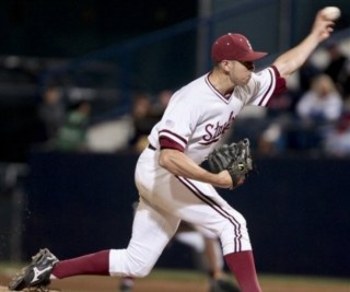 Courtesy of The Associated Press
Chris Reed was chosen as more of a slot pick for the Dodgers. With all their economic problems, they couldn't go big but went for a good choice with Reed.
He throws 92-94 mph and also has a slider and changeup. His two off-speed pitches are at least above-average already, but he needs some work commanding his fastball.
After some experience in the minors, Jason Churchill thinks he could be a No. 2 or 3 starter.
Dodgers Round 2, 73rd Overall: Alex Santana, 3B, Mariner HS (FL)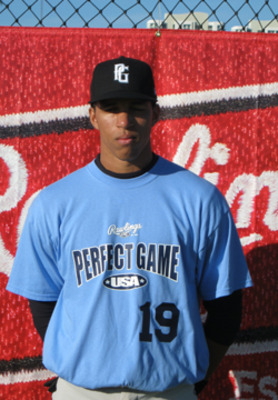 Courtesy of PerfectGameUSA
Alex Santana has quick hands and good extension in his swing, but he doesn't always have a patient approach at the plate.
His team-best .402 batting average shows he could do very well on the professional level.
Dodgers Round 3, 103rd Overall, Pratt Maynard, C, North Carolina State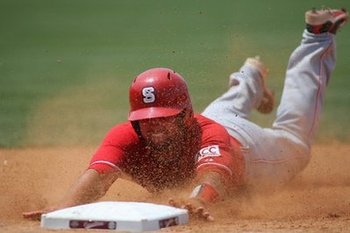 Courtesy of The Associated Press
The Dodgers chose another slot pick with Pratt Maynard.
He is a solid catcher and has a great left-handed swing.
Dodgers Round 4, 134th Overall: Ryan O'Sullivan, RHP, Oklahoma City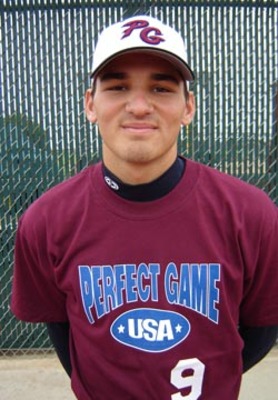 Courtesy of PerfectGameUSA
Ryan Sullivan has good command but has been out of much of the regular season for the past two years.
He looked good during bullpen sessions during workouts.
If he can stay healthy and improve his work ethic that has some scouts worried, he should do well.
Padres Round 1, 10th Overall: Corey Spangenberg, 2B, Indian River State College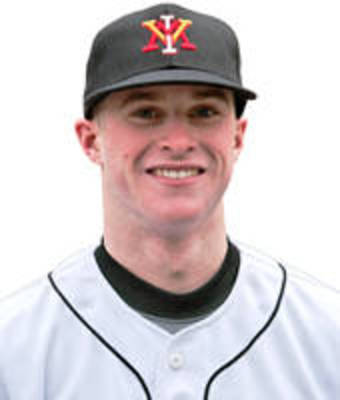 Courtesy of Virginia Military Institute Athletics
When the San Diego Padres decided to choose Corey Spangenberg, they went for batting and speed over fielding.
Spangenberg is quick and has good athleticism, but he hasn't been impressive at his positions of short stop or third base. He could be a good centerfielder because of his speed, but he will probably start his career at second.
He hits well, with great bat speed and a simple swing, so he could prove to be an asset maybe as a leadoff hitter or somewhere near the top where he can use his quickness on the bases to the Padres' advantage.
Padres Round 1, 25th Overall: Joe Ross, RHP, Bishop O'Dowd HS (CA)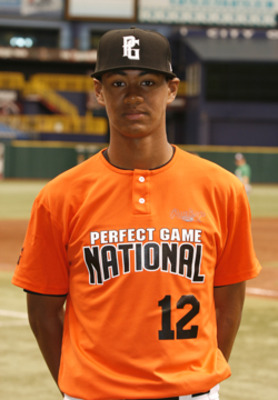 Courtesy of PerfectGameUSA
Joe Ross has a traditional windup with a pretty solid pitch selection. His pitches average 90-94, with an above-average curveball and changeup.
He can be considered a safe bet to progress through the minors relatively quickly. Jason Churchill sees Ross as a potential No. 2 starter.
Padres Comp Round A, 48th Overall: Michael Kelly, RHP, West Boca Raton HS (FL)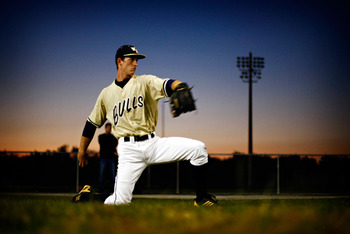 Courtesy of Richard Graulich/The Palm Beach Post
Michael Kelly is one of the raw arms that will take some work to improve. If he fills out and learns to generate power with his lower half, his 89-94 mph fastball will get faster, and he'll be able to take some stress off his arm.
It could be a while until Kelly gets up to the big leagues, but he's got some good pitches that just need to become more consistent.
Padres Comp Round A, 54th Overall: Brett Austin, C, Providence HS (NC)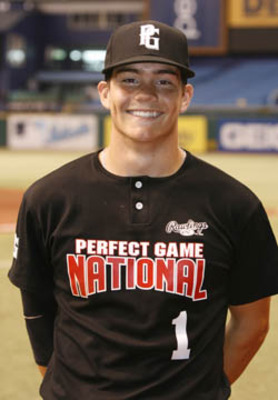 Courtesy of PerfectGameUSA
Brett Austin already has good bat speed and power. A switch-hitter, his left-handed swing is much more developed than from his right side.
He only recently became a catcher but has enough quickness to possibly stay at that position. If not, he is a potential outfielder with his athleticism.
Padres Comp Round A, 58th Overall: Jace Peterson, SS, McNeese State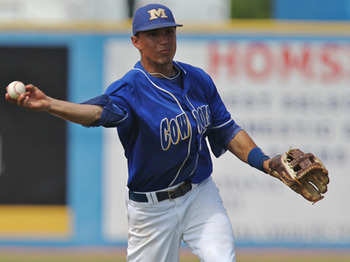 Courtesy of Brad Puckett / American Press
San Diego took a risk with Jace Peterson. As a football player, he has yet to play baseball full time, but he has the tools that could make him a good choice.
He has good bat speed but doesn't have very good control at the plate. His arm is average and will probably end up at second base or center field.
While he probably will not end up an All-Star, he could be useful after some time in the minors.
Padres Round 2, 82nd Overall: Austin Hedges, C, Juniperro Serra HS (CA)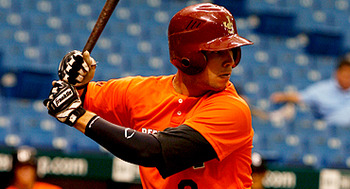 Courtesy of PerfectGameUSA
UCLA may be the final choice for Austin Hedges, but the Padres will try to change his mind.
Hedges has been mentioned by some to be one of the top catchers with good pop time, and while his offense needs improvement, he could evolve into a solid-hitting catcher.
If he is willing to sign with the Padres, he will be an excellent grab, but chances are, Hedges will be a Bruin next fall.
Padres Round 3, 112th Overall: Matt Andriese, RHP, UC Riverside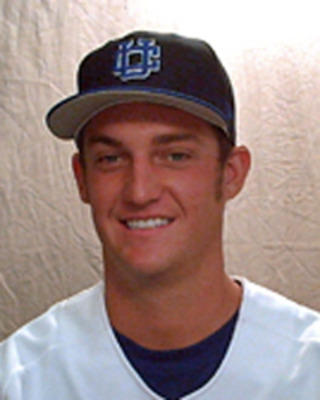 Courtesy of UC Riverside Athletics
An average athlete, Matt Andriese has a slightly above-average fastball and a sharp curveball.
He has pretty good command at times and could become a possible mid-rotation starter.
Padres Round 4, 143rd Overall: Cody Hebner, RHP, Green River CC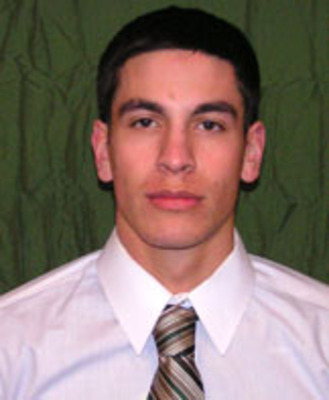 Courtesy of Green River Athletics
Cody Hebner has good power behind his mid-90s fastball and also has a good slider.
He will probably be able to become a good back-end reliever with his athleticism and good arm speed.
Giants Round 1, 29th Overall: Joe Panik, SS, St. John's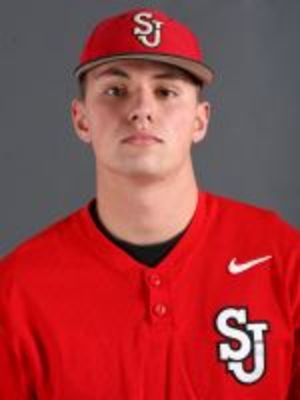 Courtesy of Mallards Baseball
Joe Panik was a surprise pick to many.
While he has been a solid hitter with good pitch recognition, he doesn't seem to have much future as a power bat in the majors.
He could end up as a good utility player but will probably end up as a second baseman as a result of his below-average arm.
Giants Comp Round A, 49th Overall: Kyle Crick, RHP, Sherman HS (Texas)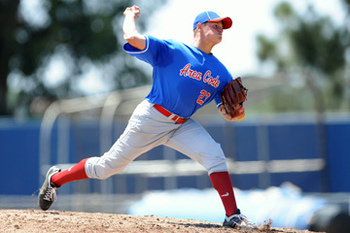 Kyle Crick could be in the minors for a while in order to improve his pitches.
His average can be between 92-94 mph, and he has an average changeup and inconsistent slider. Once he gets enough command of his pitches and his windup, he could become a long reliever in the majors.
Giants Round 2, 86th Overall: Andrew Susac, C, Oregon State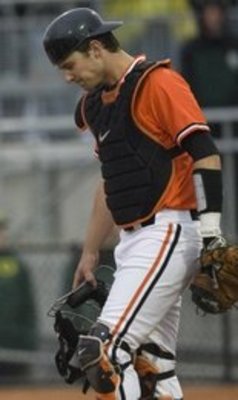 Courtesy of The Oregonian
Andrew Susac was originally considered to be in first-round contention, but that changed after he broke his wrist in April.
Defensively, he is a good pick. When it comes to hitting, he has power but may have issues hitting better pitching on the professional level.
Giants Round 3, 116th Overall: Ricky Oropesa, 1B, Southern California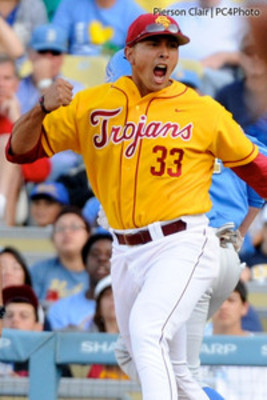 Courtesy of Pierson Clair/PC4Photo
Ricky Oropesa is a third and first baseman, but he may be limited to first on the professional level.
He is below-average defensively, so he may end up having to move to the American League as a DH.
Oropesa has raw power though, and while he's not fast on the basepaths, his true plus raw power could get him a shot in the majors soon enough.
Giants Round 4, 147th Overall: Bryce Bandilla, LHP, Arizona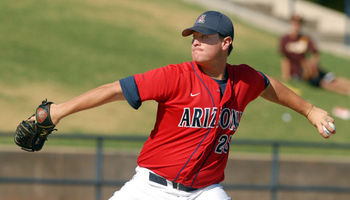 Courtesy of the Tuscon Citizen
Bryce Bandilla has the size and pitches to be either a mid-rotation starter or back-end reliever.
If he improves as much as expected, he could be in the majors by the end of 2012.
Keep Reading