10 Surprises About the New 49ers Stadium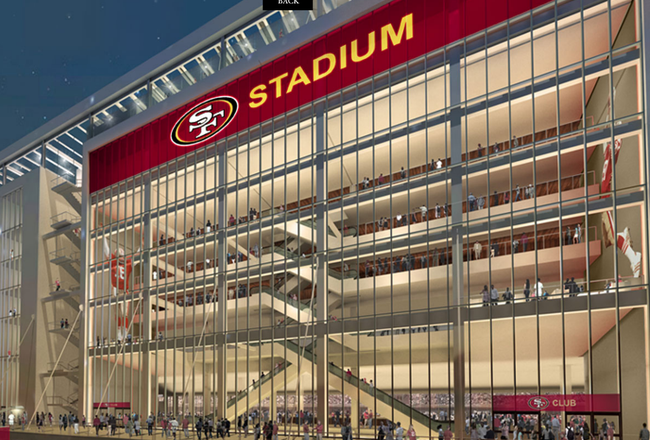 The stadium is still just theoretical, but the San Francisco—not Santa Clara-- 49ers—have just launched a big honking website to sell tickets to potential season ticket holders. It's big! It's not in San Francisco! It's not fully financed!
Here are a list of things you may not have known about this potentially billion-dollar stadium.
There Are No Ads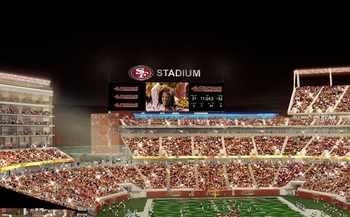 It's easy to notice that neither the naming rights nor any corporate sponsorships have been sold. Yet.
There Are No Beer Lines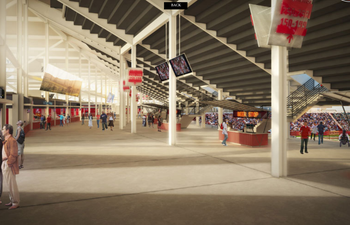 Either there is one beer stand for every fan, or these renderings have been specifically created to keep crowds at bay.
There Is Room to Contemplate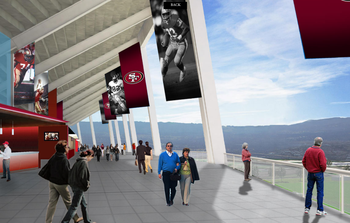 The View of Santa Clara is actually quite a bit smoggier than this, but this rendering suggests that there will be plenty of room to step aside and ponder who will be the next franchise quarterback.
It's Got a Mall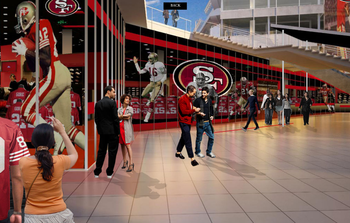 No surprises here, the stadium has a clubhouse store. But this one looks like a particularly nice place to stop in for an authentic Bill Walsh-era sweater.
It's Warmer Than the 'Stick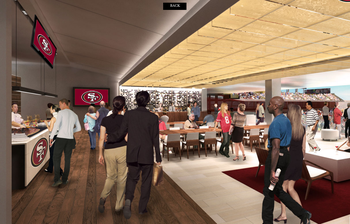 You'll notice a lot of short sleeves in these architectural renderings. Nice reminder that Santa Clara's got a lot less wind and fog than San Francisco.
The Visitor's Locker Room Is in a Bar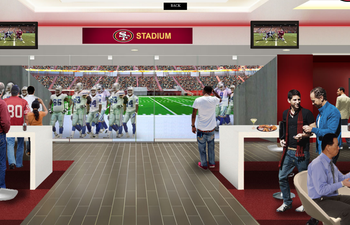 Obviously this makes sense for the Dallas Cowboys, but not sure why they would do this for all teams.
There Is Absolutely No Parking
In a stinging setback for California car culture, there appears to be absolutely zero parking places at this stadium. I wonder where all the public transportation will park?
It's Got a Lounge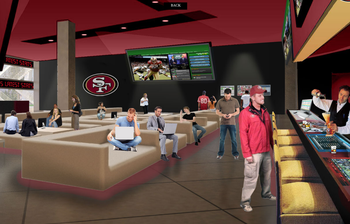 These types of spaces never turn out as good as they look in renderings.
It's Not a Sure Thing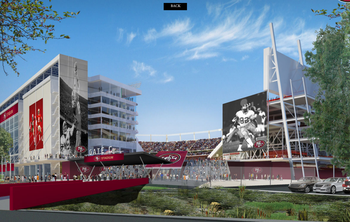 The stadium is in fact far from a sure thing. The Mercury News quotes Stanford Sports Economy Professor Roger Noll as a pessimist. "There are a lot of balls in the air right now. If any of these balls are dropped, then the stadium is history, basically," he says.

Only time will tell if this place ever gets built.
It Respects the Greats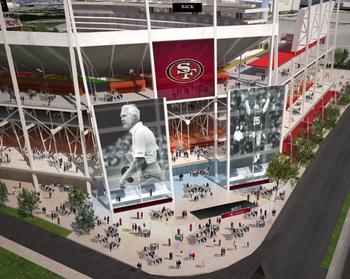 The first thing you notice is that the team is still called the San Francisco 49ers, even if the stadium is some 30 miles south of the city by the bay. Note the SF logos all over these drawings. You'll also see Walsh and Montana photos everywhere. I hope that these make it into the final product.
Keep Reading

San Francisco 49ers: Like this team?